Movies of the Month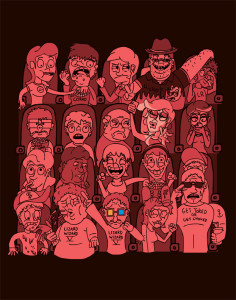 Hang on for a minute...we're trying to find some more stories you might like.
The Martian: Matt Damon on Mars
by Leo DiPiero
The film industry has seen a number of incredible, realistic science-fiction films in the past few years. Among these are "Gravity"(2013) and "Interstellar"(2014). Famed director Ridley Scott's "The Martian" is shaping up to be an addition to the collection of realistic sci-fi films of the past five years.
Based on the book of the same name by Andy Weir, "The Martian," released October 2015, centers around Mark Watney (Matt Damon) and his plight after he is stranded on a Mars colony and presumed dead by his crew mates. He must hatch his own plan to contact NASA and escape Mars with the little supplies at his disposal.
Scott is known for making very high quality films, the most notable being the "Alien" movie franchise, which was launched in 1979. Scott's recent films have been criticized as being sub-par. "The Martian" seems to make a  spectacular comeback.
Based in the near future the story has a wide arc that takes place over multiple years, transitioning between Mars and Earth. The film winds two interconnecting stories together fairly seamlessly. The dialogue of the film is remarkably well balanced. Watney's character is slightly cocky and sarcastic, yet resourceful.
The film itself is very well
done overall in terms of both writing and cinematography. It's visuals create wondrous alien landscapes and the futuristic white gleam of NASA's equipment. If you are  interested in space exploration or what the future could hold, I would recommend taking a trip to watch this film. With NASA's manned Mars mission coming within the next five to ten years, this film gives a broad horizon for what could be possible in terms of future development, hopefully without the catastrophes.
Steve Jobs: The Man in the Machine
By Kate Finn
Alex Gibney's new documentary, "Steve Jobs: The Man in the Machine," examines both Jobs's journey with Apple and why people mourned his death so widely, despite the negative image that many people actually had of Jobs.
The film, rated R for language, follows Jobs from his early days and the beginning of Apple to his death in 2011.  Composed of archival footage of Jobs and interviews with early Apple employees and personal acquaintances, the movie paints a critical picture of a man willing to do anything to succeed.
The film glances over Jobs's time after he left Apple in 1985, and does not explain why he returned to Apple in 1997.  Instead of delving deep into why or how the iPhone or iPod were created or any other Apple products, the film focuses on Jobs himself.  Filled with interviews with people ranging from journalists to former colleagues to the mother of his child, it provides a look into Jobs as a regular person. Perhaps the thing that captured my attention the most was the look into Apple's policies near the end of Jobs's life.  Apple was investigated for allegedly option backdating, an illegal practice of giving employees shares with an earlier date stamp to give the employee the lowest price for the shares.  Several people were investigated and resigned, but it was never traced back to Jobs.
Overall the movie was not as interesting nor informative about Apple and its history as it could have been, and by the end, it was still unclear why the people mourned Jobs the way they did.  The movie lacked a unique or exclusive view on Apple or Jobs, and I would have rather skipped this Steve Jobs movie and chosen one of several others, including the 2013 movie "Jobs" or "Steve Jobs" (Which came out October 9th), both of which are fictional.
The Visit: Minimal Horror
By Maddie Wall
"The Visit" (released September 11) is a horror-suspense movie with a total cast of seven. The four main characters are Becca (Olivia DeJonge), Tyler (Ed Oxenbould), Nana (Deanna Dunagan), and Pop Pop (Peter McRobbie). The movie starts off with two grand kids, Becca and Tyler, who are going to spend a week with their grandparents, Nana and Pop Pop, who they have never met due to a falling out between the children's grandparents and their mother when she was young. Throughout their stay, weird things happen, leading to some unexpected realizations.
The movie was directed by M. Night Shyamalan, who is best known for directing the movie "The Sixth Sense."
"The Visit" is a found footage documentary about the falling out between Becca's mother and grandparents. However, it was done so well, the style never distracted from the plot.
The movie itself had an unexpected amount of comedy, which was creatively channeled by Shyamalan through Tyler who portrayed a young aspiring rapper. But it did not have as much horror as I was expecting. Based on the trailer, I was looking forward to a lot more jump scares and gore. If you're looking for something truly scary, you won't find it while watching "The Visit."
If you're looking for a movie with decent comedic values, minimal horror, and a suspenseful plot twist, I would recommend "The Visit." It made me laugh and cringe, and raised my heart rate. Although it wasn't exactly what I was expecting when I walked into the theater, I definitely plan on watching it again when it is released online, because I enjoyed it in a different way than a usual horror movie.