I am the Law
While most high schoolers struggle thinking about where they want to be in five years, for junior Paul Law, the answer is simple: he wants to be running. A standout on both the cross country and track and field teams since freshman year, Law's maintains a passion for both sports.
"I got into running when I was about three years old and my dad would take me down to the track because I was too energetic and [he] wanted me to calm down," Law said, cracking his signature smile. "I'd race all the old guys who were running around the track. It made me feel good when I beat them, so I really liked running."
In his third year of varsity track and field Law runs the 800 meter, 1600 meter, and 3200 meter distance. Additionally, his talent for running translates into cross country, as Law's times gave him a spot at the California state championships his sophomore year. Law's track and field times easily place him among the fiercest competitors in the MCAL league, according to assistant track and field coach Martin Langeveld.
"Paul is our most valuable distance runner. He's on the MCAL top 10 list in both the 1600 and 3200 meters, and we can always count on him to score critical points at our meets," Langeveld said. "Paul has a unique combination of natural talent, hard work ethic, and positive attitude that really makes him a pleasure to coach."
Although Law loves to run, he admits it's sometimes a challenge to keep going. "Running hurts a lot. A lot of days, it's hard to wake up and motivate myself to run in the morning," Law said. "I just have to keep reassuring myself why I want to do it, and even though it's hard to run at first and get myself to do it, I love the feeling of being with my teammates and afterwards how it just feels nice."
Outside of Tam, he runs the annual Dipsea Race, and in the most recent race, earned himself a Black Shirt. "If you're in the top 35 runners [in the Dipsea Race] you get a black shirt, and it's hard because people start at different times, and there's people who have like a fifteen- minute head start, and I only had a three- minute head start, so that was cool. I was so happy I got that, it's been my goal since sixth grade," Law said.
Law's enthusiasm and friendly attitude shows just how happy he is to be with his team. However, the main appeal of the sport is how he can compete as an individual.
"I played football, basketball, baseball, and swimming," Law said. "I kind of liked the idea that [running] is a team sport, but not really. I like how you're more in control of your wins and losses, unlike football or basketball, if one person messes up, even when you're doing well, it ruins the whole thing."
His motivation and commitment  is especially apparent when racing, according to senior Ethan Swergold, Law's longtime teammate. "I've run with Paul for the past two years in cross country races, in the mile and two-mile race," Swergold said. "Paul is one of the nicest people you will ever meet and he always has a smile on his face, but the second a race starts he's a really strong competitor. Paul also works extremely hard year-round, and his hard work has really paid off recently."
While he may be intense when racing, Law's demeanor never fails to lift others' spirits. "He always shows up to practice with a smile on his face, and he makes it a point to get to know the younger runners on the team," Langeveld said.
Ashley Relf, Tam's cross country co-coach, added, "Paul is a fearless leader, runner, and individual. He is dedicated, disciplined … Paul is always smiling and full of positivity."
Law's dedication to the sport has led him to want to continue running in college. "Next year I just want to close out my high school running career on a good note, make state, hopefully in track, and try to get good enough times to run [Division 1]," Law said. With times only a few seconds away to those of Division 1 athletes, Law's dreams are within sight. "I've talked with a couple coaches so far, and for track it's a specific time you need to hit, so I'm just training super hard now and my goal is to get close to those times… I just want to be the best I can be."
About the Writer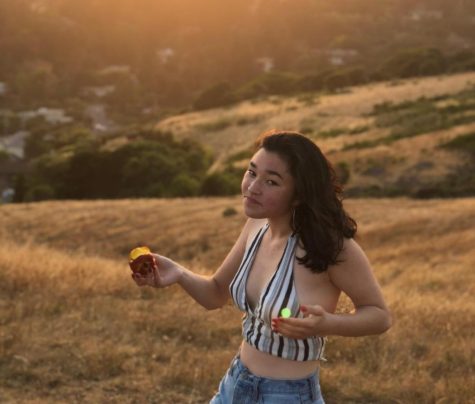 Josie Spiegelman, Op/Ed editor
Josie Spiegelman is a junior at Tamalpais High School and an Op/Ed editor for The Tam News. When she's not listening for heard in the hallways, she plays varsity basketball and field hockey, is a member of leadership and volunteers at the Mill Valley Library. During her free time, Spiegelman loves to spend time with her dog, Kona, watch good movies, bullet journal, and take naps.