EDITORIAL: Paying Homage to Steve Jobs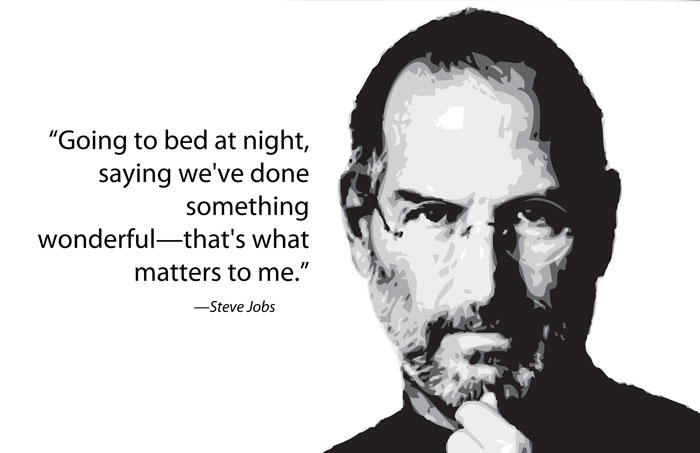 Co-founder and former CEO of Apple Incorporation Steve Jobs passed away earlier this month after a long battle with pancreatic cancer. He died peacefully on October 5 in the company of his family. "Apple has lost a visionary and creative genius, and the world has lost an amazing human being. Those of us who have been fortunate enough to know and work with Steve have lost a dear friend and an inspiring mentor," said current Apple CEO Tim Cook, whose statementappeared on Apple's official website in memoriam to Jobs.
A near immeasurable influence on modern life can be attributed to Steve Jobs, both a visionary and an icon. If you own an iPhone, an iPod or an iMac, you have Steve Jobs to thank for it. "He's always going to be remembered, maybe for the next 100 years, as the greatest technology business leader of our time," Apple co-founder Steve Wozniak said of his former partner. Since the two worked together on the first Apple computer in Jobs's garage in 1976, Apple has become both a pop culture giant and one of the most profitable companies in the world.
Early innovations like the intuitive graphical user interface of the original Macintosh made Apple synonymous with user-friendly. Other ventures such as the iPhone and the iPod launched new trends in technology while becoming cultural phenomena, but Jobs's influence doesn't stop there. His purchase of Pixar from Lucasfilm in 1986 proved integral to the rise of computer animation and gave you box office hits such as Toy Story (which Jobs was Executive Producer) and Finding Nemo.
Jobs's late struggle with pancreatic cancer was a very private one. Apple rarely commented on it. Despite his illness, Jobs kept his position as Apple's CEO, and during his final years Apple became an even bigger brand name with the launch of both the iPhone and the iPad. Jobs helped shape the future of technology and will be missed immensely by his colleagues and competitors, as well as all who enjoy using Apple products on a daily basis.
His ideals and wisdom were simply stated in his Stanford Commencement speech in 2005. "Remembering that I'll be dead soon is the most important tool I've ever encountered to help me make the big choices in life," he said. "Because almost everything, all external expectations, all pride, all fear of embarrassment or failure, these things just fall away in the face of death, leaving only what is truly important. Remembering that you are going to die is the best way I know to avoid the trap of thinking you have something to lose. You are already naked. There is no reason not to follow your heart."