Tam Senior Swims in Olympic Trials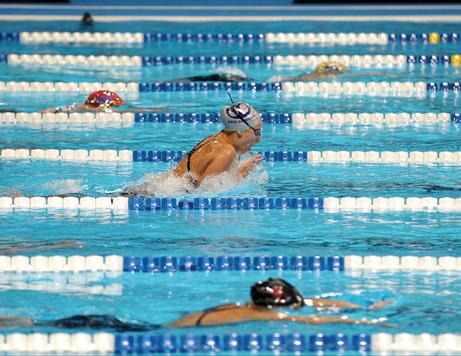 There are 300,000 swimmers registered with USA Swimming, the national governing body for American swimmers. Of these swimmers about 1,700 swimmers were invited to participate in the Olympic Time Trials in Omaha, Nebraska in late June.
Tam senior Brigitte Winkler was one of these swimmers.
Winkler, a member of Tam's varsity swim team and a swimmer for the North Bay Aquatics swim club, qualified to compete in the 100 meter breaststroke contest at the Olympic trials after putting up a time of 1:11:99 in the 100 meter breaststroke competition at a time trial qualifier meet in Roseville.
"Seeing that qualifying time on the board was one of the most emotional moments of my life," Winkler said. "My goal in swimming, as a kid, was to make the Olympic trials. I never imagined myself setting any world records or even making the Olympic team. I just wanted to go."
Achieving this childhood goal was not easy for Winkler, who has been swimming competitively since was five-years-old. After making a "leap" in her swimming career during her freshman year by qualifying for USA Swimming's Junior Nationals, she soon hit a plateau.
"For the next two years, I dropped a total of six-one-hundredths of a second in my 100 meter breaststroke," Winkler said. "I was devastated. The frustration built up after every disappointing race. I was training harder than ever, but did not swim any faster."
Despite her frustration, Winkler continued training, placing all her focus on swimming. The hard work paid off as she made another leap at the end of her junior year by qualifying for the Olympic Trials.
"Giving up all my vacations, not having much of a social life, quitting cross country and sleep deprivation now seemed like reasonable things to have done for an Olympic trials cut," Winkler said.
When she finally traveled to Omaha to participate in the time trials which ran from June 25 to July 2, the experience was more than she expected.
"The magnitude of the facility and the stadium surrounding the deck was jaw dropping," Winkler said. "Everything was perfect. It was the exact scene I had watched on TV so many times before. But this time I was a part of it."
Winkler spent her first two days in Omaha soaking up the experience and watching other races, however, when it came to the day of the race, pre-race nerves began to set in.
"When I arrived at the pool to warm up, I immediately felt sick," Winkler said. "My nerves were out of control. I had never been expected to perform in such a high stakes situation."
However after warming up, Winkler's nerves started to turn into feelings of excitement. When it came time for Winkler to check in for her heat she was ready to compete in the competition that she had been training so hard for.
"When my heat was called, I marched excitedly up the stairs and out onto the pool deck," Winkler said. "My smile was uncontrollable when I looked up and saw my face zoomed in on, on the huge scoreboard screen. I could see thousands of fans in their seats, and the announcer calling out my name. It was just too cool."
Winkler ended up placing 81st in the 100 meter breaststroke time trials, moving up from her 131st seed. Her time made her the 5th fastest high school senior swimmer in the country. Winkler plans to swim at the collegiate level and she is being recruited by some Ivy League schools as well as by other universities such as, UCLA and UC Santa Barbara.
"I have found my passion and will do whatever it takes to progress in it," she said.