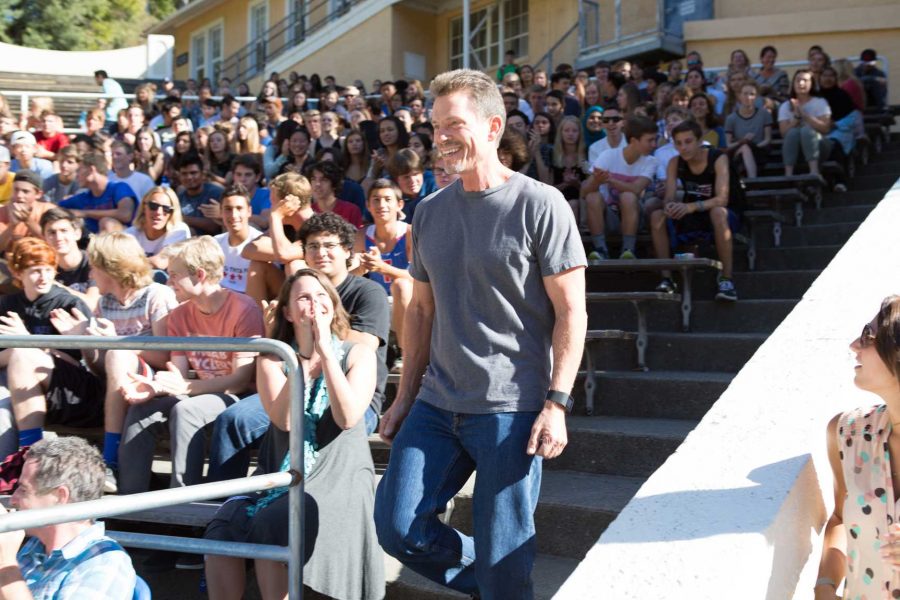 Longtime physics teacher Dave Lapp received the Symetra Heroes in the Classroom award at Mead Theatre during tutorial on September 9. The award recognizes 16 teachers in the Bay Area each year and is awarded in partnership with the San Francisco Forty Niners. Lapp was nominated by former student Jonny Wachtel. "I didn't know I was nominated so I was completely surprised when I received the award," Lapp said.
The award recognizes leadership and unique teaching ability during the football season. It is given as a surprise to the recipients. "Their [Symetra and the Forty Niners] idea is to not let on that you've gotten the award and to surprise you at some sort of school function," Lapp said.
Representatives from the Forty Niners and Symetra  presented Lapp the award. He received a signed football, personalized jersey, two tickets to a forty-niners game, and most importantly, one thousand dollars to be used for his class. He plans to spend the money on tools for his musical-instrument project and on supplies for model rockets and engines for his final lab of the year.
"It was a great recognition of a guy who I have a lot of respect for," fellow science teacher Jon Black said.
Lapp's ability to relate to kids is what really sets him apart. "I also try to make the course really relevant. So when students learn a particular aspect of physics they can apply it to their lives and… see connections outside the classroom," Lapp said. Lapp provides unique learning tools such as his many demonstrations (Lapp estimates there are 130 demonstrations each year) and through the course manual that he created and personalized. He also tries to relate what students learn in the classroom to the outside world.
"There's a very practical application of what he's teaching and there's a lot of hands on activities," said Black. Lapp felt humbled and honored to receive the award and was nervous to get up in front of a large group and accept it. "Most people don't believe this," he said "But I'm a shy, introverted loner, and so it was also kind of nerve-wracking to go up there in front of a crowd."
For Lapp, teaching is all about the students. "I want them to look back and have a memory of physics that gives them an appreciation for the rest of their lives," he said.
Most of all, Lapp loves teaching. "It's a blast teaching every day," he says. "I mean I have moments of excitement every single day."