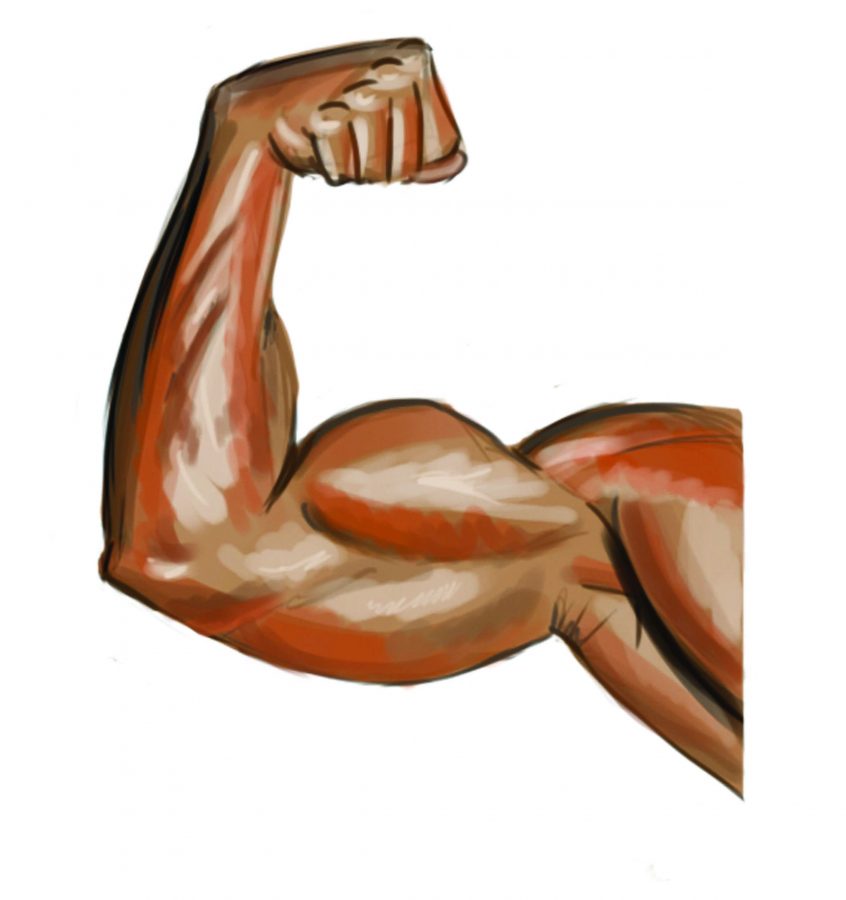 Coming to Tam freshman year and joining Wrestling sophomore year, Tamalpais junior Karim Shakur has put in countless hours of hard work to get to the position of dominance he occupies in MCAL this year. "I started Wrestling Freshman year…at Lincoln…I wasn't that good," Shakur said, "[But] you have to work hard to get better."  Since then, Shakur has taken second place at Windsor, first place in the Green and Gold tournament at San Marin, second at Drake and consistently placing within the top five at every tournament he's attended. It's not just his tournament record which reflects the hard work he has put in, but he has wrestled, and beaten, San Marin's two-time defending 220-pound league champion Charlie Ross. Twice.
With his victories against Ross, Shakur quickly became a favorite for the 190-pound MCAL title this year, placing first in the 190-pound category this year and placing fifth at the North Coast Section (NCS) as well. However, even with this rapid ascension through the league standings, Shakur has been proactive in helping new wrestlers learn the ropes of the sport. "I'm just trying to show [them] the little stuff…[like] what I first learned, just a couple takedowns and stuff." Shakur said, "When [they're] in a match, [I tell them] 'Never give up, go as hard as you can, and never get lazy.'"
Shakur, wasn't always involved in wrestling however, and only began his journey freshman year at Lincoln High School. "[I got into wrestling] when, in 8th grade I saw this movie…'Legendary' with John Cena, where he was teaching his little brother high school wrestling, and I told myself, 'I'm going to do this freshman year,'" Shakur said.
Shakur has attributed the values and motivation instilled in him by wrestling as a key part in allowing him to stay organized and successful in all aspects of his life. "[If I had not wrestled], I just would have been a regular person, I don't think I would have cared about my grades as much." Shakur said. "Both wrestling and Bridge the Gap have helped me with school, if I hadn't went to [Bridge the Gap] I think I would be failing."
Part of Shakur's success this season he believes comes from the new coaches of the wrestling team, led by head coach Luke Jones. CLICK HERE for more information about the new wrestling coaches of 2016. "They're good coaches," Shakur said, "They make us practice hard, which just makes us better… [but] I also did a lot of off-season [practice]." In fact, Shakur said that off-season training was one of the biggest parts of wrestling that really drew him deeper into the sport. Wrestling in season is gruelling enough, but wrestling off-season, and filling up his schedule with practices and camps, Shakur has fully embraced the wrestling lifestyle.
"[Wrestling] is a sport that teaches self-discipline." Shakur said. Between the gruelling two hour practices everyday after school and the early morning tournaments that often require wrestlers to wake up at five in the morning to weigh-in, wrestling isn't for the light of heart. And Shakur has proven his mental and physical fortitude time and time again, besting his competition on the mat and serving as a leader for his team off the mat. "[I] just keep grinding," Shakur said, "…and I'll end up wherever the wind takes me."