New Thai resturaunt Thailand deserves a shot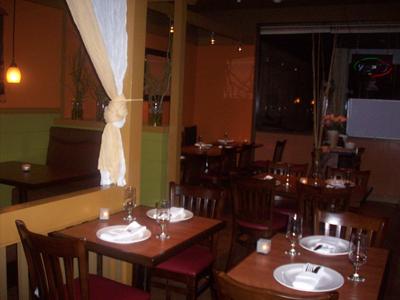 By Jade-Jones Hawk
May 17, 2011
While I do not have the culinary dilettante of say, seniors Niki Good or Danielle Torme, I do know my way around a plate of Thai food, especially wok-tossed noodle dishes such as Pad Thai (also known as 'phat thai'). So it was with open expectations, and tentative hopes, that I approached the new neighborhood establishment, Thailand. Located between Rocco's Pizza and the latest Whole Foods, Thailand Restaurant succeeded the late Antigua Grill, and is open for lunch every Day, 11:00 am – 3:00 pm, with take out and pick-up options available. On April 27, a Tuesday, I along with a friend decided to test our taste buds with Shrimp Pad Thai and BBQ Chicken, respectively. Preparation time was approximately 12-15 minutes, and the food came in tidy reusable lunch containers. My Pad Thai was between $8-9, while Katie's BBQ Chicken cost 10. Though this is twice the cost of a slice next door, the serving size for the BBQ chicken was huge- the to-go container was nearly a foot by foot square, I do not lie.
My first bite was cautious- I savored the flavor of the large, pinkish crustacean I'd bitten into. The sauce that the tender flesh had soaked in was subtle- the flavor of the noodles was tangy at first, not as bold and savory as perhaps I was expecting, but once I'd dug in, the noodles were actually pretty good. The Pad Thai wasn't as richly spiced as dishes I'd had from Thai Terrace or Thep Lela, but as a $7 lunch dish, I declare it perfectly decent, though I may ask more clearly for extra spice next time. The Pad Thai also came with a side salad of iceberg like bits and carrots in a seasoned salad dressing that was alright, if a little sparse.
My friend enjoyed her BBQ chicken, declaring the marinated pieces of chicken breast good and the helping generous. She also remarked on the utility and attractive appearance of the take out container.
Despite my best intentions, I was not able to test the dinner portions at Thailand Restaurant, though the restaurant's website, http://millvalleythailand.com , offers full details on the dishes available for both lunch and dinner. The restaurant also advertises a different Dessert of the Day, and is committed to using free-range chicken and local produce, and uses organic products whenever possible. What makes Thailand unique are their allergen and lifestyle-friendly options; Thailand's menu is 90 percent Non-Dairy and over 50 percent gluten-free and the vegetarian dishes are one to $2 cheaper than the dishes with meat. Whether you've had Rocco's one too many days this week, are feeling daring, or perhaps want to cool off in these heatening early-summer days with a dish of Coconut Ice Cream, Fried Banana with Ice Cream, or Sweet Sticky Rice with Fresh Mango, I recommend giving Thailand a chance. After all, the only way to truly know is to try it yourself.
Written by Jade Jones–Hawk. This article originally appeared in the May 2011 issue.