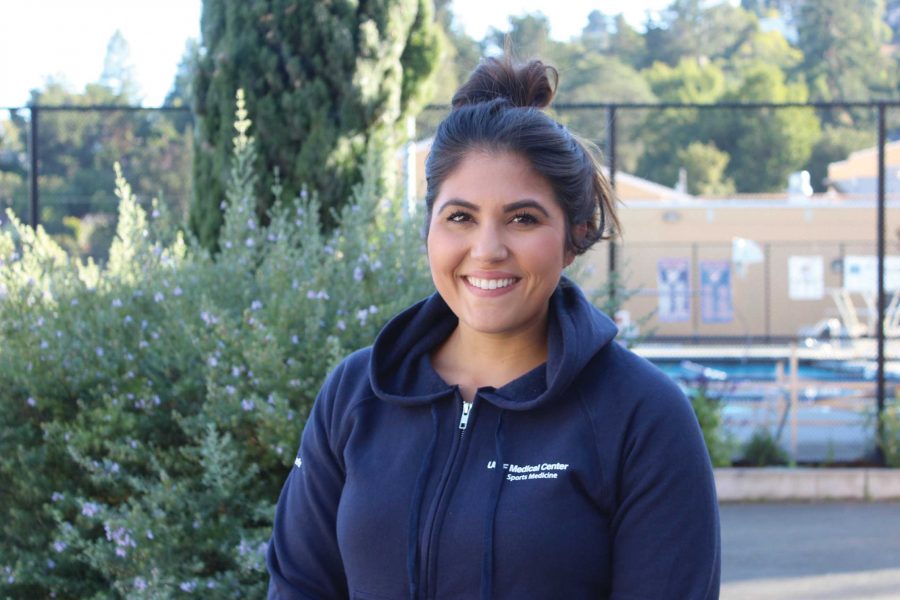 The athletic department hired new trainer Jessica Dominguez in early September, replacing former trainer Aubrey Yanda. Dominguez is already working to keep athletes healthy, and is looking to apply her knowledge of sports medicine outside the trainer's office in the coming year.
Dominguez began her undergraduate program at Azusa Pacific University in 2010, where she received her Bachelor's Degree in Athletic Training.
"In my undergrad I did rotations with two different high schools in southern California," Dominguez said. "I worked primarily with football in one school and with spring sports in the other, so I got to work with a lot of different athletes."
After her time at Azusa Pacific she attended Upper Iowa University to complete a Graduate Assistant program, leaving with a Master's of Science in Performance Enhancement and Injury Prevention.
Dominguez brings her knowledge to Tam through the University of California San Francisco's Play Safe Program, a program that gives high school athletes access to athletic trainers and orthopedic doctors. She believed the program positively impacts the lives of student athletes and she wanted to make an impact of her own.
"I liked what the Play Safe program represents and their views on things on what needs to change in a high school athletics," Dominguez said. "I wanted to work at a high school and be a part of high school athletes careers, and the Play Safe Program enabled me to do that."
Dominguez's experience with athletic training while she was in high school drew her to the field.
"I participated in a sports medicine program at my high school that was very intense," she said. "The teacher gave us a lot of scenarios of injuries that could happen on the field and made sure that we were prepared if something were to happen. We did a lot of coverage for our school and would help our teacher out with the athletes during practice and games."
In addition to working with Tam athletes, Dominguez hopes to create a biomedical program available to all students.
"Because I went to a high school that had a really involved sports medicine program I've been really interested in getting students involved in sports medicine," she said. "Once I've gotten used to things here at Tam I want to reach out to the students to see if they are interested in doing something like that program, getting a real taste of what the athletic training profession is." Such a program would include education on the human body, rehabs, taping, and an opportunity to cover sports events with Dominguez.
For now Dominguez will continue rehabilitating, treating, and preventing injuries, as well as supporting students' development. "Helping these athletes become strong is why I became an athletic trainer," she said. "They're at the point where they can go on to play elsewhere, so I think it's important to inspire them and keep them healthy if they do want to go elsewhere. I love seeing these athletes at a young age pursue their dreams, and I'm looking forward to working with them this year."