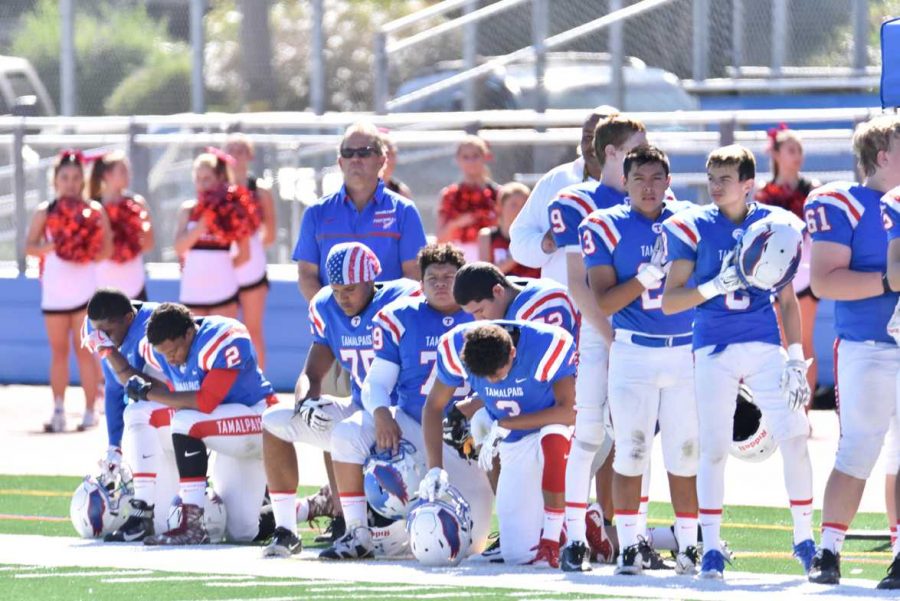 Six varsity football players: seniors Tre'Chaun Berkley, Leonjae Silas, Braxton Mitchell, and Jordan Smith, and juniors Pedro Mira and Oscar Corona took a knee during the national anthem on September 24 before their game at Marin Catholic, making them the first MCAL players to join the protest started by 49ers backup quarterback Colin Kaepernick.
Kaepernick is using his platform as a professional football player to protest American police officer violence against African Americans by kneeling during the pregame national  anthem, and Tam athletes have decided to follow his lead. "Some kids had a very clear concise reason why they did it and for some kids, it was no different then doing it just because a pro-football player did it and they just wanted to hop on the bandwagon," head coach Jon Black said.
Berkley said this issue is very real to him. "Say if it was ten o'clock and I was out there [in Mill Valley], I would get stopped by police," Berkley said. Berkley also stated  he has been stopped by the police too many times to count. "If you're black and [the police] don't know you then they want to get to know you," he said. According to Berkley recent shootings of black men in Tulsa and North Carolina were  the  final straws. "I know it could be me with everything that's going on," Berkley told the Marin IJ.
Other teammates expressed their support for the kneeling players."I knew that [Tre'chaun Berkley] and [Jordan Smith] were kneeling but I didn't know about anyone else, but as long as they have a reason for kneeling…I respect their need to kneel and fully support them," junior Daniel Park said.
The players said they plan to continue their protest in future games.    
Black went on to say that it is important for those who knelt to reflect on why they did so and get the team on board to support each other.
He commended Marin County students' advocacy for equality despite its predominantly white populace. "There are handful of African-American people throughout the county…and we as a school have a long tradition of social justice," Black said.