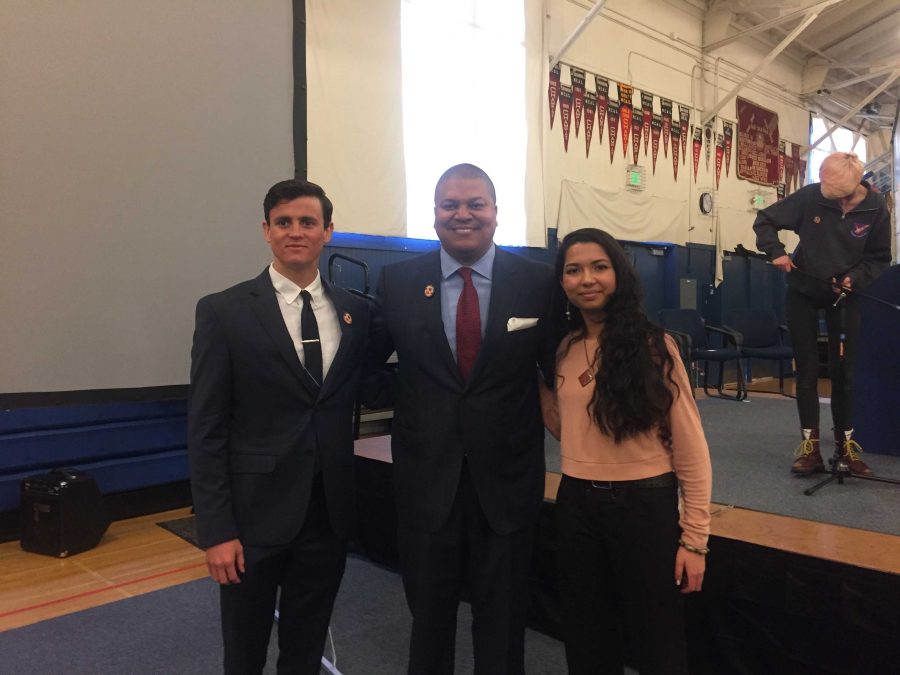 Students participated in Breakthrough Day on February 27 to commemorate the 50th anniversary of Operation Breakthrough, a student-led initiative that took place in 1967 following race riots on campus. Students and staff spent much of the day discussing issues of race in tutorial classes in addition to attending an assembly in Gus Gym.
"[We were] really trying to begin the dialogue about race here at Tam and about minority population experiences, including LGBTQ, any students of color, any ethnicity, and any marginalized populations at Tam High," Assistant Principal Wendy Stratton said.
During the day students attended each of their classes for 20 minutes, in addition to splitting into discussion groups and going to an assembly. In the discussion groups students watched a short documentary video with footage from the original Operation Breakthrough and alumni interviews.
A number of alumni attended the two identical assemblies, including alumnus Ron Blasingame, who spoke to students about his experience during Operation Breakthrough as Tam's first black class president.
During the assembly Blasingame addressed the larger issues of growing up as a black man in America and the concept of "colorblindness," or the idea that some people don't see race. "You can see me as a black man. That's ok because I am a black man. What matters is what you do next, how you treat me," he said.
Senior Raqshan Khan, an Editor-in-Chief of the Tam News, and co-president of the Students of Color club (SOC), gave a speech with junior and ASB President TK Dahlke, emphasizing the importance of every perspective in discussions of discrimination. Later co-president of SOC, senior Anna Okada, spoke along with seniors Mason Sapp, Jaiana Harris, and Tre'Chaun Berkley. Berkley, who only spoke at the second assembly, said that as a resident of Marin City, his peers at Tam see him as lesser compared to white students from Mill Valley.
Performances from actress and activist RyanNicole and senior Salem Davern were followed by a speech from Mill Valley Mayor Jessica Jackson Sloan.
Some students, like senior Juweria Mahtar, thought that Breakthrough Day acted as a stepping stone in promoting a more unified campus. "I thought it was a really great opener to start the conversation," she said. "Before, I didn't realize the prevalence [of racism] at Tam."
The event was also met with criticism from both students and staff.
"…It was really rushed and I don't think anyone knew what the point of the day really was," senior Rob David said.
Many student discussions from Breakthrough Day acknowledged that a majority of the Tam population is white, so many students may lack personal experience of racial discrimination. Many of those students expressed discomfort in participating in discussions, because they felt that their limited insight to racism hindered them from contributing.
"People feel like they don't want to talk about issues because they don't have personal experiences from that issue afflicting them, but their voice is still important in the conversation," Dahlke said.
Students felt that their discussions would have been more productive had their been diversity in their classes. "Conversations could have done better in a more diverse environment," junior Synclaire Lee said. "I didn't feel like most people in my class had similar opinions and I didn't feel comfortable enough to say everything that I had wanted to."
In addition, some students said that Breakthrough Day excluded many minority and marginalized groups. They felt that the event was almost entirely directed at issues of race as they pertained to black and white community members.
"I do wish Asians and other minority groups were more included in that conversation…," Okada said. "But especially because a lot of discussions were centered around the clips from 1967, it was hard for it not to be just [on black and white relations]… and I think that's something we need to work on,"
Yet Principal JC Farr believes said that any participation is valuable. "It's about speaking your truth. That creates opportunities to hear one another and value the different experiences we bring to the table, and if we listen with open hearts then that creates the opportunities for us to come closer together," Farr said. "You validate the experiences of others through listening and having reflective conversation, and I think that's a great start."
Administrators said they hope that Breakthrough Day is a catalyst for inspiring students to pursue dialogue and a more equitable Tam community. Farr wants to reach out to students and other community members to create a committee that will continue the discussion about race at Tam.
Stratton wants to encourage student participation in the future.  "I find it exciting that students are coming from the perspective that they would like to be the ones that are running events like this, I would want to empower that voice," she said.
Farr echoed Stratton's desire for more student involvement, stressing that minorities are not the only ones able to advocate for unity. "It's about a mindset more than it is about a color," Farr said. "For those that want to be involved in creating an inclusive school it does not matter what color you are, what matters is that you have the mindset to bring this [school] together and build understanding."