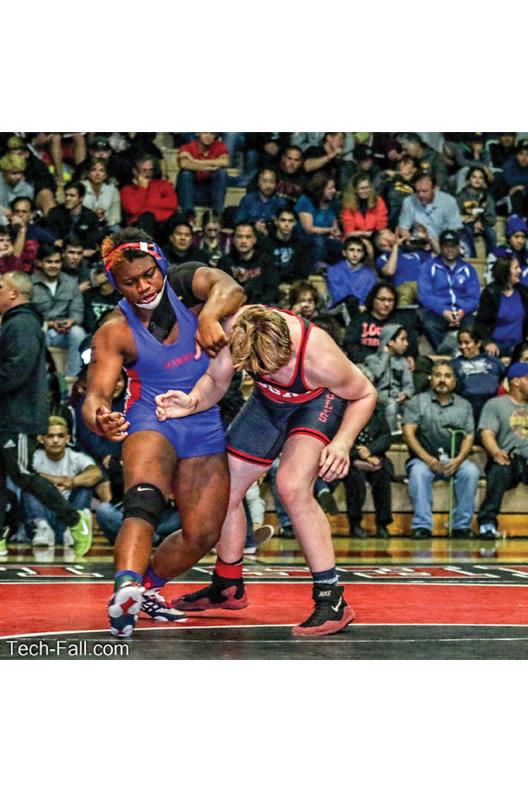 Karim Shakur's remarkable transformation into an elite high school wrestler didn't take place overnight. Shakur, this year's NCS champion in his 195 pound weight class was the first Tam wrestler to ever win the section title and advance to the CIF NorCal tournament.
Shakur won five straight matches to win the NCS title. "It was pretty tough," he said. "I outscored everybody by five or so points until I reached the finals. When I was in the finals I won by a point… [it] was my toughest match."
Shakur put in countless hours of hard work to reach this level of success. Shakur attributes this hard work to his many tournament wins this season. "All the work I put in in the offseason [helped my sucess]."
Tam wrestling coach Preston Picus believes that anyone can become a successful wrestler with hard work and dedication. "In wrestling anybody can be successful no matter how big you are how small you are," Picus said. "The thing that determines how tough a wrestler is how much work they put in and Karim just flat out put in the work." Picus credits
After Shakur's sophomore season, he began training more intensely and the next year it showed. "He was, you know, an okay wrestler as a sophomore and he got really good as a junior and he pretty much found a way to wrestle every single day in those two seasons. And then he did it again last year," Picus said.
Shakur not only put in the time for Tam in season wrestling, but also in the off season has led him to be successful, "Freshman and sophomore year I took it serious but I didn't do that much work in the offseason but then junior year after sophomore season. I started going to camps, taking it more serious." This has helped him not only become more serious about wrestling but also be able to continue on to state. "I had the number five seed the first round and I lost by a point. I came back and then lost the next two and then I had the number eight seed… and I lost by two or three." Shakur is glad he was able to experience the environment of such a serious competition. "It was tight. There were…[a lot] of people there. It was in a big arena."
Shakur is proud of his time with Tam wrestling and believes that his hard work has paid of in all of his accomplishments, "It feels good a little bit, all of the hard work I did paid off." All of Shakur's success this season has led him to be great role model for the rest of the wrestling team. "Its nice to have your teammates there for you when you are going against another team and be a good example." Picus has seen Shakur be a leader on the wrestling team, "Tam historically has not been a very successful wrestling program and it's hard for young guys to be successful when the seniors that they are looking up to aren't finding success. So Karim showing how to be a hard worker in practice and then going to tournaments and finding success is going to send a great message to our young freshman and sophomores that you too can be a champion in the sport."
Shakur isn't sure on what his plans are for continuing wrestling after high school. "I am not even sure [what I am doing] yet to be honest I'm thinking about it. I don't know, I am not 100 percent sure yet though." Although Shakur's future is up in the air, he has always been passionate about wrestling and will continue to be, "I've just been doing it for a while, it's just second nature. You just know how hard you need work to succeed."