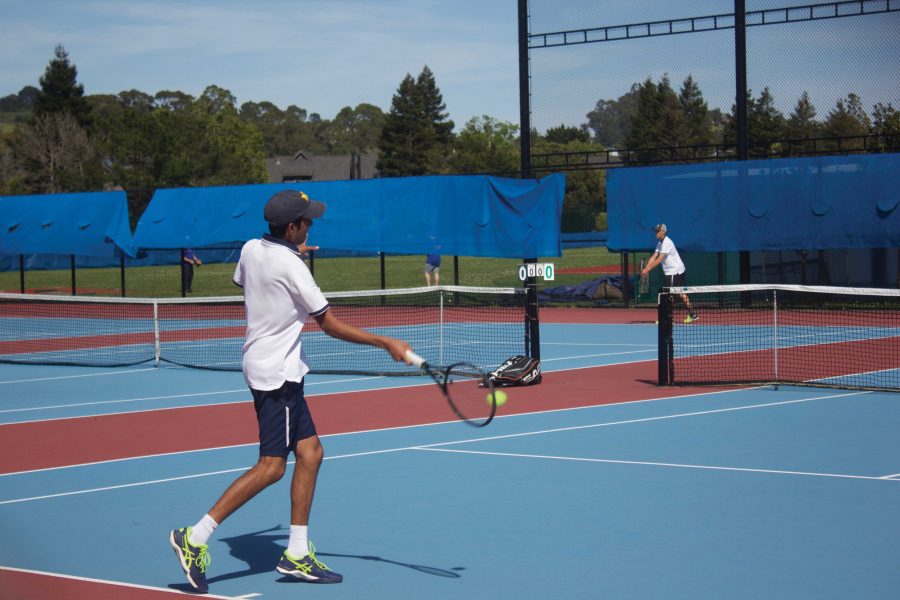 Senior Nikhil Kharkar began playing tennis at the age of five with his dad and older sister.
"We would go to the Tiburon tennis courts every week and we would just hit," Kharkar said. Kharkar started his organized athletics career as a baseball player. Around the age of 10, he started playing baseball competitively on a travel team, and for the most part, give up tennis.
After his freshman year Kharkar made the switch over from baseball back to tennis and is now captain of the team. "I felt like on freshman baseball I wasn't the strongest or the biggest," he said, "I'd played tennis when I was younger and I really enjoyed it, and my sister played, and my dad and mom played, so I thought why not just play tennis because I had the skills. I also knew some people on the team and I started hitting with them and I realized it was just much more fun to play tennis than to sit on the bench and play baseball."
Kharkar has had a major impact on the team, not only this year as a co-captain, but as a team member all three years.
"On and off the court Nikhil is always cheering and helping his teammates get through tough matches," senior varsity tennis player Charlie Wilkinson said. "Nikhil's support for the rest of the team is amazing. He's been a great captain this year, all of the team loves his effort, and he's helped us a lot this season."
Kharkar's time on the tennis team has made his high school experience much more enjoyable. He said the team atmosphere, the "banter," and the competition have allowed Kharkar to thrive.
The team has changed in the years since Kharkar joined. "Well, last year we had nine seniors that were good….. [and competitive] but they just didn't have the commitment," Kharkar said. "They were just there to have fun, and they didn't really care about the whole competitive aspect of it."
Increased commitment team is evident in the team's record this season. Kharkar went undefeated in MCALs in the regular season,  with a record of 14-0. The team finished 13-1 in the Marin County Athletic League (MCAL), tied for first, and finished second in  MCAL playoffs, after falling to Redwood in the finals 7-2.
"Four of the  Redwood matches went to three sets so it was very close. We had a great turnout of fans but unfortunately could not pull it out," Kharkar said
In tenth grade Kharkar won MCAL individuals and in eleventh grade he earned first team all league honors.
"Nikhil's been mostly playing singles this year," Wilkinson said. "He's been playing really important spot for us at four singles. Whenever he's in a tight match he plays out every point. The rest of the team see his determination and we all try our best to win our own tough matches."
While matches are enjoyable and exciting, they also take quite some time. Each match lasts about three and a half hours. This means missing about an hour and a half school every day there was a match, which is about three times a week. "Sophomore year I didn't go to a full class of fourth period for two months," Kharkar said. "So junior year I got a free fourth specifically for tennis, but if I didn't have a free fourth I would be screwed." Even with the free fourth, the amount of time taken up with tennis made it hard to get through second semester of junior year. On the days Kharkar didn't have matches, there would be two hour practices, which left very little time to get homework done.
Kharkar hopes to continue to play tennis on a club team in college, at University of Michigan, where he will be attending in the fall. Although he had opportunities to play tennis for a Division III school, Kharkar said wanted to be in a larger academic environment. "I hope to play club tennis in college if I can make the team, it's a pretty competitive [club] team but I'm sure if I work hard this summer then I'll have a good chance at making the team," he said.