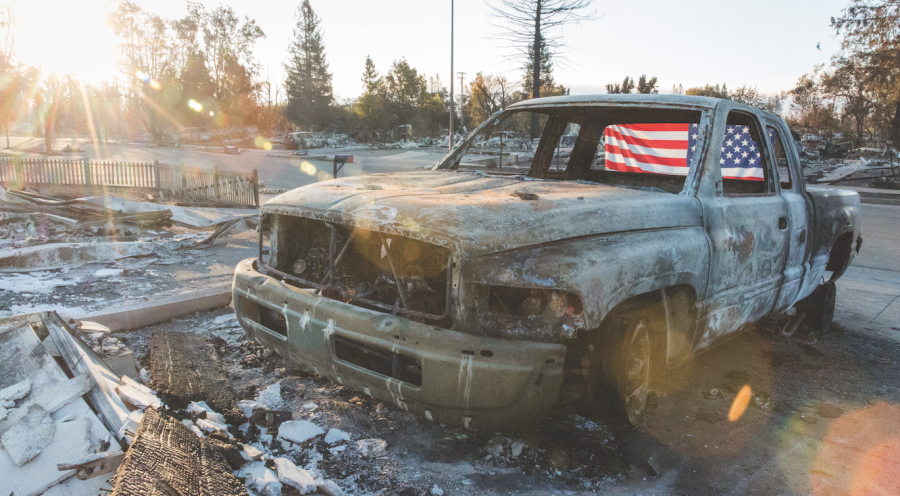 A wildfire broke out in Napa County, California, at approximately 9:45 p.m. on Sunday, October 8, and has been followed by four other major outbreaks. As of October 17, the series of fires has burned 340 square miles, left 42 people dead, 65 missing, 100,000 displaced, and 5,500 homes damaged or destroyed. The fires' direct cause is unknown, but county officials say the high winds and dry weather, which are common in October, were significant contributors.
Air quality throughout the Bay Area, including Marin, was heavily affected. Strong winds helped spread smoke from the fires, causing the air quality to be as much as four times worse than normal, dipping into unhealthy levels. All school-related sports were cancelled during the week of October 10, and avoidance of heavy physical exertion was strongly recommended by the administration. 182 students at Tam called in sick due to the poor conditions, which played a role in the cancellation of all schools in the Tamalpais Union High School District on Friday, October 13.
Assistant principal David Rice addressed how the Tam community is handling the situation. "[County superintendent Mary Jane Burke] was working closely with the department of public safety, I believe, and they were monitoring the particle matter count in the air," Rice said. "Once it reached a certain number, they closed the schools." Rice also described how the schools in the district would be affected over time due to the fire. "We have an awful lot of people that have lost their homes, who need places to live, and one school completely burned to the ground, and some schools aren't open yet. The kids still need to continue their education, so I suspect we'll have students coming to our district schools."
Science teacher Suzanne Garcia recalled her experience from the first night. "My husband and I woke up because the wind was making strange noises against our screen. We realized that the house smelled overwhelmingly of smoke," she said. "My husband went back to bed and I just happened to do a Google search of 'Santa Rosa Fire.' We then found out we were under immediate evacuation and began to pack up our belongings. We live directly adjacent to the Coffey Park neighborhood. Our house was about two blocks away from the fire line."
Students and teachers are being directly affected by the events in the North Bay. "The disruption from being out of our home and the metal toll had absolutely impacted and informed my teaching," Garcia said. As well as impacting her job, the fires have also touched Garcia emotionally. "I feel deeply, deeply sad for the enormous loss that so many of my friends and colleagues have experienced. Everyone in my community knows at least a handful of people who lost everything. In my community I am met with constant reminders of the fire. I drive down burned down streets, I meet friends and neighbors at the grocery store who have lost homes, pets, even in some cases family members. It feels unbelievably strange to do 'normal things' like go to work, grade papers, go to the gym, when so much in my community is not normal," Garcia said.
Teachers at Tam have noticed an emotional change in their students. "I have students directly impacted [by the fires] that I am seeing where they've disconnected a little bit," said Shawn Weber, a social issues teacher at Tam. "It's hard to find evidence directly, but I get the general feeling that there could be a very deep emotional impact happening for some of our students, and it might not be coming out right now because there is still this sense of shock from it happening."
Amongst the many things destroyed by the fire, Camp Newman, a Jewish sleepaway camp in Santa Rosa, was very important to some students. "I'm devastated," Tam freshman Jack Cohen said. "Camp Newman was like a second home to me, and now, without any warning, it's gone." Cohen had been attending the camp for six years and is heartbroken that it was destroyed in the fires.
Jordan Engel also attended Camp Newman. "I used to go there every summer, but now I won't be able to. I can't believe what's happened. I woke up this morning and hoped it was all a bad dream, only to discover it was the heartbreaking reality," Engel said.
Engel's family has been sheltering their babysitter and her boyfriend since Monday, and will continue to until it is safe to go back. "We try and do the best we can to help in these times of need. They were forced to leave their home in Napa and were headed to a shelter, but they were crowded enough, so we gladly offered them to stay with us."
Social studies teacher Aaron Pibble was so moved by the devastating events up north that he decided to take action. "Friday morning, I went to the evacuation center that was set up at the Marin County Civic Center and I volunteered for a few hours there," Pribble said. "So then in the afternoon, along with a few other teachers, I went up to Santa Rosa and we helped distribute gift cards at an evacuation center in Santa Rosa." Pribble also said that gift cards can be helpful for evacuees, as oppose to supplies, which take up space in shelters.  "Gift cards are a tantamount to the equivalent of money, so it's a way to give people the flexibility of cash essentially, so that they can have at least a little bit of financial relief and use it however they can. In some ways, it's a little bit silly to give … $100 to someone who just lost their home, but I do think that every little bit counts when you're looking at people who ran out of their homes with nothing but what they had on in some instances. It's just a drop in the bucket, but I do think that it helps just a little."
He added that he felt there was a strong sense of intimacy while he was volunteering. "One would expect the mood to be somber, and people were certainly upset, but there's something about when a community pulls together and people are looking after one another … the emotion was really raw," he says. "It was a range of emotions, but it was really nice to see people coming together, even people who didn't have anything, coming together and helping people out."