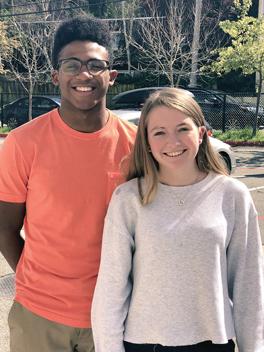 On March 13, Principal J.C. Farr and Athletic Director Christina Amoroso announced the Tam student athletes of the year: seniors Noah Haynesworth and Reilly Johnson.
Haynesworth had a three-year varsity basketball career and was a captain his senior year. He also earned all-league honors in his only varsity football season senior year.
Johnson spent three years on varsity soccer and was also a captain her senior year. According to Amoroso, both athletes were selected based on their excellence in their athletic involvement and leadership, as well as their positive contributions in the classroom and in the community.
"I think I was awarded student-athlete of the year not only [for] how I carried myself on the [basketball] court, but off the court as well," Haynesworth said. "I always had faith in my teammates and coaches in whatever they did. I wanted to care for others as much as I [care for] basketball and I think it showed."
Haynesworth was an integral part of a boys' varsity basketball team that reached the MCAL championship for the first time in 18 years.
"This award means the world to me," he said. "I had the chance to play with my brothers everyday and go to the school where I've grown love for over my four years here. I've never been acknowledged for my efforts as both a student and athlete, so I am very honored to receive an award that is so rare."
Johnson helped lead girls' varsity soccer to an MCAL title this season. "I was actually surprised that I got this award," Johnson said. "I think I earned Tam student athlete of the year because of my work ethic, performance, and leadership both on the field and in the classroom. I wanted to make this team closely knit and have it be a safe space to escape from stress where we could have fun, but also have the ability to get focused and work hard." 
There will be a ceremony celebrating the student-athlete award winners from all MCAL high schools at the Embassy Suites Hotel in San Rafael on May 7 at 6:00 p.m. However, admission is not open to the public and each athlete has a guest list. ♦