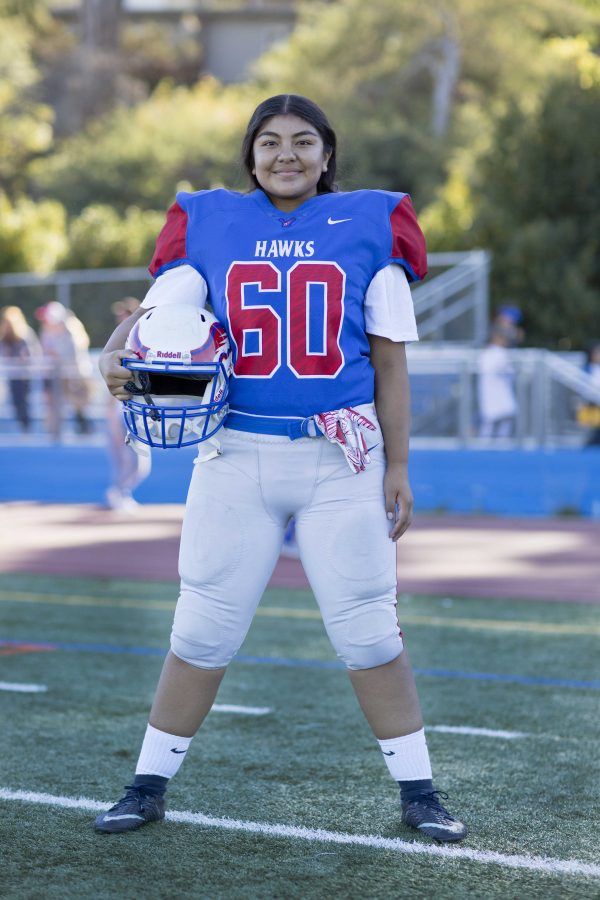 Senior Jackie Hernandez is breaking barriers as the first female Tam football player in the school's recent history. This is Jackie's first year on the football team, as well as the first sport she has ever played for Tam.
"I always wanted to try out since freshman year but I was a little intimidated. I never gave it a try until junior year," Hernandez said. "I had friends that were on the team that [had already] graduated and they would tell me that it would be too hard for me and things like that. People would always discourage me and I was like I'm going to do what I want to do. So I tried out for the team." While this is her first time playing, she's setting new boundaries. Teammates and coaches are excited to have her contribute during this season.
"Jackie is going to play some offensive line and defensive line. She should be able to help us significantly especially as we move farther into the season. She's still getting the basics of everything down because this is the first year she's played but she's picking up on stuff really quickly," head football coach Matthew LemMon said.
While Jackie feels welcomed by her peers, she has also noticed a slight shift in attitude after joining the team.
"Obviously, me as a girl, joining the boys football team was a new idea to the boys who are on the team now because they've never had a girl on the team …  Actually one of the boys had mentioned that he felt uncomfortable with me changing in the locker room with them … I'm a very open person and I wouldn't mind changing into my uniform in front of the boys. I asked if I should change in the bathroom and [the coaches] told me to just 'do my thing it's not like anyone's there just looking at you and if you're comfortable with it I don't see why anyone should not be comfortable with it,'" Hernandez said. While there have been some instances like this, the team seems to have each others' backs.
"We have a really strong team and we all try to look out for and care for each other," junior Eli Blum wrote. "I don't think anyone on our team really cares about gender. Our goal is to win ball games and anyone who can help us with that is welcomed by us, regardless of gender or sexual orientation or anything."
Coach LemMon also feels that there is nothing strange about Hernandez playing football. "They just treat her like another one of the teammates," LemMon said. "Coaches, players, there's zero preferential treatment. Zero anything like that. She is treated exactly like everyone else because, honestly in reality, when you put pads on, everyone pretty much looks the same. You have no clue, until you're right up face to face with them."
Overall, Jackie's time on the team has been a great experience and believes she is a stronger person because of it.
"One thing that football taught me [is] that the only person who can defeat you is yourself. It's all about your mindset. If you really want to go for something, if you want to go through with something, go ahead and do it. One of my favorite quotes is 'she believed she could so she did.' That's basically how I go about my days. If I know I can do it and I know I want to do it … I try and I give it my all. For any girl who wants to try something that's maybe more male-dominant … or really just anything at all … go for it."
Photo by Ethan Swope