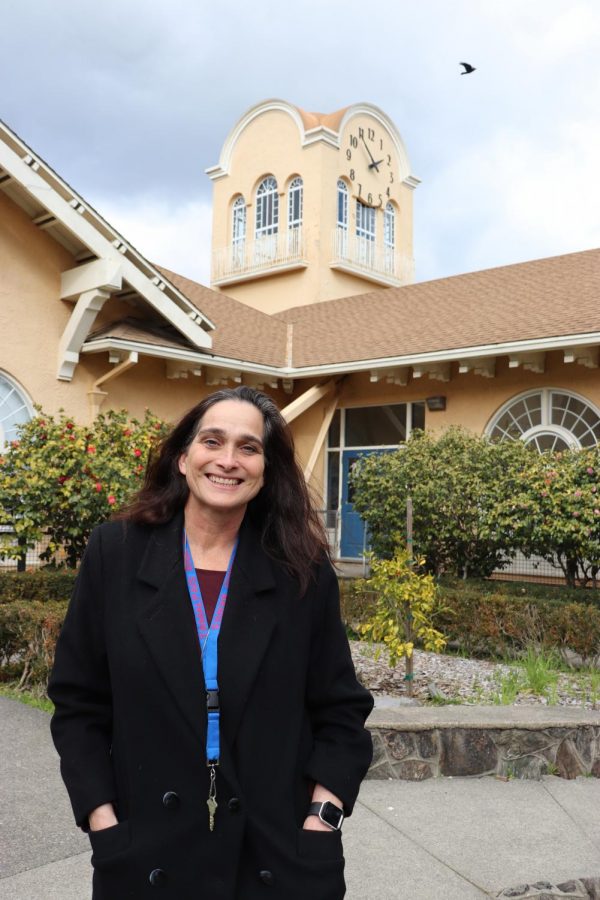 The most recent addition to the Tam staff, Karin Hatton, has already proven her dedication to education and commitment to community in her short time as assistant principal. Hatton has an extensive background in education and has taught both middle schoolers and adults.
"I started teaching at a middle school in a very diverse community in American Canyon … I knew from that experience that I wanted to be in a diverse community and wanted to be in a community that was looking at [all kinds of] students," Hatton said. She has goals for her future, and wishes to learn from her experiences at Tam to apply them to a broader society.
"I have a really big dream to open a school one day … to provide a global perspective for students and to engage them in really meaningful real-world work," Hatton said. Her core respect for the meaning of community stems from her service work. She has taken over a dozen students to Nicaragua for service learning, and she herself volunteers with the Napa Valley Food Project. Hatton's community service directly reflects her values in education.
"I'm a servant leader, really looking for ways to help people be the best version of whatever they're going to be through my support," Hatton said. While she was very comfortable working at her last job in Napa, Hatton saw an opportunity to expand her understanding of Tam's culture.
"I wanted to take a risk and challenge myself and so I was given the opportunity to apply [for a job at Tam] … I saw that [the school was] doing some really cool things about community building [and wanted to know more]," Hatton said. In her short time as assistant principal so far, she has already felt a unique bond with the campus.
"So far, Tam staff and students have been … very friendly and welcoming and helpful to me … " Hatton said. "What strikes me most is just how … willing people are to embrace somebody who's new." Hatton has come to appreciate the strength of our school's student-centricity.
"The one constant [with people at Tam] is that people really have students at the center of their work. I think that's really, really important, so that drew me here," Hatton said. Hatton expressed her respect for how Tam runs, and that rather than changing it, she is here to observe.
"I want to be a learner and be respectful of what exists … I want to partner with people [and] students," she said.
Another of Hatton's goals is to focus on student's voices and enhance them through school-wide connections in her time here.
"I'm all about parents. I'm all about teachers. I'm all about students. I'm all about all of us coming together, collaborating, talking and respecting each other's voices. At the end of the day, I think … students have a lot of amazing ideas. If we can give [students] more opportunities to ideate and create and give us those ideas in a way that's respectful of the vision of the school [and] respectful of the policies of the school, [I would like to do so]," Hatton said. Hatton has already met many of the strong personalities of our community, and only hopes to hear them more during her time here.
"There's this inclusiveness … that we have … [I want] to continue to see … the inclusion of all students. A bright spot already [has been] to be in that student center and to see students coming in and working with Mr. Lovejoy's kids and [seeing] the high fives—they know you guys. I want to see that more," Hatton said. The common thread through Hatton's mind is the the importance of learning from others.
"I want the Tam community and the students to know that I absolutely believe that education is the only way to live … I value education and believe that it should be meaningful," she said.