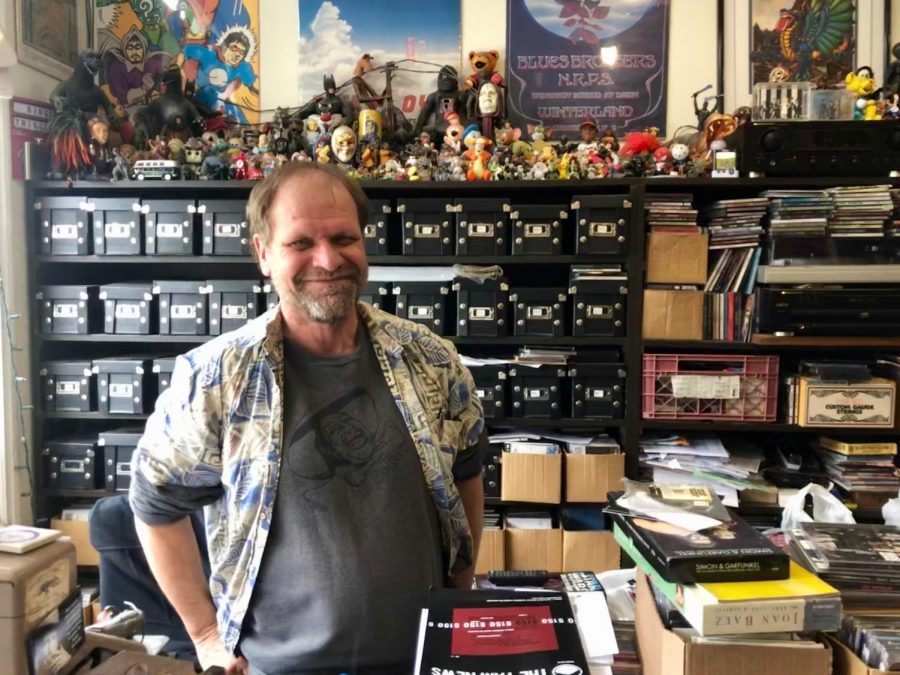 It's a rainy day in Mill Valley, and Gary Scheuenstuhl has just received a shipment of CD's. He sits tucked behind his register, a wall of records, books, and loose leaf paper encircling him. Vinyl is everywhere. In the window, records tied on cotton strings dangle and under the stairs a collection of painted records decorate the white wall. "I've always collected [records], since third grade," Gary says to me. He has the intimidating air of someone who knows a lot about something but isn't telling you anything. I've taken great pains to appear knowledgeable during the interview- so far I've brought up the pros and cons of listening to music digitally, mentioned several obscure bands, and mentally thanked my middle school music teachers many times- but I still feel like a tarnished penny next to a freshly minted gold coin.
Gary is the owner of Mill Valley Music, and although it's only been around for eleven years, the shop is iconic. I tell him that, and he grins. He tells me all of Mill Valley used to be like this, full of peculiar shops, before the hair salons and lawyers moved in. "This was such a hip town," he reminisces. "Tam was cooler too. Way cooler." He laughs. "Sorry- I'm not supposed to say that, am I? The music scene was great." Gary's lived here all his life. He says in the old days Mill Valley wasn't just cooler-it was more musical too. "First, there were less people, and second there were cooler people." he says. He attended Tam, and graduated in 1973. "I didn't play music though, in high school." He glances back at a box of records. "My parents would play music that I didn't care for necessarily. But I'm old enough to have watched the Beatles on Ed Sullivan when they were first on and I was like 'wow this is really cool.' I knew I wanted to be a part of it."
Gary started collecting records when he discovered the store Village Music on his paper route. That was how he earned money as a music fanatic in third grade. Now, he points at the walls around him, colorful posters decorating them, psychedelic images filled with bright colors and strange shapes. "It was the cover art that attracted me," he explains. Third-grade Gary followed the cover art all the way into Village Music, onto its shelves, and to its register. He bought a Rolling Stones greatest hits album. "That place was gigantic. It was like a warehouse, a grocery store…all the ceilings and all the walls were covered in rock posters." Gary speaks about Village Music with reverence. Right now he's wearing a gray t-shirt depicting a laughing, mustachioed man in a sombrero that is an old piece of Village Music merch. He wears it under an unbuttoned Hawaiian shirt, which surprisingly, seems like a natural combination on him.
Third grade Gary grew into high school Gary and high school Gary wanted to play drums. "My parents weren't supportive, and I wasn't so passionate about it so it faded away," he says. However, Gary's love for music didn't die that easily. "When I got to college I said to myself  'It's now or never.' I wanted to play drums, so I played drums and I've been playing ever since," he says. Gary was a science major at Berkeley, although he quickly switched to English. "I was kind of a science nerd, which is why I started off at Cal there."
"I've always been a music fanatic and now I'm surrounded by it," Gary says. "I play drums, I'm in bands, I sell records. I just love being here." It's clear that this is where he feels the most at peace. He reclines in his office chair, a king in his own right.
After Gary graduated from Berkeley he started working part-time as a lab tech. "We were doing the evolution of everything through the study of proteins," he explains. "I really liked working in science and music at the same time because they were so different."
He started working at Village Music soon after. The owner knew Gary from his shopping there, and Gary knew the store like the back of his hand. "One of my favorite memories is when The Who's Quadrophenia just came out," Gary says, smiling. "I was waiting the day it was released because I was a big Who fan, they put it on the front rack. At that time records were $3.99, but it was on the rack for $5.99 because it was a double. I was like '$5.99 for a record? Aw man!' It was a lot of money back then." Village Music had all kinds of customers; everyone and their mothers shopped there. Gary mentions DJ shadow, Ray Krueger, and Bob Weir among others.
"Jerry Garcia used to shop at the old store. I was checking him out one time and talked to him about New Year's. He said he hated playing New Year's because if they didn't get really wasted it wasn't fun, but if they did get really wasted they sounded like shit.' That place was amazing."
In places like Village Music time seems elastic. When you're listening to the right record, the world around you can stretch on forever, and you'll never notice. But even rubber bands have a breaking point. Village Music eventually left the Mill Valley scene.
"Bohemian musicians, writers, artists can't afford Mill Valley now. It's become more and more about money," Gary tells me. "It's really changed."
The guitar lessons upstairs have started; music drifts down into our conversation. "Village was closing and I thought it would be a good chance to try it on my own. I always kind of had the idea I could do it."
No matter how blasé Gary might be about it, opening a business is no small feat. But he's humble and doesn't stay on the topic long unless I press him. "This kind of place is a bastion. But the thing I've got going for me is it's unique. I think there's a coolness factor. I mean, I've got so much stock right now people tell me to build shelves to the ceiling," he says.
In front of the store, a dog starts barking. Gary looks over my shoulder, cautious but unconcerned. All this time we've been talking in the back. A "staff only" sign hangs above Gary's office chair. I'm perched across from him on a wooden stool. Occasionally, somebody stops by to chat with us and say hi to Gary. "Another biography?" is a common exclamation directed at me. He's popular.
Mill Valley Music often has high school customers. Most places that sell records have seen an increase in sales from our generation. To Gary, it's obvious why records are coming back into style. "They're cool! The shape, the cover art," he gestures at the records behind me. "It's not only how they look. Listening to a record is a social experience, you can have a listening party with the sound."
This whole business, he tells me, is about experiences. "I love when people turn me on to music…I get customers from all over the world- Australia, Japan- It's cool that people come here and make me the first stop on their trip." The coolness factor that Gary mentioned earlier definitely still exists. My mind casts back to Mill Valley Music's white façade rising up from the sidewalk, crowned at the top by a black cat playing the guitar. It's a silhouette that's hard to forget. Even now, sitting in the store I kind of feel like I'm talking to a celebrity. Or maybe a famous guru.
A celebrity music guru. "I have a philosophy that you don't need to squeeze every penny out of everything," Gary states abruptly, waking me up from my guru thread of thought. "There are a lot of record store owners who try to sell everything at max price. But you're going to die with all those records because people aren't going to buy them for max price."
Gary seems happy just to pass on his music- to share his passion with the world. I ask him if there are any downsides about working in the music industry. "Downsides? The downside of working in music is that you don't make any money, you don't get rich." he says and grins. "The upside is that it's really, really fun."