Protective radius declared around Tam pool facility due to chemical spill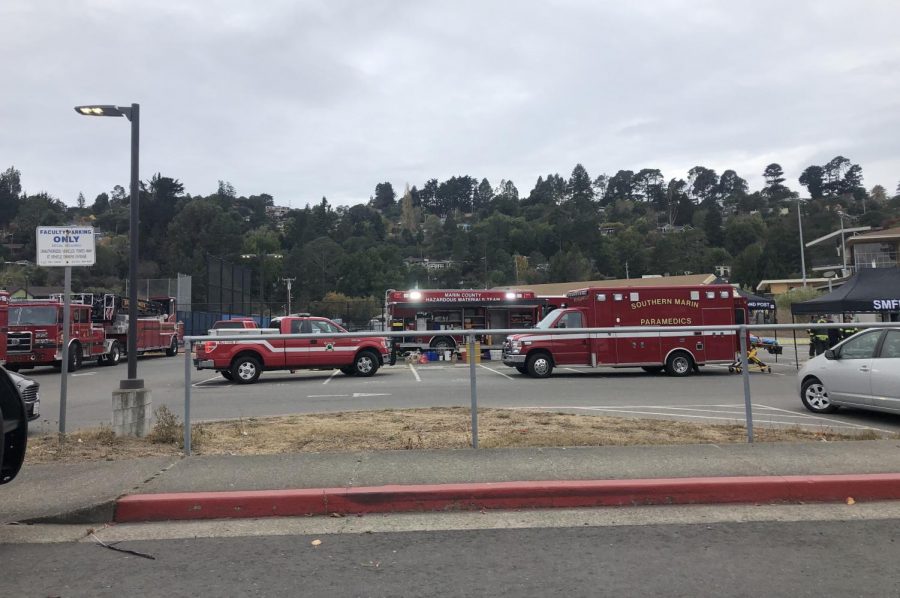 By Lucas Rosevear
November 26, 2019
A leak involving the potentially dangerous chemical hydrochloric acid was discovered in the pool facility at Tamalpais High School as of about 8:00 a.m. this morning.
A shelter in place was called in the half-mile radius around the Tam pool and has since been lifted.
"We got a notification that there was chemical spill inside of the pool room area," Sgt. Paul Wrapp of the Mill Valley Police Department said. "Out of an abundance of caution and standard operating procedure, when a chemical is spilled … [all local emergency services] come together as a unified command system to handle an incident like this." According to Wrapp, the responding fire departments first test the air to determine the chemical compounds involved in the spill, and after containing it, wait for the appropriate cleaning agents from the local hazardous waste management team.
As of about 10:00 a.m., the emergency services were still working on fully containing the leak. Battalion Chief Barnes of the Southern Marin Fire Department emphasized the health risks were minimal. "The leak is super small and we're not really worried about it at this point … [there is] no hazard outside the area other than the facility and the building, we have a lot of crews in place working on mitigating the hazard."
The cause of the leak was still uncertain by 10:00 a.m. "We're still trying to figure out what caused it," Barnes said, elaborating to say that while leaks from pool facilities are "not super common," they are also not abnormal events.