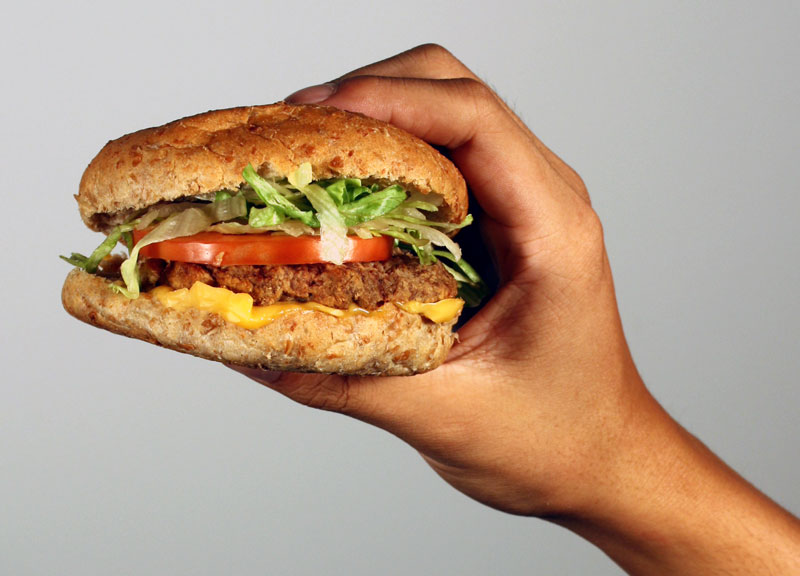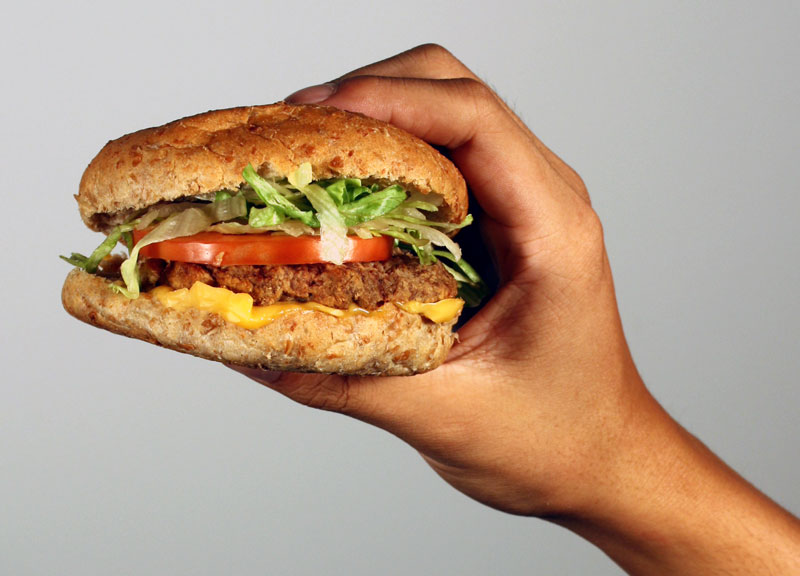 Lunchtime. For many students, the freedom to choose where to eat and what to eat is of utmost importance. Students who eat at the Hungry Hawk are the final links in a chain that begins with nutrition requirements, budget considerations and a careful balance between environmental sustainability, government regulations and ever-important taste. Wherever they choose to eat, students' food choices have a bigger impact than they may realize.
At 11:20 a.m., hungry students across Tam flood out of classrooms. Senior Ted Feeney is the first one out of the parking lot, rushing to In-N-Out with nothing but french fries on his mind. He swerves around a corner and merges on to the freeway to reach In-N-Out in enough time to make it back for class.
Meanwhile, senior Chris Byrne opts to stay on campus, counting on the Hungry Hawk's convenient proximity to give him time to cram for a Spanish test next period. He reaches the front of the line and buys a teriyaki chicken rice bowl with milk, orange juice, a plum, and carrots for $5 at the Hungry Hawk. The food is handed to him through the window and he settles with his friends at a table in the student center.
At In-N-Out, Ted finally reaches the front of the line and orders a cheeseburger, animal style fries, and a small milkshake. Ted pays $8.50, and ten minutes later he's scarfing down his lunch with one eye on the clock. As Ted speeds back to Tam and runs to class, Chris finishes his rice bowl and goes over irregular Spanish verbs.
Two students, two wildly different lunchtime experiences- each meal with unique origins and repercussions for student health and the environment.
Each day, 1,250 students are given 50 minutes to choose where to eat lunch. Hundreds end up crowding the aisles of Safeway, and others walk and drive to further destinations. In the rush for a tasty meal, the Hungry Hawk is ignored by 80 percent of the Tam student body, according to Tamalpais Unified High School District (TUHSD)Director of Nutrition Services Margan Holloway.
"Most kids would rather drive somewhere. In my opinion the Hungry Hawk food is hit or miss. I would rather eat somewhere where everything is good," said junior Alec Williams.
Byrne disagreed. "[The Hungry Hawk] serves high quality food, and [it] is a good place to get a quick, good tasting meal. It could have a bit more variety, but I really like it," he said.
What many students may not realize is that the Hungry Hawk operates under a series of governmental and budgetary restraints. Holloway is proud of the steps taken to make the food served at the Hungry Hawk healthier and more environmentally friendly. "There are vegetables in each entrée, and fruits and milk that go with each meal," she said. "The biggest change is that the law says students have to pick a fruit or vegetable before choosing anything else on the menu."
The Hungry Hawk's produce is "grown in California, and is delivered fresh. People's Harvest processes the fruits and veggies," Holloway said.
People's Harvest is part of a program that employs troubled youth, and disabled persons who may not be able to hold a mainstream job. All of its food is sourced within a 100-mile radius of its headquarters in Petaluma, CA.
"We even use local companies for our bread and bagels. What I serve to you matters to me, as well. I want to serve you what I feel is the best thing we can do for the money that we have," Holloway said.
Last year, the Hungry Hawk fully implemented the United States Department of Agriculture's nutritional Recommended Daily Allowances (RDA). According to the Hungry Hawk website, this entails many nutritional guidelines, such as that each entrée must be less than 400 calories, and contain less than 4 grams of fat for every 100 calories. Students tend to buy the unhealthy items from the old menu that still meet the USDA requirements. Last year all fruits and vegetables used in the Hungry Hawk's entrees were organic, but the price went up, so sales plummeted.
"I don't even know if eating healthy food is on anybody's radar. I don't know if the nutritional aspect makes any difference [to students]," said Holloway.
When asked what the most important consideration is when buying lunch, freshmen Brian Rivas and Daawood Nana both answered emphatically: taste.
What I serve to you matters to me, as well. I want to serve you what I feel is the best thing we can do for the money that we have.
But some students are calling for additional changes to the lunch program. "One way we can improve the cafeteria is by changing the meat supplier," said senior Aidan McGuiness. The Hungry Hawk serves meat from several suppliers, including beef from the Integrated Food Service, which has farms in Chino, California. Some of the Hungry Hawk's chicken is supplied by Tyson Foods, a company based in Springdale, Arkansas. Tyson Foods is the world's second largest processor and marketer of chicken. "Meat is unhealthy anyways, but if we are going to eat it, we should not support Tyson," McGuinness said.
The problem, however, is that serving sustainable food is often more expensive. "If [Tam's] campus were closed, then we'd have more revenue, and we'd be able to buy more things," Holloway said. "We don't get a lot of money because we don't sell a ton of meals. I try to manage our budget as best as I can and try to present students something that makes them want to stay on campus." Although serving locally produced foods is a priority for the Hungry Hawk, Tyson supplies "better quality" meat than other companies, according to Holloway, and ultimately was the most cost effective choice; an important consideration when keeping prices low is central to keeping students eating on campus. And with chicken strips selling "like crazy" at the Hungry Hawk, according to Holloway, it seems that students place less worth on where their chicken comes from than on how it tastes.
Although not always reflected in their eating habits, some students are aware and concerned about the impact that their food choices have on the environment. For some, concerns go beyond the locality of meat to its overall environmental impact. "Many students [show] interest in environmentalism," said Tam News reporter and senior Jeanne Shepherd. "There are many environmental clubs on campus and even environmentalist classes that are given AP status, and 'Lab Science' accolades. Recycling programs, carpooling, and turning lights off are all steps in the right direction, but we are ignoring the real impact that we have through our meat-based diets."
According to "Comfortably Unaware" by Dr. Richard A. Oppenlander, livestock is the leading contributor to greenhouse gas production today, contributing 50 percent more than all planes, trains, trucks, cars, and ships combined.
Holloway argues that localizing the entire menu or seeking alternate meat providers would double prices. "I have looked into getting a local chicken distributor; a farm in Marin was charging three times the amount Tyson charges me. My hands are tied. If I started charging $8 for each meal, nobody would eat on campus," she said.
Holloway points out that while the Hungry Hawk may be pushed to order from less than ideal suppliers, they are able to offer more menu options than most other schools. "Look at Novato," she said. "They have four choices a day."
Under similar constraints as Tam, the Novato Unified School District food program has taken a different approach to improving their lunch program. Novato High School has an open campus and approximately the same amount of students as Tam. They also have budgetary restraints, and must offer meals at little to no cost to students who qualify for financial aid. Novato Unified School District Director of Food and Nutritional Services Miguel Villareal leads the program, which he has seen change and progress over the course of a decade.
"All our produce is organic," he said. "We chose organics because of its sustainable farming practices. They don't use pesticides, or hormones that stress the body, and well as the environment. Most of it comes from local farms. We have eliminated red meat from our menu, and are moving towards mostly plant-based meals," Villareal said.
Novato students are given four to five lunch choices each day. The price for each meal is $3.25 and additional sides are available, while the Hungry Hawk charges $5 per meal.
Where meat suppliers are concerned, Novato's lunch program faces a similar dilemma as Tam's. "Though we still use chicken from Tyson Foods, we hope we can someday expand our facilities to accommodate for storing, and processing organic chicken," Villareal said.
Holloway has goals for her program as well. "This year, 50 percent of the breads are whole grain. Next year, 100 percent will be whole grain. The rice is 2/3 brown and 1/3 white; hopefully I can keep changing it so that it is completely brown rice," she said. "We also may switch to House of Bagels soon, because they fit the nutritional guidelines even better. We are also changing the breakfast menus to make them healthier, as well."
Holloway also hopes to improve school pizza, shifting from the current supplier to a more local, student-chosen pizza. "Big Daddy's supplies our pizza. It's frozen and we bake it, but we are looking to switch suppliers. We are working on a way to let students choose which pizza tastes the best, because I want you guys to make the decision, not me."
Both Holloway and Villareal agree that students should get involved if change is important to them. "For students today, it's a hard change," Villareal said. "Coming from 30 years of unhealthy, over-processed foods being readily available everywhere in a kid's life, it's hard to have healthy foods that click with people. We don't have the means to market or advertise our products as much as unhealthy food companies do; our students are exposed to their advertisements every day."
Villareal sees the impact of the food he serves on the overall health of our nation. "I've been in this program for 32 years. During my career, I have seen obesity percentages increase across the country." He sighed, then continued. "Consequently, I have seen the same rise with diabetes, and heart conditions. Our society is not eating the right foods; they are highly processed, and unhealthy. If we reverse the process and reduce the amount of high processed foods kids have contact with, we will see those disease percentages go down, and overall we will have a healthier society."
Like Holloway, Villareal suggested that students be given a more active role in the food programs provided to them. "A good way to make change is to have a committee of students who are working alongside with the manager or director. They should be aware of the opportunities and obstacles and want to be moving forward," he said. "I can't be out here speaking on students' behalf forever. At some point students need to advocate to the source: the USDA, and their own communities to say it's ridiculous what's happening, students deserve better."
The TUHSD Student Nutrition Services states on its website that it is "committed to providing nutritious food to students and staff to fuel the mind and body as a partner in the educational environment." The Hungry Hawk has a long way to go before the program is truly sustainable, but where student nutrition is concerned, the program has made clear advancements.
When Chris walks into Spanish, he'll have eaten a protein-rich meal including organic, locally grown fruits and vegetables. His teriyaki bowl will have contained somewhere between 750 and 850 calories, less than 30 percent from fat. Ted, racing into Physics just before the bell, will have had an entirely different meal, for 70 percent more money-the hamburger, milkshake, and fries he wolfed down will have contained a whopping 1,465 calories, 45 percent from fat. Sustainability shortcomings aside, the Hungry Hawk keeps nutrition a priority.