One Day at a Time: Marin Teens on the Road to Recovery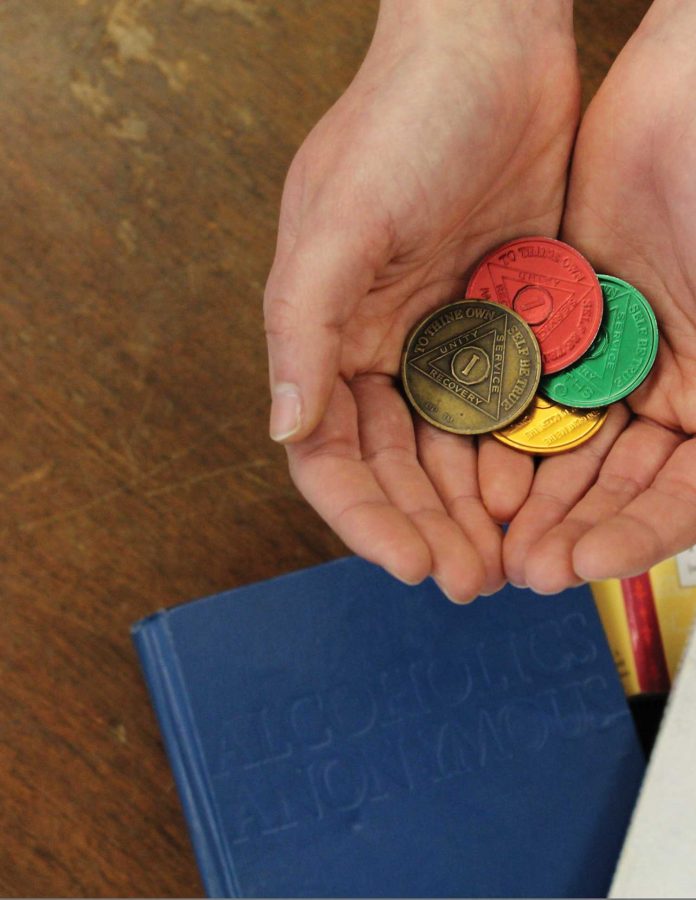 By Sarah Asch
March 29, 2014
Senior Zack Facter began using drugs with increasing regularity after his first experience at the end of seventh grade. "When I first started smoking [marijuana] it was once every couple of weeks," he said. "Then it turned into once a week, and then I would say by January or February of eighth grade I was smoking weed every single day. By March or April I was smoking weed every single morning before I went to school. By freshman year, I couldn't get myself to go to school without smoking, I wasn't eating without smoking, I wasn't sleeping without smoking. It really dictated my life."
Facter managed to appear put-together even as he became more dependent. "I was really good about doing everything I needed to get done in order to make it seem like the drugs weren't affecting me in a bad way," he said. "People always talk about 'Yeah, if you do drugs your grades are going to slip,' and 'if you do this that other thing is going to happen,' so my grades actually got better when I was smoking weed because I would actually worry about my grades and that I would get in trouble."
Facter started trying to quit smoking in his sophomore year. "I would try and I would feel like absolute [crap] for like five or six days," he said. "After that it was like, 'All right, I feel so bad that I might as well smoke anyways. None of the negative things are getting any better.' Then I would smoke for a week or two and forget about wanting to quit for a month or two. And then I would be tired of this dictating my life again and I would try and quit again and the same thing would just happen over and over and over again."
Facter's mother, Nancy Meadows, tried to help Facter get sober. "In addition to having many heartfelt conversations with Zack, we also sought professional help in the form of therapy in order to better understand the underlying issues that were influencing Zack's decision to use," Meadows said. "Unfortunately, since Zack was unable find a therapist that he felt comfortable working with and since he didn't want to stop using, little progress was made."
He finally went to rehab after an incident with several police officers. "Near midnight I received a call from the SFPD telling me that Zack had been arrested for public intoxication, possession of alcohol and possession of false identification. I was also told that he had been injured and would need to be taken to the ER for stitches," Meadows said. "When I arrived to pick Zack up, he had blood caked to the side of his head and face. He could barely stand and he was shouting obscenities at the police officers. I was told that they had found Zack wandering in a very bad neighborhood… looking for his friends and his car. He was bloody when they found him. He was apparently planning to drive home but he had been separated from his friends and he was too drunk to find his car. Zack couldn't explain how his eye was split open. He had no memory of being hit in the face."
According to Facter, this was "the laststraw" that caused his parents to put him in a recovery and rehabilitation home run by Muir Wood Adolescent and Family Services in Petaluma that houses six 12-17 year boys at a time for 45 days each. "For a couple weeks I hated it and I just felt terrible but [then] I started feeling a lot better and everyone who was there was super cool," Facter said. "They all used to be addicts. It was just a cool group of people who had fun being sober. When you're smoking a lot of weed it's like nothing compares to [smoking]. It literally ruins everything else in your life because nothing else is as fun. So once you are able to get that out of your system and you can hit golf balls and shoot baskets that stuff starts being fun again."
Meadows is glad that Facter was able to get help before graduating from Tam and going to college at the end of this school year. "I only wish we had acted much sooner. It's possible that Zack and every member of the family might have avoided much pain and suffering if we had," she said.
Facter is not alone in his experience. Redwood senior Calvin Smeltzer, who transferred to Redwood from Tam his sophomore year, is also in recovery. Smeltzer's first experience with marijuana was similar to Facter's. "I started about the summer going into eighth grade… then it just exploded," he said.
"My story is a little different than Zack's. Zack was sent away, I actually chose to [go]. I was coming to a point in my life where it was too much. I was smoking too much, I had horrible grades, I wasn't feeling like I was going anywhere," Smetlzer said.
Smeltzer was 18 when he decided to seek help with sobriety. He found the Muir Wood home and initially felt very motivated. "But then I hit about two weeks and I hit a wall. I hit a mental wall and I was just like, 'I don't want to be here. Why did I choose this? I just want to go home and smoke,'" Smeltzer said.
Smeltzer's progress began to turn around when he attended a meeting on the subject of willingness. "They started talking about how you're not going to do it if you don't want to do it. You're not going to be able to get sober if you're not fully wanting to," Smeltzer said. "It's something you have to have the inner drive to do. Otherwise it's just going to blow past you."
Smeltzer was able to overcome cravings by recognizing that, "when [an excuse] comes up in your head, it's just your addiction talking," Smeltzer said. "It really is. It's like a little devil in your head talking, like, 'Oh, you won a football game, you did all your homework, you got an A on your test, it's Friday, you can smoke, you have nothing else to do.' That's your addiction talking."
Jennifer Golick, the clinical director of the Muir Wood Adolescent and Family Services recovery home in which Facter and Smeltzer lived has many years of experience working with both teens who have substance abuse problems and their parents. "We don't allow parents to just dump their kids in rehab for six weeks and then come and pick them up," Golick said. "We really believe that addiction [and] drug use is a family disease and so we treat the whole family." According to Golick, the Muir Wood home has treated 30 adolescent boys, usually on the 45-day cycle Facter went through, since it opened last June. While living in the facility, residents attend different kinds of therapy, including family, individual, exercise, art, and the outdoors. They are also required to keep up with their schoolwork to make for an easier transition when they return to their respective middle or high schools.
According to Golick, a key part of rehabilitation is understanding substance use. "The whole process is really geared towards getting people to understand why they use substances in the first place," she said. "People start out using because it's fun but people who are using all the time–people who are smoking pot everyday, all day, or drinking booze all the time–[they] usually have something else going on and so they're using substances to treat an underlying problem, whether it's anxiety, or depression, or fear, relationship problems, problems at home. Our work here is to get to those underlying issues and to focus on that because really the best way to treat substance use is to understand why people use it in the first place."
Another important aspect is education. Muir Wood runs a program that brings in a panel of former addicts who got sober in their teens to talk to students at local schools about their experience. "We also talk to students about just the facts of what substances do to the brain and the body, particularly the teenage brain and body," Golick said. "I take the approach of helping people become informed consumers. I'm not going to tell you to use drugs or not use drugs, but I'm going to inform you about what the risks are associated with that so that you can then make a better choice for yourself."
Principal Julie Synyard had a similar goal of education-based prevention when she rebooted the parent volunteer group known as the Tam Drug and Alcohol Task Force at the beginning of this year. "We know there are big concerns about drugs and alcohol on campus," Synyard said. "In the past there had been a drug and alcohol task force so obviously first, natural steps was to bring together teachers, parents, community members." According to Synyard, she is looking to eventually emulate a student support system that was in place at her last school in which the school would be able to provide services or refer students to outside help for a variety of issues including drugs and alcohol abuse. The drug and alcohol task force is not looking at punishment," Synyard said. "It's looking at how are we supporting students in making healthy choices."
Among the Task Force members is Tam parent and Assistant Special Agent with the Drug Enforcement Administration (DEA), Bruce Goldberg. According to Goldberg, the long-term goal of the task force is to change the culture behind drugs at Tam. Thus far, the task force is focused on educating the community. "We've met three or four times, we are trying to organize activities and events both for parents and students that bring awareness about exactly how dangerous some of these drugs can be and how unhealthy it is to start at an early age with alcohol and cigarettes and things like that," Goldberg said.
Michael Webb is a Tam parent, PTSA member, and the task force volunteer in charge of coordinating these events. Webb, who worked in mental health for over 30 years and has experience assisting families where children have issues surrounding drug use. "Last year we had the person who runs the Marin County Youth Court come and speak to parents about the activities of the Marin County Youth Court and he brought two or three students with him to talk about their experience with the parents," Webb said. "Then we had [Michael Simon] come in and talk about how parents can strategize around drugs, alcohol and parties. This year in April we're going to have another event for parents to come and ask a panel of experts any questions that they have about alcohol and other drugs."
Guest speaker Michael Simon, a Marriage and Family Therapist (MFT) and author of the book "Parenting Sideways," for middle and high school parents, attracted a crowd upwards of 200 parents when he spoke in early February in the student center. Before he started his presentation, he stressed the complicated nature of drug use using his model of harm reduction. "It's a way of understanding the complexity of drug use," Simon said. "It's not simple. It's not about people's will. It's not about, necessarily, whether you have a genetic pre-disposition to develop a substance use and abuse disorder. It's not about white knuckling it. It's not about 'there are good people, and the good people don't use drugs, the good people don't get addicted to drugs.' Any drug use is about the drug, the set, or the mind set, and the setting."
For those who do become addicted, one common support system is Alcoholics Anonymous (AA). Facter and Smeltzer both attend AA meeting regularly now that they have returned to Tam and Redwood respectively. "There is the [drug] equivalent which is NA but the AA meetings around here are a lot better," Facter said. "There are people who call themselves alcoholics but they're just addicts. But in my opinion [drugs are] all the same thing: it's just getting yourself out of your head. It's using to make yourself feel good. They might have different effects but they all do the same thing. When I got out of there I was going to AA meetings five times a week. Now I've cut it down to two."
A large element of the 12-step program at the heart of AA is spiritual. According to Smeltzer, he, like many other members of AA, had problems with spiritual references when beginning the program. "But the way they explain it is a higher power of your understanding," Smeltzer said. "I don't really pray to God, I don't think it's religious, and I don't like the religious part. But it's part of it so I just tolerate it. It's whatever you want it to be. You should have something to look up to when no one is there; that's what they say."
According to Facter, part of the reason AA is so beneficial is it keeps him in contact with people who are in a similar situation as him. "You've got to be in constant contact with other alcoholics," he said. "No one who hasn't been through it is going to be able to help you out. You can't get sober for a parent or a girlfriend or even your kids if you are an adult. The only way you can get sober is for yourself. And it's all about explaining your problems and talking about what's happening to someone who's been through the same thing."
Since returning to Redwood, Smeltzer has begun going to the gym and surfing in order to "find something to replace [smoking] with," Smeltzer said. "When I crave or when I'm bored, I go surfing or go to the gym, just do something I love, and I get a natural high. I feel good when I do it."
Facter has advice to make struggles with sobriety less intimidating. "The way I have stayed sober and the way they taught me to do it was you really just have to take it one day at a time. If you say you are never going to drink or use ever again in your life it gets super overwhelming," Facter said. "If you are just looking at one day saying 'I'm not going to drink today, I'm not going to smoke today, maybe I will tomorrow but today I am going to make sure I'm not.' And then you do the same thing the next day. It's 1,000 times easier."