We ♥ Marin: Loving Life in the North Bay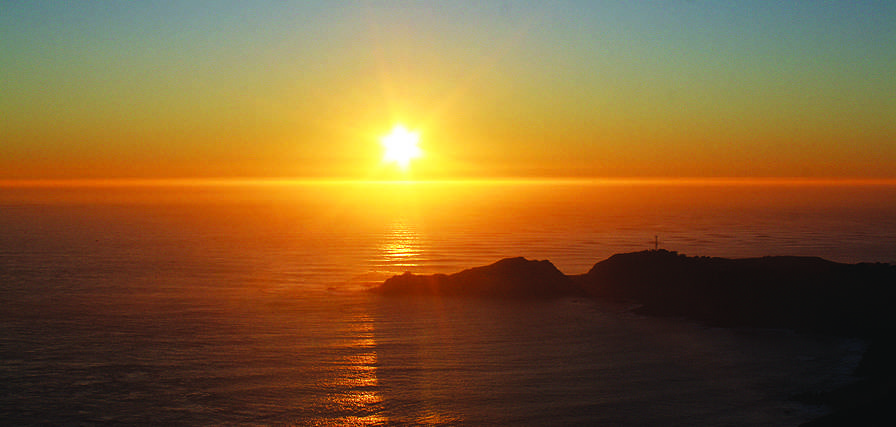 By Staff
February 18, 2011
"Welcome to Marin County" reads a weathered green sign partway across the Golden Gate Bridge when heading north away from San Francisco.
Within its 828 square miles, Marin County is home to world-renowned landscapes and a variety of natural beauty and wildlife. Bordered by the Pacific Ocean and featuring many peaks and valleys, the range of Marin's wilderness includes the beaches of Bolinas, Stinson, Kronkite-Rodeo, Sausalito, and Muir; the quiet serenities of Green Gulch, Four Corners, Mt. Tam, Three Wells and Old Mill; the redwood trees of Muir Woods; the long stretch of Lost Coast that leads to Pt. Reyes; and the sunny hangouts of Horse Hill, Hawk Hill, Strawberry Hill, Hippie Tree and the Meadows of Tiburon.
Some may say that Marin is sheltered, white, and at times ostentatiously wealthy, but it is undeniably a beautiful place to live. It is even more important to appreciate the place that Tam students and community call home in the present climate since environmental warnings are climbing and deforestation and pollution continue. Even in our own backyard, the San Francisco Bay's seal populations have been especially hungry these past few winters due to decreasing fish populations from overfishing and contamination.
Marin is a haven, and in light of celebrating love, community, beauty, peace and all things good in this world, let's remember to appreciate nature, the animals, and one another. Let us remember to appreciate our homes and the good fortune that brought us to such a place.

Mt. Tam
An iconic symbol, Mt. Tamalpais State Park is recognized around the world as one of most pristine and beautiful recreational parks. With numerous hiking trails, Mt. Tam offers any visitor or local a place to escape from dry life and reconnect with nature. As John Muir once said, "Thousands of tired, nerve-shaken, over-civilized people are beginning to find out that going to the mountain is going home; that mountain parks and reservations are useful not only as fountains of timber and irrigating rivers, but as fountains of life."
This is just as true for Tam students such as senior Emily Banks who loves hiking around Mt. Tam, especially East Peak, "When I hiked up to it, I could see the entire Bay Area. On a clear day at sunset, it was one of the nicest times I've ever had," she said.

Four Corners
If you've ever walked up Four Corners, you know that the view is stunning. "It's a really fun walk up- and when you get there it's so beautiful. It was the first place I went when I moved here, it was breathtaking," said junior Emerald Nau.
The view of the valley is magnificent with trees spilling down as far as the eye can see and often a pair of hawks can be seen circling high above on the thermals. The location known by Tam students as Miwok Tree is among the hiking trails that overlook the city and bay of San Francisco.
"There's this sick tree that I can just lie in for a couple hours and chill. It's very peaceful- and the views are spectacular," said senior Nate Parton.
Lost Coast and Pt. Reyes
Pt. Reyes, known for its quaint aquarium, camping and windswept headlands, sand beaches and chalky cliffs, is a destination for many a Tam student. The Lost Coast, an uncharted stretch of coastline beginning in Bolinas and ending in Pt. Reyes, is a challenging yet breathtaking hike, spanning at least 10 miles.
"It's a great place to be, one of the most gorgeous coasts I've ever seen. Just hiking around, a great place to be with lots of great friends," said senior Brandon Guyton. "We eventually found ourselves hiking through this awesome bird reserve. We hiked there for about 6 miles, and there were all these really pretty flowers, it was great. We got back on trail to go inland, and about 10 miles later we landed at coast camp, which is amazing, fantastic. It was a party, lets just put it that way."
Bolinas-Stinson
Visible from the peaks of Mt. Tam, Stinson glistens in the afternoon sun. Just around the corner, sheltered from the rest of Marin, is the beach community of Bolinas. Traditionally home to an artistic and laid-back community, and the locals are notorious for taking down any directional signs that would allow tourists to visit their secluded paradise.
Besides the public access beach near the downtown area, there is a county park, Agate Beach, which contains extensive protected tide pools. The town also hosts the Marin-Bolinas Botanical Gardens, and borders the Point Reyes National Seashore to the north.
Muir Woods
Hauntingly beautiful, Muir Woods is lush and dark.  "We're so fortunate to have such beautiful natural redwood forests near where we live," said junior Sophie Davenport.
Three Wells, The Dam, Cascade & The Burms
Tucked away in quiet areas adjacent to downtown Mill Valley are a host of quiet local haunts and serene areas that trump any city park. Sunbathe or hike at the Dam; if you're daring, submerge yourself in the waterfall at Cascade. Take a peaceful walk through the Burms or sneak out with your friends and take a dip in Three Wells.
"Three Wells is a haven; it's so serene. It isn't a sensational thing, but if you want to dive in for pure exihiliration, it's wonderful," said senior Sophie Becker.
Green Gulch
Surrounded by thick evergreen trees and swift, ghostly fog, Green Gulch Farm is home to the Zen Center, where members of the community can study Buddhism and practice meditation. They have classes open to the public as well as retreats for a more intensive relaxation experience. Senior Emily Deng spent time performing community service at Green Gulch Farms, building shelters, and stocking food boxes.
Muir Beach
Muir Beach, named for environmentalist and writer John Muir, is a sunny shore on the outskirts of Muir Woods. Relatively close to the Green Gulch Zen Center and a set of local horseback riding stables, Muir is a local destination enjoyed by many. Host to a season of decent waves, stunning sunsets, and intriguing tide pools amidst the rocks, Muir Beach is a place for pure relaxation.
"The sunsets are amazing. The sunrises are too. It makes you truly understand why we exist: to see this beautiful place," said junior Elena Piotter. "The neighborhood is awesome; very liberal and spirited. There was an inauguration party for Obama and a lifesize doll of Bush was burned in a bonfire."

Tiburon, Hippie Tree, and the Lava House
Tiburon, east of Mill Valley, is home to some of the most beautiful views of the San Francisco Bay and some of the most glorious spots to spend a lazy afternoon.
The location of one of these beautiful views, Hippie Tree, a Neverland for Marin youth, stands in solid majesty atop the rolling hills of Tiburon. The tree itself is tall and grand, with carvings from years of teenage tomfoolery, old glass soda bottles, remnants of attempted tree-houses, and an old-fashioned swing that's so tall even the tallest student's toes may only skim the ground. The branches are thick, some as broad as a horse's back, and provide comfortable backrests and places to settle in with a good book.
Above Hippie Tree are the Meadows, a large, open hiking area with views of both the entire North Bay and the beginnings of the East Bay. The view from both Hippie Tree and the Meadows is spectacular. All of Marin is visible, including Mt. Tam, which at sunset, is illuminated against the evening sky, and the city of San Francisco, with just a hint of Oakland. Most prominent is the community of Belvedere, looking again, like the island of Neverneverland.
Lava House, a burned out and rough shell of a former mansion, is a favorite haunt of Marin youth and local explorers.
Horse Hill
Situated on the border of Corte Madera and Mill Valley, Horse Hill rises in a gentle slope that gives any casual walker a beautiful view of Mill Valley and a distant view of Tam Valley. The brave may approach the horses that graze, wander, and are stabled there, though the hill itself is open to the public. With little coves of trees and soft grasses, Horse Hill is a local spot that anyone could enjoy.
Junior Georgia Mouwry and senior Cyd Nero laughingly recount an adventure they had at Horse Hill. "We slept over and in the morning we woke up to some horses chilling around us, grazing, and possibly having peed on a friends sleeping bag. It was a great night."
Sausalito
Although a bit touristy along the main street, Bridgeway, Sausalito still retains its small-town charm. One can take a waterfront walk through Dunphy Park or listen to live jazz on Caledonia street, as well as enjoy great Indian and Thai cuisine. The cove is threaded through with small trails that lead to hiking paths further up the crest.
There is no proper way or amount of space to honor all the wonderful places in Marin. Our recommendation? Go appreciate it yourself, with your friends, family, or favorite pet.