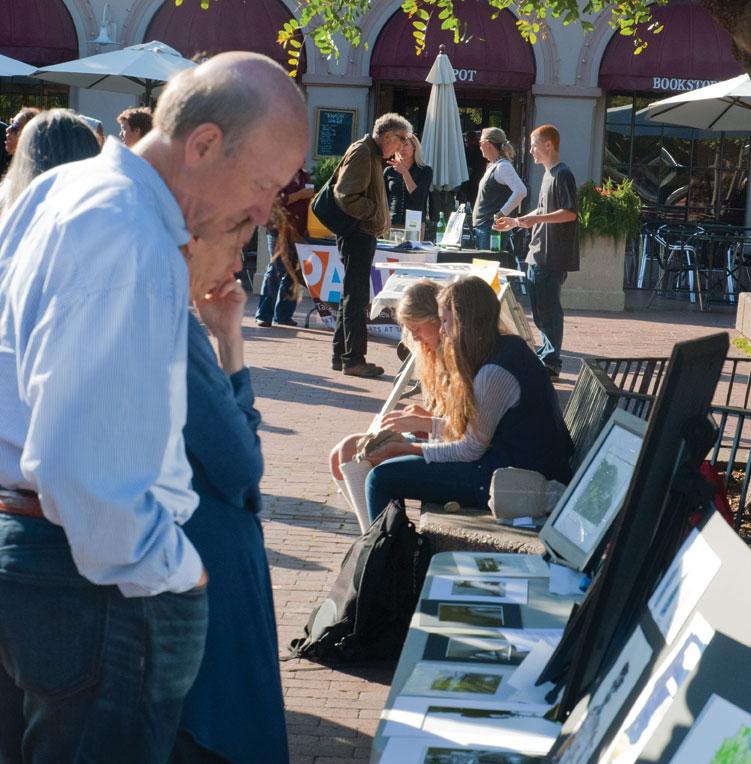 Seniors in all the visual art classes at Tam had the opportunity to be part of a show in downtown Mill Valley on June 3 from six to eight p.m. as part of the monthly First Tuesday Artwalk.
"[The purpose of this art show was] to specifically celebrate the work that [the seniors] have done over the time that they have been in the visual arts," drawing and painting teacher Zachary Gilmour said. "[Whether] they have been in it for four years or just one, they all can be part of it."
In addition to the celebration for the seniors, Gilmour and Lynne Klein's drawing and painting classes have a final that requires students to create and show at least three of their works somewhere on campus.
"It is a harder assignment than it looks," Klein said. "First, each student must pick a theme that is not too broad but can change as it is explored. Then they must decide on what techniques and mediums they want to use….Many students created more than the three pieces you see hanging around campus. The final step is that each student must prepare the finished work for presentation, write an artist's statement, and create an invitation for viewing."
Although the project is difficult and time consuming, many students have enjoyed completing this assignment and considered it a great opportunity.
Klein and Gilmour both feel it is important to not only teach students how to create art, but also how to expose their work for others to see and appreciate.
"Part of art is making it, but then [also] what happens to it. It needs to be seen," Gilmour said.
Displaying finished work is a challenging aspect of art for many students.
"Personally I don't always like showing my work around," freshman Megan Potter said. "I think it's nice for others to get to see what we do, but I like keeping my artwork to myself because I'm not always proud of it or it's personal."
On top of the art openings, there will also be a clipboard next to each piece for observers to write comments that will then be brought back to the classroom so they can reflect on their experience.
Klein felt this was an important final because it prepares students for the art world outside of high school.
"If a student is interested in the visual arts as a career path after Tam they must be able to share their work with others and be able to explain what motivated them," Klein said. "Part of getting into a competitive art program is to have a portfolio of original work. Schools prefer independent student inspired work over teacher assignments."