Note on Content: The perspective of this article came from a Tam High student who visited Palestine with a non-profit organization, with her experience shaping the discussion. This is not an article that expresses any opinion on the current Israeli-Hamas war.
Due to a reduced staff as a result of district cuts to school programs, this article was only able to be published now. We are publishing this article in an effort to practice empathetic journalism that promotes humanitarian views of all people in conflicts around the globe. 
Please be advised, this article contains sensitive content including political violence, incidents of racism, and drug use.
---
In February 2023, Amaani Cassim, a Tamalpais High School student, witnessed the sad truths of the Palestinian refugee camps and the horrors surrounding the ongoing conflict. In this article, she shares what she saw and experienced as well as brings us a raw and in-depth look into life within conflict and war. 
While current news on the Israeli-Hamas conflict covers routine violence and military actions, the conflict itself has been steadily building from its root in the 19th century to the present day. 
On May 14, 1948 the State of Israel was created, sparking the Arab-Israeli War. The war ended in victory for Israel leaving territory divided into three parts: the State of Israel, the West Bank, and Gaza. This division led to "3.4 million registered Palestinian refugees living in host countries, nearly 2.5 million Palestinians living in the occupied territories of Gaza and the West Bank," the Migration Policy Institute, a nonpartisan organization that analyzes, develops, and evaluates policies of migration and refugees, stated on its website. 
The backlash of the 1948 conflict and recent increase in the amount of political violence of refugees have left Palestinians living conditions in a severe state. The Council on Foreign Relations (CFR), an independent, nonpartisan membership organization that takes no institutional positions on matters of policy, has referred to the current conflict as "threaten[ing] to turn the already dire humanitarian situation in Gaza into a catastrophe."
"I'm not sitting next to you people," a man said to Cassim and her brother while boarding the plane to Israel. 
Cassim expressed that she had never witnessed active racism or tensions between Jewish people and Muslims before. "I wasn't angry, I was just a little confused. I don't think I have experienced that before. He made a big deal of it and wanted me and my brother to move from our seats on the plane," Cassim said. 
In addition to this experience, when Cassim and her group landed, one male member was taken into questioning by Israeli Airport Security. During questioning, security pulled up his old private Facebook and Instagram accounts asking if this was him, what his occupation was, and purpose of coming to Israel and Palestine. This did not come as a shock to Ren.
"We were told by our charity group [Al Buruj Press] that security could stop us, Muslims especially, and take you into questioning rooms to intimidate you," Cassim said.
 It took over three hours for Cassim's group to get through security in the airport alone.
The organization that Cassim and her family went with was Al Buruj Press. Al Buruj Press is an institution that helps people understand and grasp the teachings of Islam. 
Starting the next day, a significant part of Cassim's trip was to attend the mosque daily, sometimes multiple times a day. She noticed that many Palestinians were not allowed to enter their place of worship. 
"A lot of people that are from Palestine aren't allowed in the mosque," Cassim said.
The Israeli police have enforced restrictions on access to Al-Aqsa Mosque. Al-Aqsa Mosque is thousands of years old, its outside is lined with limestone and inside built of white marble and located in the Old City of Jerusalem. 
"Palestinian men under the age of 40 are not being allowed to enter Al-Aqsa Mosque by Israeli police," Al Jazeera, the credible news publication situated within the Middle East covering the latest events in Palestine reported earlier this year.
On Palestine's West Bank, Jewish and Muslim populations are kept separate. 
 "They call them quarters or areas. You could tell the difference right away because the Muslim quarters looked poor and run down and the Jewish quarters were clean and had nice houses," Cassim said. The "areas" that Cassim refers to are the divisions of Palestine's West Bank, specifically split into three sections: Area A, Area B, and Area C.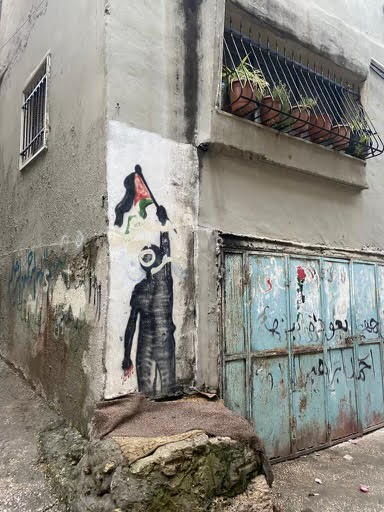 Area A is the only section that is fully under Palestinian control, unlike Area B and C, where either are under joint control or full Israeli administration. 
"[Area A is] the only place you will see Palestinian guards, it looks like no people live there. We went there and you can tell that it was a functioning community, but everything looks abandoned: homes, stores, parks. Nobody really lives in that area, it got raided a lot," Cassim said.
Area C, which is under the Israeli government's control, experiences the biggest lack of education, medical assistance, resources, and transportation. Most residents of Area C are surviving on below bare minimum supplies and resources; while 60 percent of the West Bank is considered Area C, "95,000 people receive fewer than 50 liters of water per capita per day – half of the minimum amount recommended by the World Health Organization," Anera, a 501(c)(3) nonprofit organization with no religious affiliation, wrote on its website, explaining humanitarian concerns of Area C. 
While walking through Area C and delivering charity bags to Palestinians, Cassim noticed violence in different ways. 
"Any time you would go to an Israeli area, any Muslim areas would be ripped off of the map, for example the mosques were ripped out and no longer on the map. It was kind of surprising to me because maps are for function, but had been turned into an essence of violence," Cassim said. 
On Cassim's third day, she and her family took their charity-provided bus into the refugee camps of Palestine. When their ride was interrupted by Israeli police carrying guns and walking through each aisle checking travel information, many people were scared. "We told the little kids that it wasn't real to not scare them even more," Cassim said, describing talking to the younger children on the bus.
When conversing with other people on the bus, Cassim and her family sparked a connection with their two bus drivers. Their drivers told her family that they pose as Israelis to avoid violence from the Israeli police. 
"Our bus drivers were both Muslim and were brothers. They told us that they pretend to be Israeli so that they can get into places without hassle and fear of being attacked," Cassim said. 
When Cassim's group got to the refugee camps, their goal was to distribute and deliver food bags as well as bags that contained candy for children. In total, Cassim went to three Palestinian refugee homes with multiple families inside. 
"The people [at the refugee camp] were the sweetest people I had ever met," Cassim said.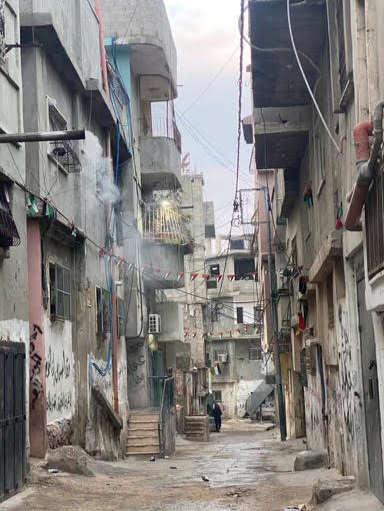 In the first house Cassim visited, she said she met a man who could speak both English and Arabic, who could translate to the families in the house and who explained to the families what Cassim's group was giving them. 
"We went to the house and he told them [the family] in Arabic that we were donating to families and they started to cry. This little boy ran out of the room and jumped into my arms and gave me the biggest hug. I wanted to cry, and I'm not even an emotional person," Cassim said. 
Cassim and her group were greeted with kindness and large amounts of gratitude from the family, leaving Cassim in awe of the depth of her aid. "He kept giving me hugs and kisses and it was like he didn't even know how to express his gratitude for the food, which is something I get everyday," Cassim remembered.
While waking through the camps it was impossible for Cassim to ignore the scattered pieces of homes and bullet marks.
During the Israeli and Palestinian conflict there have been numerous Israeli air force attacks and police raids upon refugee camps. 
An Instagram post on March 5, 2023, by @eye.on.palestine reveals a dialogue between a Palestinian adolescent and her parents while witnessing an Israeli air strike in Gaza. Before the first strike goes off, the little girl tells her father, "Dad, it's been an hour since the last one." 
Her dad replies, "That's enough sweetheart. Go and sleep beside your mom. If it comes, I will tell you."
As the first strike hits, the girl breaks into cries. "Didn't you say you were strong? Sweetheart aren't you strong? It's almost over," her mother says as the second and final third air strike is fired. 
Beyond air strikes, it is a common occurrence that Israeli police raid homes in refugee camps, leaving families with nothing and homes left in debris. 
On Jan. 26, 2023, "an Israeli police raid … left nine Palestinians dead," NPR reported. 
Cassim described what she saw: "The houses there were more like apartments that were covered in bullet marks and had debris on parts that had clearly been bombed; the houses had rubble everywhere."
The second house Cassim visited was full of "the most hospitable people [Cassim had] met," Cassim said. 
Unlike the last house, there was no translator that provided easier communication. Cassim's group and the Palestinian refugee families were left to use Google Translate and verbal communication.
 "Even though we had a language barrier with them it didn't feel like it. I could tell you everything about them. We would use Google Translate and find other ways to communicate," Cassim said.
After meeting the families, Cassim sat down with a young boy who started to tell her his passion and hopes for the future. 
"There was a boy about my age telling me how he wanted to go to medical school in America one day, and how he wanted to have kids and start a family there," Cassim recalled. 
Currently, access to education for Palestinians is a large issue because of their conflicts with Israel. Similar to being far from water and medical access, many Palestinian children are severely distant from schools. 
"Some of these children face additional challenges on their way to school, such as the need to cross a checkpoint, or exposure to harassment by Israeli settlers," the United Nations Office for the Coordination of Humanitarian Affairs (OCHA) said. 
A heavy issue that was brought up with this family was when they described the occurrence of their homes being occupied by Israelis. The family told Cassim how they felt their community faced erasure due to a seizure of their homes, leaving families to evacuate to refugee camps.
While hearing the families talk about their displacement in the refugee camps, it was noticed that there was no hate or disregard in the way the families discussed it. 
"Even then, they never talked about it with bitterness. They must be [bitter] in a way because how can you not be? But they were still so happy," Cassim said. 
The family showed Cassim's group the areas and streets surrounding them. 
"So many of the kids on the street were playing with soccer balls that were deflated. There was trash everywhere, but they were the happiest kids I had ever met," Cassim said. 
Reflecting on the extreme humanitarian and economic barrier of refugee camps in Palestine and Mill Valley, Calif., Cassim added, "I see kids here who are crying over nothing but these kids are happy when they are living in these conditions."
The third and final house that Cassim visited was different from the others, she said. 
To reach the third and final house that Cassie visited in the refugee camps, she was guided by Palestinian children.
"They were so happy to show us that they knew it, but it was also sad if you think about how it is second nature for them," she said. When she arrived at the house her initial impression was that this house had been bombed at least once if not multiple times. "There were fallen pillars, the house was made of two pieces of concrete that were put together to try to keep it up," Cassim added.
Staying on the same track with many of the other families she and her group visited, there was an instant change during a conversation with the Palestinian refugee families. 
"When we were talking to this family all of a sudden they told us we had to go to another house," Cassim said.
What once was a street filled with children playing soccer and running around, was now empty. 
As Cassim and her group were rushed into another house, news had spread that "police" (Israeli police) were coming. Waiting in the house, questions from Cassim's group arose about why they needed to hide. "They told us that they [Israeli police] will randomly come to the camps and shoot up a house because they feel like it," Cassim said.
A Palestinian man among the families in the refugee camps mentioned why some homes look empty or run down. "He told us that many of the refugee homes that have bullet holes in them used to be filled with families that were killed overnight," he told Ren. 
Still in the house, one of the charity group's members told Cassim that the member had left her stroller outside. The Palestinians told them they needed to go retrieve the stroller so the police would not know [foreigners] were there.
"The families told our charity group that the Israelis didn't want us here because they don't want people from around the world to see what it is actually like here," Cassim said.
After peacefully leaving the camps, the next stop for Cassim was Area A. 
"They seemed off. I didn't realize what was going on until our bus driver and guide told us that there was an older man that was making [Palestinian children] sell the bracelets and that they were drugged," Cassim said, describing children of Area A.
When her group entered Area A, they still had bags to deliver. Her group's guide stopped the bus in a part of the area where they saw children. These children were selling woven bracelets, but selling them for any amount of money they could get.
Cassim and her group asked the tour guide and bus driver about the children. "A lot of these kids that are selling things don't have families or anything. Most of the time they have been through so much trauma they get put on drugs but end up getting addicted," Cassim's tour guide told her group. 
Knowing this, Cassim sparked a conversation with who appeared to be the oldest kid of the group as he "begged them for money."
"He came up to me and whispered 'don't give it to us' and then as their boss walked towards us, he loudly said, 'Give it to us, give it to us please,'" Cassim said. 
This older man, referred to by Cassim's tour guide as their "pimp," was said to be in charge of making the kids beg for money in order to receive drugs, which would further their addiction.
"Our tour guide said that often after a certain age, a lot of the kids will be on the verge of death or die because of drug abuse or their pimp will just kill them because they can't make money anymore," Cassim said. 
Cassim expanded with her closing remark on how her trip to Palestine altered her world. 
"It was a life-changing experience," Cassim said. 
---
Additional note: if you would like to have a letter to the editor published by The Tam News, please submit your commentary to our Letter to the Editor form here. Thank you for supporting local student journalism.