Tam Students Take On Mavericks
Three Tam students surfed Mavericks, the notorious 25- to 30-foot break located north of Half Moon Bay, on January 11.
Junior Mac Castaneda, junior River Galland, and senior and Tam News reporter Jacob Swergold trained for years before heading down to Mavericks.
Even though January 11 was one of the most "memorable days" for the students, Castaneda and Galland only informed their parents that they were risking their lives once they had successfully arrived back in Mill Valley that night.
"My mom did not know I went that day but I told her after and she said that was pretty crazy. I totally forgot to mention the idea to her," Galland said.
The students left for Mavericks in the middle of the school day. "I had my Billabong inflatable vest, my 9'6" board and my wetsuit and left class early to go drive down there," Galland said. "We got to the parking lot and did not even check the waves and just suited up and paddled out."
Many surfers know that during the winter the waves at Mavericks can break at up to 60 feet. Although the students felt nervous going in, they had confidence that their training would help them in the water. "We have been going out to Ocean Beach for the past couple of winters to put ourselves in uncomfortable situations to make us more comfortable. Ocean Beach is the best training ground for Mavericks," Swergold said.
After being in the water for about two hours, the three students came back feeling "like a million dollars," according to Castaneda. The students will be going back for more, but understand the danger ahead. "You better really think about what you are getting yourself into because the consequences are pretty severe if you [mess] up," Castaneda said.
Above: Junior Mac Castaneda rides a massive wave at Ocean Beach in January. Photo by Rex Hill.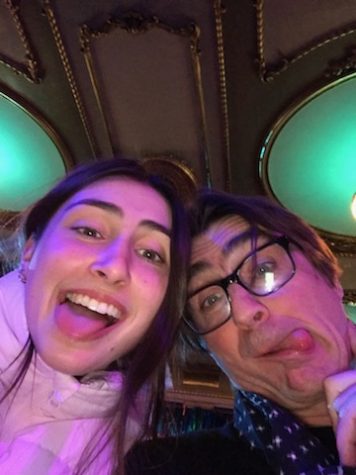 Ava Finn, Editor in Chief
Ava Finn is a senior at Tamalpais High School and is an Editor in Chief of The Tam News. As a junior, Finn was a Features Editor for the publication and enjoyed writing for Features and Lifestyles. Outside of school, Finn loves to read, write and take road trips with friends to nearby places like Santa Cruz or Santa Barbara.