Winter canned food drive is a success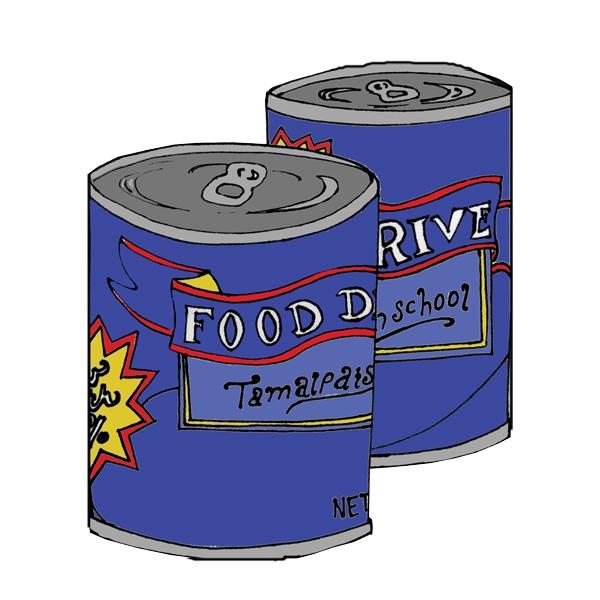 Since the economic recession began in 2008, an increasing number of Americans are living in poverty and face the challenge of food insecurity. According to a 2010 report published by the United States Department of Agriculture's economic research service, approximately one in every seven American households were food insecure. During the month of November, students sought to reduce hunger rates through Leadership's annual holiday food drive.
The drive, which began on November 2 and ended on November 22, raised an estimated 3,500 cans of food. As in previous years, students brought in canned goods to their tutorial classes for collection and the tutorial that donated the most cans won a pizza party. However this year modifications were made to the competition to differentiate between regular tutorial classes and math classes offering extra credit. The food drive rewarded the tutorial class with the largest donation with a pizza party, but excluded the math classes, that offered extra credit.
"In the past, one of the math teachers would always win, because more students donated to those classes because extra credit was offered. We thought this was unfair for the rest of the tutorial classes, so that's why the competition was changed," said junior Elizabeth Milosky, co-commissioner of Leadership's outreach committee.
This year math teachers, David Wetzel, Eva Rieder, Susan Proksch, and Rebecca Henn all offered their students extra credit in exchange for canned goods.
"We found that math kids didn't bring cans without incentive, but when extra credit is offered students donate hugely more," said Rieder. She hopes that by giving students an incentive to donate it will encourage them to be more charitable in the future. She said, "I give to a lot of charities, and I think that its very important to teach about giving."
Many students saw the incentive of extra credit as encouraging and a good way to collect more cans.
"I think that people should be willing to donate without an incentive…but I think that [offering extra credit] is a good way to motivate people. I would be more inspired to donate with extra credit on the line, especially in a class like math in which extra credit can go a long way," said junior Erin Savino.
Freshman Grace Doughtery, agreed with Savino. "I think that [giving extra credit] is a good way to encourage the students, but I also think the students should try to bring in canned foods out of the goodness of their own hearts," she said.
Junior Jake Zwiebach disagreed and believes that offering extra credit sends a bad message to students. "It's not like I don't want the extra credit, but giving extra credit for the canned food drive is the equivalent of buying your grades. It sets a bad example for students," he said.
Milosky doesn't see offering extra credit as a problem. "People that would donate anyway from their 'kindness of their heart' are still going to donate. And no matter what their motivation is, everyone is donating for a good cause," she said.
All cans that were collected at school were donated to the Marin Food Bank. According to their website, the organization hopes to collect 200,000 pounds of food this holiday season in order to provide over 906,000 meals to those living in Marin and San Francisco who cannot afford food themselves.
Despite the question over whether offering extra credit incentive to students sends the wrong message, the incentive continues to work as the majority of the overall 3,500 cans came from the math building, with some math classes donating more than a thousand cans each. This amount was significantly larger than Cathryn Bruno's winning tutorial class, which won with a total of twenty cans.