Blue Barn: Scrumptious Fare at a Leisurely Pace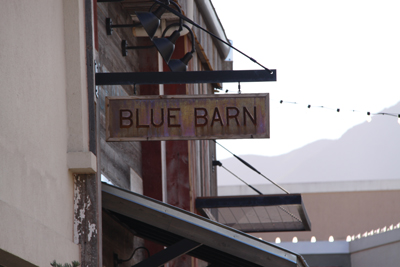 With artfully faded wooden siding and barn-style rafters and  pitchforks mounted on the wall, Blue Barn is a country-style decorated restaurant located conveniently at the heart of the Corte Madera Town Center, a 10-minute drive from Tam. Blue Barn has become increasingly popular since it came to Marin in early 2012, having already opened two locations in San Francisco. A business member of Marin Organic and part of the "slow food" movement (as opposed to fast food), Blue Barn caters to both fine cuisine and healthy eating initiatives, both of which have strong roots in Marin County.
The Corte Madera location has a partially open kitchen, which allows customers glimpses of the panini presses. Customers order at the counter and then seat themselves.
The service is good, but the food is slow to come. There is a sign above the counter that says, "slow food takes time," as well as a warning in the handheld menu that the grilled cheeses should be expected later than regular sandwiches. Blue Barn is definitely a place to sit and savor your meal to tasteful background music,  but the food can be packed to go if you need to get back to yout third period class.
Open for lunch and dinner (11 a.m. to 8 p.m. daily), Blue Barn is often packed with hungry Marinites. The seating area is on the smaller side, but there is additional space outside. Because of the restaurant's popularity and culinary excellence, customers are likely to run into a crowd.
Blue Barn is also a pricey option, especially for high school students. Their most expensive sandwich, the Spicy Tuna ($14), consists of Ahi tuna, mixed greens, and ginger vinaigrette. Their least expensive dish is a house falafel with feta cheese ($8.75). There is also a kid's menu that features several smaller items including an organic PB&J ($5).
Although the price is high, the quality of the food reflects the cost. The bread, which comes in many different varieties from whole wheat to country levain, is always fresh. When scanning the menu, customers will run into similar types of ingredients: gourmet cheeses, aioli sauces, arugula, sundried tomato and avocado. Much of this produce is locally grown by Oak Hill Farms in Sonoma, or by a nearby family-owned farm.
Blue Barn is a good restaurant if you're looking to let your taste buds explore new options. Many of the combinations as are eye-opening as they are delicious. The grilled cheeses are really more like paninis and, although they are cooked in oil on a press, are not greasy in the slightest.
I'd recommend the Provo grilled cheese ($10) made with provolone cheese, turkey, avocado, tomato, arugula, and thyme aioli, to anyone who appreciates the proper use of avocado. If you like barbeque sauce, the Kickin' Chicken sandwich, which features both grilled chicken and bacon, is the way to go.
Although there is meat on almost every sandwich, vegetarians have the option of ordering salads or, thanks to the flexible kitchen staff, asking for the meat to be left off. Blue Barn creates an open atmosphere, with many doors and windows through which the Marin sun shines. The mood is easy-going because everyone is understandably happy to be eating there. The next time you're in the mood to try something new, consider heading over to Corte Madera for a sandwich. You may discover your next favorite food.