The National's New Album Doesn't Impress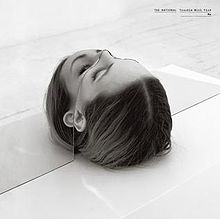 The National's sixth and newest album "Trouble Will Find Me" will be a good new addition to the musical libraries of regular National fans, but will probably not draw attention from any new listeners. The album sounds like a lot  of The National's old work but lacks the flair of their  previous albums.
Much of the album is repetitive, and in most cases that's great, such as in the opening song "I Should Live in Salt," that features a forlorn melody that introduces the album for what it is: slow moving, calm, and a little sad. Other times though, the repetitive nature of songs like "I Need My Girl" or "Pink Rabbits"  just begs the listener to skip it and move to the next song.
The album moves slow for the most part. While that is a signature sound of The National's, this album has only a few slow songs that really leave an impression on the listener. "Fireproof" is one of the slower songs on the album, but with the picking of the guitar and the use of strings, the song's haunting sound and mournful lyrics such as "You're fireproof, nothing breaks your heart… you're fireproof, wish I was that way," makes the song stay on the listeners mind, even as the album continues on.
There are several fast paced songs that sound familiar to the most popular songs The National have produced. "Sea of Love," and "This is the Last Time" are examples of the upbeat songs that stand out on the album. Arguable the best song on the album, "Graceless" is the loudest (which isn't saying much for The National), has the fastest pace, and makes the listener tap their foot in delight. If you only have one dollar to spend on iTunes, buy this song off of the album.
"Trouble Will Find Me" has one common theme: sadness. Regardless of the pace of the song, the album has sadness running through it like a deep river. Sadness due to unrequited love, past love, or loneliness, is featured in almost every song. The song "Demons" features lyrics that read "I try to get above it… but I stay down with my demons." The singer sings about trying to get over his depression but deciding it would be easier to keep quiet about his feelings and stay depressed. While it is a good song, it is sad and any listener, depressed or not, feels for the singer.
Overall, the album is worth the listen, but perhaps not the purchase. While avid National fans will eat it up because it sounds like their past music, only a few songs stand out as pieces to attract all types of listeners.
3.5 stars