The Infamous Snoop Doggy Dogg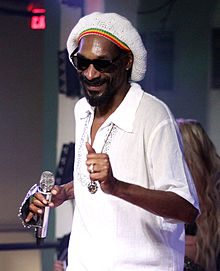 The infamous Snoop Doggy Dog, who's widely known for his work as a rapper, recently spent a month in Jamaica and has now become Snoop Lion, the reggae "genius" and (he claims) "Bob Marley reincarnated."
It has risen many positive and negative opinions about this drastic change "He went from popin' caps and ganja to peace and love and ganja overnight," junior Ben Cahn said.
Snoop was discovered by the notorious Dr.Dre and collaborated in his album "The Chronic" in 1992 and has since has sold 30 million albums worldwide. Some of his best works of art was Doggystyle which released in 1993 under Death Row Records, reaching #1 on the Billboard 200 and sold one million copies in the first week. The releasing of Snoop's album Doggystyle, set up his identity for 20 years after many other albums released of guns, gangsters and misogyny.
Snoop Dogg's history with the law is no secret. In 1990, he was convicted of cocaine possession, Snoop was acquitted of murder charges in 1996, and in 2005 was sued for sexually assaulting a woman at the taping of Jimmy Kimmel Live. Snoop whose now in his 40s has decided to completely engage himself in reggae by putting out his first reggae album titled 'Reincarnated'. "I don't like how soft he became, there's nothing better than Snoop Dogg's original style. Yeah, he may seem like an 'eerie' cool reggae artist but imagine if he wasn't Snoop Dogg before," sophomore reggae fan Ramon Pareja said.
In an interview released in the Huffington Post it explains that his name change was due to a Rastafarian priest in Jamaica who enlightened him on the idea. "No more. You are the light; you are the lion," the priest told him.
"I've been on the top ever since I've been in it," Snoop gloated. "I got rap songs that will never die. And that ain't with no disrespect, but I'm tired of rap." Just like a routine that has occurred various times with Snoop Dogg as he has tried different genres to push his abilities, like R&B. Who knows how long he will be able to sustain his reggae stage before he feels he's too good for it.
He claims he wants to be a kid again and how he proposes to do so is not rapping about his many affairs or heavy substance abuse but to write songs like,"No Guns Allowed," off his new album. "I could have never made a song called 'No Guns Allowed,' because I'm supposed to be a gangster and we supposed to keep one on us at all times … But after looking at my life and what it is now and my kids, and all the things that go on in life, I feel like it should be no guns allowed," Snoop Lion says. Although I'm all for change, after years of nonchalantly supporting the use of guns, it's a bit hypocritical to now be trying to gain that good guy routine from all of his fans. It would be equivalent to the somewhat addicting evil character of the Joker from Dark Knight Rises, teaming up with Batman.