Senior Brennan Wertz Pursues Rowing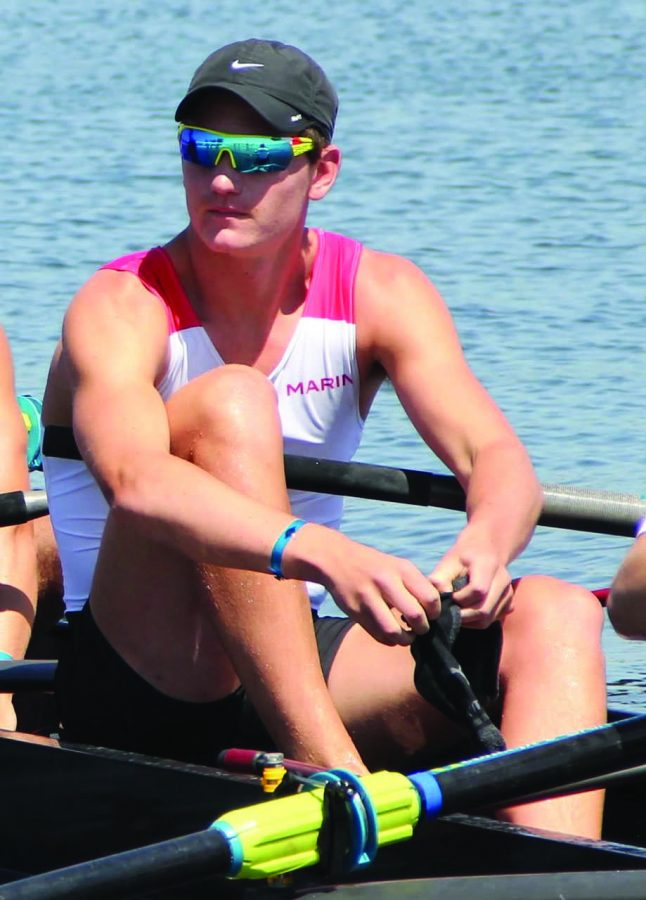 By Devon Stoeber
April 28, 2015
Senior Brennan Wertz started rowing for the Marin Rowing Association the summer before his freshman year and continued to do so for the remainder of his years in high school. Now Wertz is planning to take the next step in his rowing career by committing to Stanford University next fall where he will row for the Stanford Rowing team. We asked Wertz to answer a few questions about his experience rowing as well as his recruitment process and how he decided on Stanford.
Q.How long have you been rowing?
A. have been rowing for four years. I began rowing in the summer before my freshman year, and have rowed almost continuously for the last four years.
Q.Why did you start rowing?
A. I started rowing because my parents both rowed in college and they introduced the sport to me. My dad took me to the Marin Rowing boathouse in eighth grade, and I was immediately drawn to the sport. I had not spent very much time participating in organized team sports, so the team atmosphere was something new to me, and I was attracted to the new environment. After attending a Marin Rowing summer camp, I began doing workouts with some of the older varsity guys, who had just won a national championship. At first I was very intimidated by the older, bigger guys, but after working out with them for a few weeks, I began to get stronger, and more confident. I participated in the novice tryouts during the beginning of my freshman year, and I was relatively successful. After making the team, I continued to train with the team, and haven't stopped training since.
Q.Why have you continued rowing over the years?
A. I have continued rowing for the last four years because the sport is enjoyable, and it means a lot to me. The sport is one that demands dedication in order to succeed, and I have been training day after day, so that I can help my team succeed at our races. I also continue to row because I love spending the hours going through the grueling training with my teammates, who are also some of my best friends. There is a very special bond that is created between teammates when we go through so much rigorous training together. I spend approximately 20 hours a week with my teammates, and spending so much time together, especially with my teammates who have been on the team with me for the last four years. Rowing has also been a great way for me to travel and experience different places that I might have never gone to without rowing. The sport has taken me all over California, to Tennessee for Nationals Sophomore year (we got 3rd in Mens Varsity 8), to Oklahoma City for a race with the United States High Performance Team against the Mexican and Canadian Junior National Teams, to Pittsburgh for USA Junior National Team Camps, Princeton New Jersey for five weeks last summer while I trained with the United States Junior National Team for Junior World Championships, to Hamburg Germany for the Junior Rowing World Championships, and to Boston, MA, for the last two years for a large regatta in the fall. Rowing is also a great way to stay in shape, and I have never been in such great athletic shape.
Q.How has rowing impacted your high school career?
Q. Rowing has impacted my high school career in a very positive way. Because we spend so much time training during the week and on weekends, I have very little time to do my school work/studying, and get the sleep that I need to perform at a high level. When I began rowing during my freshman year, I was worried about how I would finish all my homework when I had so little time to do it. Because of this lack of time, I was forced to become very efficient when it came to getting my work done. Although this wasn't an easy adjustment to make, it has helped me a lot over the last four years, especially as the workload increased, my classes got harder, and the college stress increased. Rowing has helped my study habits and has given me the ability to persevere and solve difficult problems, school related or not. Rowing has also had an impact on my social life in high school. I have made many close friends through rowing, and that has had a large impact on my social experiences during my high school years.
Q. How do you expect rowing to impact your life in the future?
A. Rowing will definitely have a large affect on my life during my years in college and after. I will continue to spend many hours a week training hard with my Stanford teammates and hopefully traveling the world for races. I would like to pursue more rowing with the United States National Team, at both the U23 (college) level and at the senior level (Olympic team). I plan to row for as long as I can, and try to succeed at the highest level possible. If it is a possibility, I would love to train with the Olympic team and try to make one of the Olympics boats. Rowing will also affect my future because I plan to stay in touch with many of my friends I have made through rowing, both at Marin and on the National team. Rowing has been a great way for me to expand my social network and I have many connections through rowing that will be helpful down the line as I try to find jobs around the country/world. The rowing community is a very small world, and everyone knows everyone, which could be helpful when it comes time to find a job.
Q.Why Stanford? (Explain your experience searching for a college (in as much detail as
you're willing to share))
A. The recruiting process was a long and tiring process, but it was also a very enjoyable one. I began my recruiting process during my sophomore year, with emails to coaches at a wide range of schools. In the beginning of the process I was talking to around 10-15 schools, but that number slowly decreased during my junior and senior year as I narrowed down my choices. During my junior year, the recruiting began to pick up pace and I was talking to a smaller amount of coaches, but much more frequently. I would mostly talk to the coaches on the phone or over email which was a time consuming process that I had to balance with my school work. By the end of my junior year, I was talking pretty seriously to coaches at Harvard, Princeton, Yale, and Brown. During the summer, when I had more time in between my twice-a-day practices with the Junior National Team, I would email and call the coaches to discuss the different teams, the unique academics environments that each school had to offer, and the enthusiasm and hard work of the guys on each of the teams. In the summer before my senior year, I narrowed my choices down to Harvard, Princeton, and Yale. In the very beginning of my senior year, the Stanford coach started emailing me, and we began to talk more seriously. Stanford hadn't been on my radar until the beginning of senior year, but the more I talked to the head coach Craig Amerkhanian, the more intrigued I became. In the fall of my senior year, I took four official visits. An official visit is when a college pays for a recruited athlete to visit the school for a long weekend, watch some practices and training sessions with the team, meet with the coaches, see the campus, attend classes, and get a feel for the school and the team. I took official visits at Harvard, Princeton, Yale, and Stanford. I did all my east coast visits in three weeks, which was very exhausting. Flying to the East coast and back every weekend for three weeks made it hard to get rest, and do all my school work. It was almost impossible to do homework on these trips, so I had to do all my work during the week or on the airplane which wasn't easy. I was also working on my college applications at this time, which added to the stress. The visits were very fun and informational, and after going on my three visits to the East coast, I had established Princeton as my top choice. After my first three visits, I had narrowed my decision down to Princeton and Stanford. I didn't go on my Stanford official visit until a few weeks after my Princeton visit because I was very busy getting caught up in school and going to a prestigious rowing race in Boston. During the weeks in between my Princeton visit and my Stanford visit, I talked to both coaches many times a week. When I went on my Stanford visit, I really enjoyed myself. I saw a lot of the beautiful campus and talked to many interesting and friendly people. The people and the friendly atmosphere combined with the innovative drive that so many students possess were just a few things that I found extremely attractive about the university. After my visit, I took a few weeks to finish my applications and think about the decision which was a very a very stressful period of time. While trying to make a final decision, I had to think about the many pros and cons for each school. In the end, I couldn't turn down Stanford, with the warm weather, relaxed vibes, exceptional education, fun and competitive rowing team, and the athletic scholarship I was offered.
Q.What are you most looking forward to about rowing in college?
A. I am looking forward to competing and training at a higher level. We train really hard in high school, but the volume of work we do is nothing compared to the volume I will be doing next year at Stanford. I am also looking forward to racing against all my past teammates who are going to be at different schools. Like I said earlier, rowing is a very small world, so it will be fun to compete against so many of my good friends. The team at Stanford is a really unique team, and the coach Craig puts a lot of effort into mixing up the training and keeping it fun. I am really excited to row for this legendary coach, and to be a part of such a special team.
Q.What are you most looking forward to at Stanford?
A.I am looking forward to the rigorous academics and all the amazing educational opportunities that I will have for the next four years. There are so many classes that I want to take and I am really excited to figure out what I am going to major in and how I will apply that to the world after I graduate. I am also looking forward to meeting all the fascinating people who are attending the school and hearing about where they are from, what they have done, and what they plan to do. The diverse student body was one of the reasons that I picked Stanford, and I can't wait to meet all the other students.

Q. Do you think you will continue rowing throughout all of college or after college?
A. I plan to row for all four years in college and hopefully for many years after I graduate. I want to spend more time training and rowing with the national team. I would also love to pursue Olympic rowing. Although that is a long way down the road, I have always dreamt of being an Olympian and competing at the highest level possible.
Q.What do you think will be different about rowing in high school versus rowing in
college?

Answered this earlier, see question 7