Kitchen Sunnyside Shines Down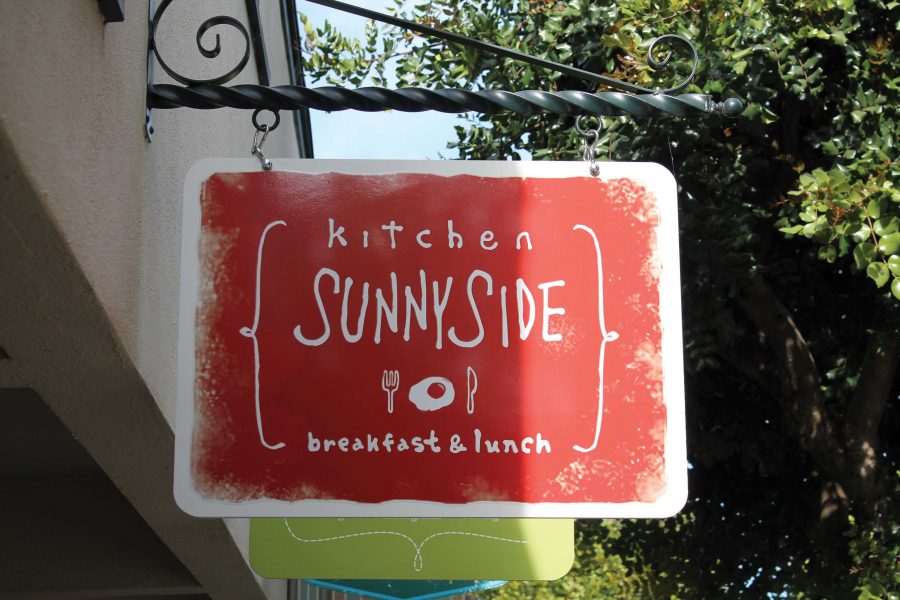 Upon entering Kitchen Sunnyside in downtown Mill Valley, the first thing I noticed was the cozy atmosphere. With its wooden tables, sunflowers, and vintage decor, Kitchen Sunnyside instantly makes you feel at home.
My sister and I were immediately seated at a table, but it was very close in proximity to the other tables around us. It was easy to overhear other people's conversations while we were trying to have our own.
Our waitress handed us our menus, informing us that the restaurant serves breakfast and lunch every day from morning until mid afternoon. The space on Sunnyside Avenue was originally occupied by Toast, but reopened as Kitchen Sunnyside earlier this year.
The very extensive menu offers an assortment of eggs cooked in various ways, sandwiches, burgers, salads, and sweet plates. My sister and I took a solid 15 minutes to decide what to eat because there are so many choices. Our waitress gave us plenty of time and started us off with our drinks, passion fruit iced black teas. Though it was a bit bitter at first, a few sugar packets helped sweeten it up and my sister and I each enjoyed two glasses of it.
I ordered the Frisco Scramble ($13), which contains chicken apple sausage, red onion, bell pepper, mushroom, avocado, mild cheddar, and, of course, eggs. This came with toast and a side dish, such as hashbrowns or bacon. Our waitress was very friendly, and when she was taking my sisters' order of a strawberry nutella crepe ($9) with eggs and hash browns, she said cheerfully, "That sounds delicious!" We didn't have to wait long for our breakfast, and when it arrived we excitedly took pictures of our beautiful food and then dug in.
I loved the Frisco Scramble because I could taste every ingredient in each bite; everything in the scramble was perfectly portioned. The size of the scramble was just right, so I still had enough room to eat my toast and hash browns. The sight of perfectly golden hash browns is quite aesthetically pleasing to me, so I very much enjoyed seeing and eating Kitchen Sunnyside's. Their hash browns are seasoned with herbs that add some flavor but do not overpower the overall taste of the dish. I would definitely order the same meal again.
My sister liked her strawberry Nutella crepe, but thought there should have been more Nutella in it. She described her eggs as tasty and fluffy and agreed the hashbrowns were nicely seasoned and very tasty.
Our experience at Kitchen Sunnyside was delicious and started our day on a nice note. I was very content as we were walking out. Kitchen Sunnyside can be on the more expensive side; a meal along with drinks can range from $14-$20 per person, but I think it's worth it. The food was delicious and its staff and decor made it a very nice environment. The restaurant is open from 7:00 a.m. to 2:30 p.m. on Mondays through Fridays and from 8:00 a.m. through 3:00 p.m. on Saturdays and Sundays. They can make food to go, so it is also a viable lunch option for students who can drive. I hope to go back again soon.