Elodie Townsend: Calling the Strikes (Q+A)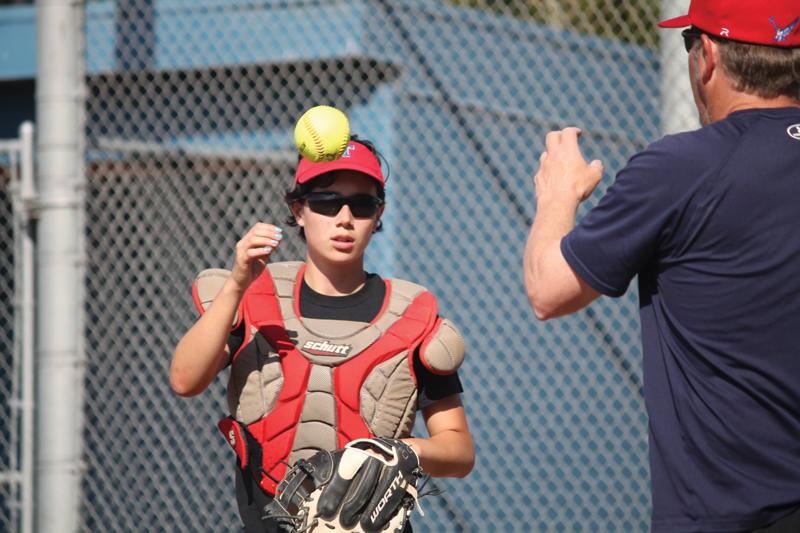 By Claire Donohue & Marina Furbush
June 3, 2015
Junior Elodie Townsend is a catcher and co-captain of the softball team. She has been playing baseball and softball for 13 years and recently commited to Wellesley University for softball.
Q: How did you first get into softball?
A: My whole family is obsessed with baseball. That is the definitive answer right there.
Q: What made you pick softball as your "main" sport?
A: [Softball] was the one I was best at and I like it the most. It's what I'm best suited for because I have asthma, so basketball and soccer wouldn't have worked out. I didn't like the other ones as much.
Q: What do you like about softball?
A: I think softball players have a special kind of chemistry. This is for women's sports in general, but women athletes know [that] they are not going to be famous, they are not going to earn money, so they're in it just for the sport and they're in it just for each other. I think for softball especially, since it's such a hard sport, you have to be positive and you have to like each other to win so it has a special chemistry and you get really close with your teammates.
Q: What lessons have you learned from playing softball over the years?
A: Even if something sucks while you're doing it, if you stick with it and you get through it, you're a much better person when you get to the other side of that. I've been on a lot of teams where the coach was awful and it was just kind on an awful experience but you do get better and once you're done with that, you're able to handle more serious things.
Q: Do you plan to continue softball in college?
A: Yes. The softball recruiting process is really hardcore. If you were going to play D1 at an SEC or a Pac 12 school you're going to get recruited when you're really young, like 8th grade, freshman year, or sophomore year. But if you want to play at a good school or a smaller school you have to wait a little longer even if you're just as good. So the travel team that I'm on is specifically for those kind of kids who are into better schools and stuff like that…I was being recruited by Tufts, Wellesley, and Smith, which were my top three schools…I also had interest in Dartmouth, and Brown and Emmorey but to a lesser extent.
Q: How has Tam's softball team done this season?
A: We're in NCS [this season and] It's a really long season. We did a lot better this season than we thought we would because we lost two seniors and a bunch of other players who were starters and who carried the team a lot.
Q: Did you have any particularly proud moments this season?
A: We got to the second round of MCALS last week and we played [Marin Catholic] for the third time this season. The first time we played them we lost by a lot. Then, the second time we played them, it was a 0-0 game going into the 7th inning, so we played them for the third time in MCALS and it was 3-4 in the 7th inning. We had the bases loaded and we almost did it [but] Carly Slack, their pitcher, is the best pitcher in the league [but] I was really proud of our team. So many people were telling us that we weren't going to win that game and we almost did.
Q: What has your favorite memory from softball been this year? In general?
A: When I was a freshman, [and on]my travel team in the fall, we won a tournament and I've literally lost every championship in my life. I've gotten second place in everything possible so it was kind of nice to finally win a tournament because we were a really good team but we would get in every championship of every tournament and we'd lose. I hit the walkoff which was kind of a cool moment.