Varsity Football Gets First Win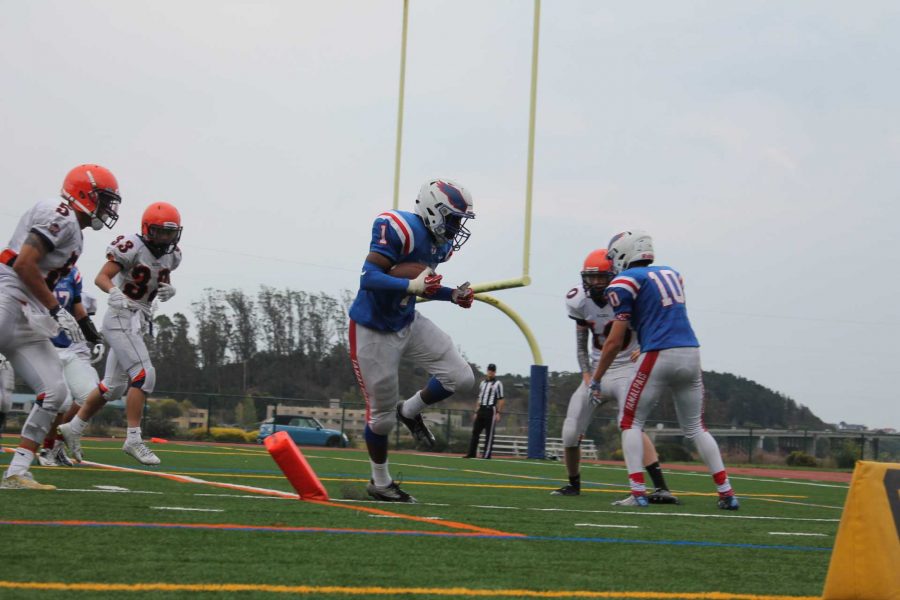 By Calvin Rosevear and Calvin Rosevear
September 16, 2015
The varsity football team beat Balboa 55-18 at home on September 12, bringing their overall record to 1-2, and completing their first win of the season. They have yet to play a league game.
"We needed a win really badly," said head coach Jon Black. "We had a good week of practice, and that good week of practice translated to a good job in the field."
Tam struck first with a 70 yard touchdown by junior Tre'chaun Berkley in the first quarter. Balboa came back with a touchdown with five minutes left in the first quarter. The extra point kick was unsuccessful. Tam would score one more touchdown in the first quarter accompanied by a second successful extra point kick bringing the score to 14-6.
The second quarter would be a long and high scoring one. Tam was able to push for a touchdown from under the ten yard line to start off the second quarter. Balboa struck back with a touchdown half way through the second quarter. Their attempted two point conversion was no good. Tam was able to complete a 76 yard touchdown with a pass from junior quarterback Jack Harris to junior and wide receiver Jordan Smith. Tam and Balboa would each score another time in the first half. Balboa's 18 points-3 touchdowns would linger for the remainder of the game.
After half time, Tam continued to score. Yards were successfully gained by Berkley to set up a nine yard touchdown pass from Harris to Smith. On the opposite side of the field, Harris would make a similar pass to Smith, who made a stellar catch and ran all the way to complete a 92 yard touchdown.
Tam scored a total of eight touchdowns and senior Riley Walls completed the extra point kick seven out of eight times.
"On offense, we were able to execute," Black said. "On the defensive side, we were able to shut them down [in the] second half, that made a big difference."
Smith scored four touchdowns in the win. "Today was a good game, it feels good to get our first win. We had a lot of success throwing the ball, but also running," he said. "We came out hard, we were mad about the last game," said Berkley, referring to the 54-0 loss against Bishop O'Dowd on September 5, the previous week.
Tam has a bye week before their next and first league game of the season at Novato on September 26. "We're just going to work hard this [next] bye week, and then we'll be ready for Novato," said Smith.