Bisexual Visibility Day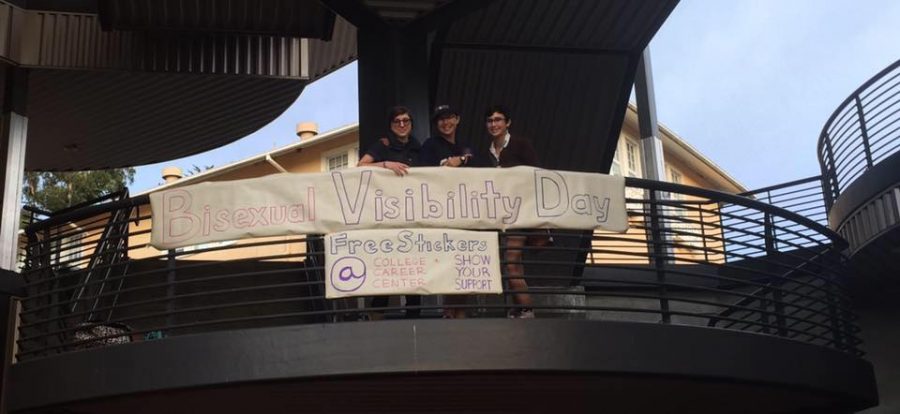 By Dahlia Zail
October 16, 2015
Tam students participated in the National Bisexual Visibility Day on September 24. The event was run by the Tam High Sexuality and Gender Alliance Club (SAGA). The purpose of this day was to highlight biphobia, an aversion toward bisexuality and bisexual people as a social group or as individuals, and to raise awareness of bisexuality instead of only lesbian and gay individuals. Club members gave out nearly 1,000 stickers outside the Student Center and around other areas of Tam to promote awareness of bisexuality. The stickers said "Bi the Way, I support Bisexuals" and had pink, blue, and purple stripes on them. Many students stuck them on their clothes, headphones, and phones to show their support for the cause.
National Bisexual Visibility Day is a national holiday celebrated on September 23. This year it took place on a Sunday so Tam celebrated it on Monday, September 24. The stickers were created by senior Amara Radetsky, co-president of the Sexuality and Gender Alliance Club. She also created posters and put them up around school before the event.
In her junior year, Radetsky and three of her friends, including Elodie Townsend and Cameron Creath, decided to revamp the GSA club. "Three of my friends and I decided to revitalize the GSA at Tam because it had kinda been defunct and no one had been going," she said. Radetsky joined the club in her freshman year to have a place to go where she could be with peers who were like her and where she could talk about the issues she was facing. "SAGA has the potential to be an incredible, safe space for students at Tam," Radetsky said. "I'd like for it to have a more known presence at Tam and for us to do consistent events. I mean, that's what I wanted as a freshman… [a place] where I had peers that were like me."
"We gave away 90 percent of our stickers, which is awesome because we weren't expecting nearly that much," said Townsend, another senior and member of the SAGA club. "I think it went very well." Radetsky also felt the day was a success and thought the only thing that didn't go well was some kids not throwing away the backs of their stickers. Besides that, she said there were only two kids who didn't want stickers while she was handing them out.
"[The events are] really auspicious for this coming year and it makes me really excited," Radetsky said. SAGA's future events potentially include the Trans Day of Visibility, which would be similar to Bisexuality Visibility Day but centered around Transexuality, and The Day of Silence.