The Q & A with Courtney Chang (Varsity Golf Captain)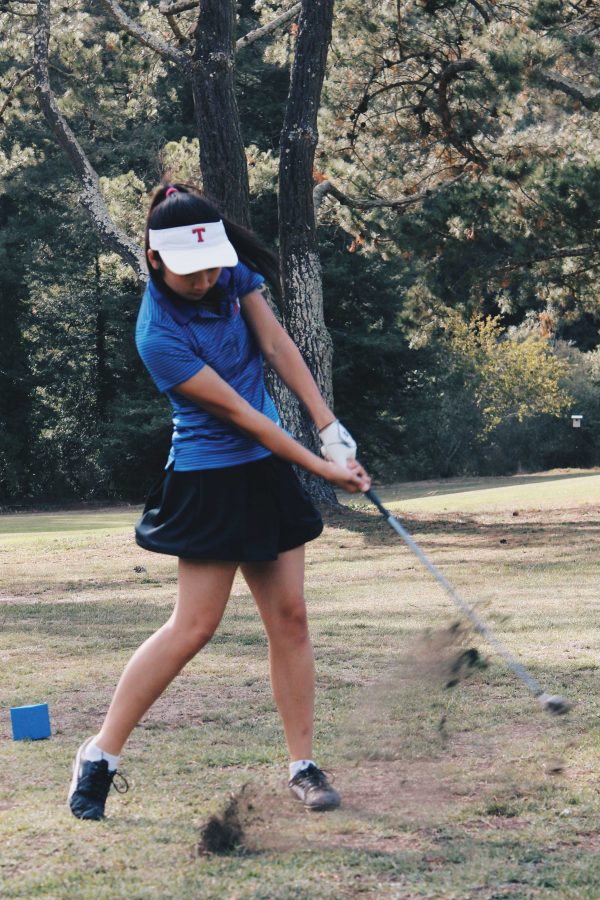 By Calvin Rosevear and Calvin Rosevear
October 16, 2015
Senior Courtney Chang has been on the girls varsity golf team since freshman year, her first year on a golf team. This year, she's a co-captain with senior Maddie Stoops and consistently helps to keep the team high in the standings.
Q: Why did you start playing golf for Tam?
I started freshman year because my sister was captain. She was a senior when I was a freshman. She [said,] 'You have to join, help the team out,' because back then, there weren't that many people interested in golf. So, she [was] like 'The more people, the better,' so I brought [senior] Maddie Stoops and [senior] Shay Engstrom. We all started freshman year.
Q: How would you say you've improved since freshman year?
I think etiquette-wise, like being respectful, having patience and all, has definitely grown in me as I've grown as a golfer. Also, responsibility, because now I'm captain. I'm just kind of making sure everyone's okay, mentally, emotionally, physically, and all that. So, I feel like I've improved as a leader as the years have gone on.
Q: What do you specifically like about golf?
I've played soccer, lacrosse, and tae-kwon-do. And a lot of those sports have to deal with parents, just kind of being there at the game, and you're kind of dependent on them. But then, in golf, I feel like you're more independent, and you have to deal with girls that you're playing against. Your parents aren't really around that much, so I feel like you're more independent.
Q: Could you describe coach John Haight and his role?
He coached my sister all four years, and me all four years. We've had a pretty good connection, [a good] coach-student relationship. He's a really good guy. He really cares about our academics as well as our mental states, hoping that we're all okay and able to play, and we're enjoying the game too. He's a good mentor and teacher to all the players on the team.
Q: Do you have plans to continue golf past high school?
I don't think I'm really going to pursue golf as a main part of college, but I want to continue to play the sport. I have a good time playing it, and I actually really love the game. So, playing with my family, my friends, with anyone, I'll keep it up that way. Maybe [I'll play in] an intramural golf team, something really laid back.
Q: How's the golf team been doing this season?
I think it's been really awesome. I love being on the team, because I see everyone each year blossom and really improve their skills. It's really great to see kind them step into this new sport, not being super aware of what's going on. But eventually, they pick up how to play, pace of play, and other etiquette throughout the season. It's really great.
Q: How intimidating is the Justin-Siena golf team?
Justin-Siena is the best team in the league… They've been the number one team in MCALs and they've gone to NCS and post-NCS, like the Tournament of Champions. At first, I thought they were really intimidating, but then I've connected with a lot of the girls on the team that I played with, like their number one player last year. Her name was Kathleen Scavo, and she's third in the state, she's an amazing golfer, and she has a scholarship to University of Oregon because of golf. And another girl, who I play with this year, named Maria [Davis]…is actually committed to [Cal State Long Beach] for golf too. It's really awesome though, to play with these really good players, because it kind of motivates yourself to be as good as them, but we actually had a match where we were pretty close. We were tied with them at one point. So, it shows how much we've improved too, and that it's not just them controlling who wins the matches.
Q: Any proud moments throughout four years of golf?
Well, last year, we made history. We made it to the Tournament of Champions. So, that was a major accomplishment for all of us, a team accomplishment too….This year (I've been shooting in the 40s or so), my lowest score was 45 and I've gotten three 45s this season, so I was really trying to break that, and yesterday I got 44…Also, I've been co-captain with Maddie Stoops, so that is a big accomplishment, having a good connection with everyone and being kind of a figurehead or leader is really a great experience. ♦