David Yoshihara: Improving Communication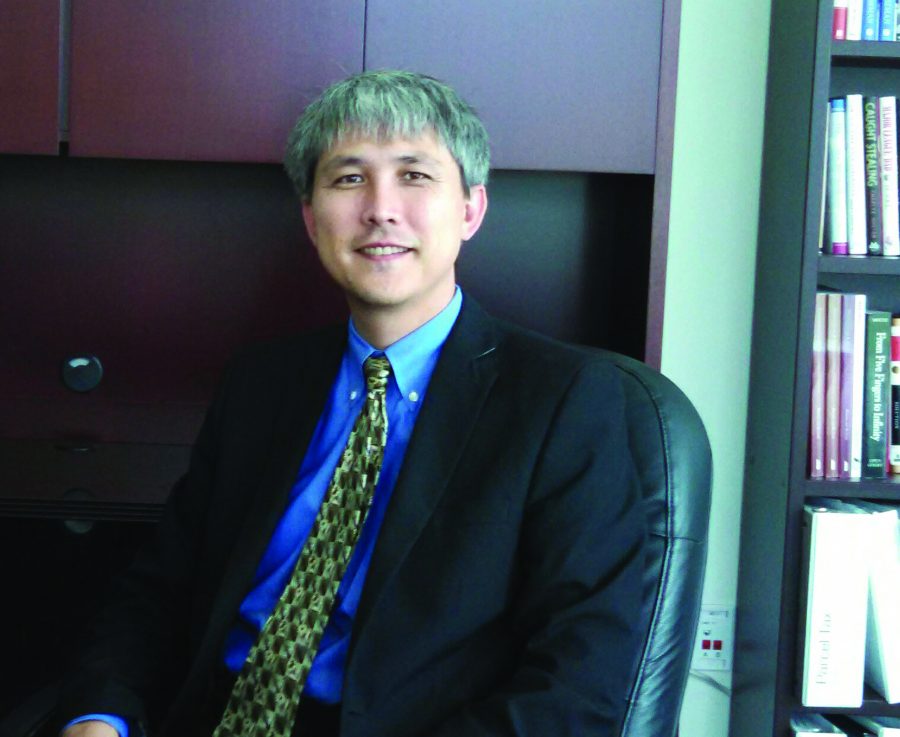 By Marina Furbush
October 16, 2015
The Tamalpais Union High School District (TUHSD) welcomed new Superintendent David Yoshihara this summer. Despite the challenges of a leadership change, Yoshihara retains an optimistic plan for increasing trust, communication, and inclusion throughout the district.
Yoshihara feels his primary role as superintendent is to facilitate and support schools. "If [the schools] have ideas or projects that they may be working on, it's the role of the district to figure out how to help them make that work, or if it can't work [give them feedback]," Yoshihara said. "Tam, Drake, Redwood, San Andreas, and Tamiscal are all individual schools that have a different sense of priorities…[To] maintain that we need to allow the schools to have a lot of local control of what they see is best for them."
As for the district, Yoshihara hopes to improve communication and trust. "I know that there were a lot of things happening in the district…some students may be more aware of it than other students….Certainly at the staff level there was a lot going on and there was a lot of attention given to the district that…took away from some of the energies that teachers could have been focusing on student learning," Yoshihara said. "[To build trust] we have to spend time just sharing information with people. I think the more we communicate, the more we talk…the more people will know and feel comfortable with information. They can ask questions if things are not clear, they can have meetings if they want to know more about something."
Yoshihara recognizes that communication is difficult. "In my prior district it was always a vision of mine to be able to visit classrooms…it's so important if we're going to be instructional leaders to watch instruction," Yoshihara said. "[But] teachers were not used to that…so if I just start showing up….[teachers] were worried that I was going to evaluate [them]… [so] when I came here to Tam….I spent a lot of time frontloading that so when I come, it isn't a surprise."
Yoshihara believes that an important part of improving communication is empowering teacher leaders. "I think there was some feeling [last year] that [teacher leaders] could not affect change, that they were sort of powerless," Yoshihara said. "So empowering our teacher leaders to affect change at their schools would involve updating and meeting with our stakeholders, our students, our parents, our community, and ultimately our board…to talk about these plans around…some of the programs at some of our schools."
There are many other administrators new to the district this year. Besides Yoshihara, Assistant Superintendent of Human Resources Lars Christensen and Assistant Superintendent of Finance and Facilities Sally Swan are new to the district. The interim Assistant Superintendent of Educational Services, Tara Tarpier, is new to the position, although she has worked in the district for several years.
Yoshihara sees advantages and disadvantages to a new team. "With the newness [of the administrators] comes an openness to ideas. There is no past practice because everybody is new…If something comes up we don't have to say, 'Well, we've always done it this way,'" Yoshihara said. "Certainly a drawback [with a new team] is you do miss that institutional knowledge….We don't have the advantage of 'Well, this is all the research that we did the last time this came up, this is how we did it.'…We'd have to either go and spend the time to research that or not be able to include it because we don't [have] it."
Yoshihara feels the hardest decisions to make are the ones that personally impact students. "Those are very difficult because you can imagine the emotion and the feeling that occur," he said. "And you have to look at the large picture of the whole district."
The larger picture is also important when looking at decisions that impact schools as a whole. "I think that [conflict between teachers and administrators] can occur when you're looking at the larger picture. The large picture is going to include student voice, [teacher voice]…parent voice, it can include community voice. And so, if when you look at all the different voices…[and they] line up a certain way, then it certainly [can be] a viewpoint different from [the teacher's viewpoint]. Vice versa would also be true."
Yoshihara feels that incorperating all of the stakeholders' viewpoints is crucial when making decisions. "I think it's important that people feel listened to," he said. "I think there should be opportunity for people to share their thoughts and also understand if there are different thoughts….You have to make sure that you're inclusive…[that] everyone feels that they're listened to, that to some extent…[they] have some input in the outcome….It does take a long time…for all the voices to be heard because people need to absorb it."
As for long term goals, Yoshihara hopes to create a culture that fosters student ideas. "I'm excited about getting to a place where teachers and students and parents can feel open to share ideas," Yoshihara said.