Going the Extra Mile (Two Different Perspectives on the Cross Country Team)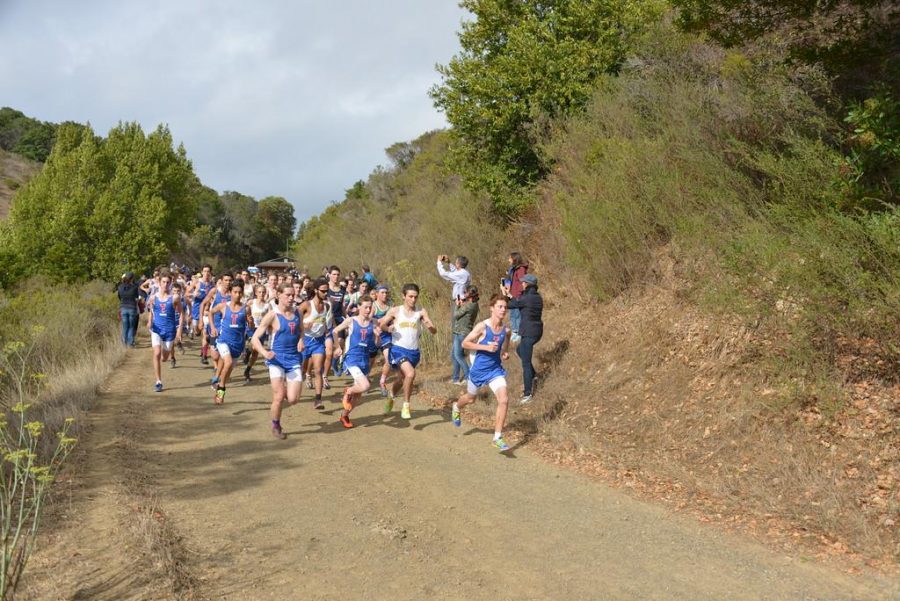 By Cam Vernali & Kevin Lee and Cam Vernali & Kevin Lee
November 27, 2015
Senior Chessy MacDonald forced her way up a steep ascent, pushing aside fears of not finishing one of her last high school races. "It was a home meet, and it's a lot more intense. We really wanted to win," MacDonald said.
She continued to push herself to the limit. "I felt like I wasn't going to continue. My body felt too heavy… It was really painful," MacDonald said. She didn't give up, though; near the end, she started to hit her stride.
"I was right next to this other girl and I had a sprint-off with her. I beat her. It felt really good."
Though MacDonald and fellow cross-country runner freshman Anton Savala have different backgrounds, they both share one trait: perseverance. Savala's push for position as a freshmen in varsity and MacDonald's painful finish both displayed determination.
"[My knee problems] have been [ongoing] since freshman year because my family has weak knees," said MacDonald. "I've always had knee problems." While she has dealt with this issue in the past through her own personal ways, this year was especially hard.
"I was injured at the beginning of this season. It started hurting early," MacDonald said. "I usually tape it up with runner's knee, but since the pain didn't go away, I had to stop running."
Instead of giving up, MacDonald found another way to practice. "I took up biking to maintain my endurance," she said. She was aided by the assistant coach Bob Friedlander.
Even though cross country might be challenging at times due to her knee problems, MacDonald has not given up. "I love to run and the feeling after running is just amazing… I haven't found another sport that makes me feel like that," said MacDonald. "Cross country is not just about running, it's about continually improving yourself."
Savala has been pushing the limits similar to MacDonald. Though young, he has been running with the varsity group in practices and races. "Because I run with varsity, I have to work hard," said Savala. "Practice is challenging [with varsity], so it makes a be a better runner."
Savala reviewed one of his first varsity practices, a moment he reflected on that displayed his hard work. "[There was] this day [when] we were at Mt.Tam. It was the first time I ran with [varsity] and I had to set the pace of the group. I couldn't breathe and I was gasping for air."
This was just one of the many times Savala had to prove himself to be on varsity. His San Rafael race proved to be a highlight of his year.  "[For the] San Rafael race, I had to prove myself because I was a freshman and people were expecting a lot from me. I had to prove myself to varsity. I got 18th [place] and it was a great start to the year."
Savala carries some long term goals with him. "[My other] goal is more out of reach. My mom in high school was the best runner in all of New York. She got a scholarship to Stanford for track. She was so good and I want to impress her," Savala said. "My goal is to be as good [as her] or better. That will always make me strive to be the best."
With these goals in mind, both runners have high goals on and off the track. "I'm scared and nervous [for MCALS] because coach [Friedlander] put me on the A-group [Varsity]," Savala said. "I want my last race to be a good race."
MacDonald has earned this competitive trait over her time in cross country. "I wasn't very competitive [before running], but cross country has taught me that it isn't necessarily a bad thing because [I] can push myself," MacDonald said.