Tam Administration Increases Focus on Attendance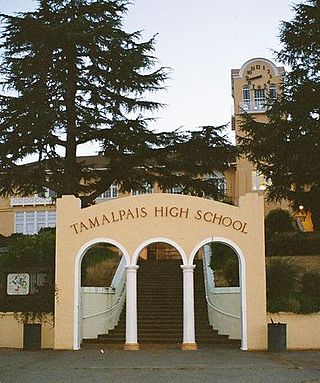 Emails sent from Tam administrators to Tam High Staff November 5 and 13 informed them that a stricter attendance policy will be enforced and that Jay DeMaestri was hired as a new campus supervisor.
"We believe that kids need to be in class and based off where the last few months have been, we're making it a priority to address this," Assistant  Principal Brian Lynch said.
According to Lynch, attendance policies aren't changing, but rather the existing policies are being reinforced. "The rules haven't changed. [This is] not just us cracking down but getting teachers to feel more empowered to keep kids in class, and when they see kids out of class without passes to get them back to class," Lynch said.
Senior Trenten Francis has noticed more attention put on kids being in class. "In the past there have been instances where myself and others have left classes or just not gone because there [were] not many consequences," Francis said. "Recently I have noticed the whole school locking down on the ditching of classes and wandering around the campus, whether it is the [campus supervisors] keeping an eye around the campus or the teachers doing stricter attendance."
Lynch explained that there are many different aspects of the attendance problem: tardies, unexcused absences, parents excusing their kids, and students leaving class for long periods of time. "It's multi-layered," he said. "It's not just cutting class or leaving class for a long period of time. We also have a lot of kids whose parents call them in and [give them] excused absences. I just know that kids with unexcused absences is one issue [but] we're also dealing with a lot of kids that are being excused by their parents, which creates a whole other challenge."
"I do understand the necessity of having an enforced attendance rule," sophomore Sasha Greenschmitz said. "I know people that abuse the opportunity of having such an open and relaxed campus, but I definitely know others that have taken advantage of this for the good of their mental health. I understand that [when] some people get overwhelmed, an adult should be notified and an exemption, I'm sure, could be made if it was necessary."
Administrators are increasing communication with parents, making sure they know when kids miss class "One thing we're doing is we're being very deliberate, like here's the attendance sheets for the kids I oversee and if a kid has three unexcused absences, we're sending home truancy letters," Lynch said. "After a student's second truancy letter, the school attendance review team, which is comprised of administrators and a juvenile officer [has] the capability of referring kids out."
However, some students are unaware of these rules and doesn't understand the punishment policies. "Besides the fact that your parents get a call home if you have an unexcused absence, the rules were never made very clear to me," Francis said. "I once heard that there was a detention of some sort if you missed too many classes but considering the amount of unexcused absences I've had without being called for a detention, it would be hard to believe we have a detention system. I just simply don't know if there are any consequences for repeated unexcused absences and tardies."
Greenschmitz agreed. "As far as getting caught leaving school, I'm not sure what the exact punishment is," she said. "I'm sure many people know in general that they will get in trouble but I don't think the students are aware of the exact rules."
Administrators plan to bring the detention system back in hopes of keeping more kids in the classroom. "We're looking to bring back our detention program which we'll be instituting soon," Lynch said. This won't be the first time Tam has implemented a detention program.
In the past, students were given detention when they skipped class or received multiple tardies, acording to Lynch. "You would get assigned double detention if you didn't show up to your first detention and if you didn't show up to that you were suppose to be suspended, which philosophically I had some issues with because you're trying to get a kid to attend and you're granting them permission not to come to school by suspending them. We're trying to get kids in class and we're trying to figure out how," he said.
Francis believes Tam is moving in a positive direction by keeping kids in class. "I think just having the continued focus on making sure students are not leaving their classes through the yard duty and teachers is enough to make a difference and positively impact the school," Francis said.
The administration has also formed an team to tackle the issue. "[Assistant Principals] Ms. Straton and Ms. Herrera are leading an attendance team of teachers and other staff members and hopefully students too to have a more comprehensive effective approach to attendance," Lynch said.