A Detailed Analysis of the Hungry Hawk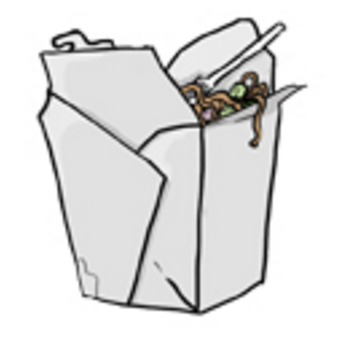 By Blake Villanueva and Blake Killingsworth
May 4, 2016
Some people hate driving every day to get lunch from places around school. They're crowded, hectic, and expensive. The Hungry Hawk is a good bang for your buck and is conveniently located on campus, but many people avoid it because it's a "cafeteria." However, I, Blake Villanueva, eat there quite often and have tried the large majority of their cycle of dishes. With the help of Blake Killingsworth's expert palate and food critique experience, I will shed light upon the reality of the Hungry Hawk's food selection, giving each dish or side a score out of 10 (1 being the worst, 10 being the best). We hope you will find this Hungry Hawk Review useful and informative.
Hot Dog: 5/10
It's hard to go wrong with this American classic. It is your typical street hotdog with a wiener and a white-bread bun. While there isn't relish or onions or an abundance of toppings, ketchup and mustard are provided.
Chicken Tenders With Tater Tots: 8/10
This go-to combo is usually done right at the Hungry Hawk. They serve up several 2-3 inch warm breaded chicken breast strips and are generous with the tots. However, the texture is inconsistent; the meat can be dry and the tots can lose their crunch. Ketchup is available and recommended.
Chow Mein: 6/10
If you're accustomed to authentic Chinese food, you won't be impressed. The dish contains thick, slippery noodles, beet-colored lettuce, and the overall taste is more sour than sweet. Also, make sure to race to the Hungry Hawk if you want the noodles to stay warm.
Chicken Tikka Masala: 8/10
Although this is not a typical cafeteria dish, it is one of the better dishes served at the Hungry Hawk. Tikka masala is an Indian cuisine classic made with chunks of chicken lathered in a mildly spicy sauce. The Hungry Hawk's version is served hot over a scoop of white rice and is a great meal to have on a cold day.
Egg Salad Sandwich: 2/10
This sandwich hasn't made an appearance for a while, which is for the better. The main problem is that the moisture from the egg salad seeps into the wheat bread, making it soggy. The Saran wrap can also get a bit wet. Also… you may find fragments of an eggshell.
Philly Cheesesteak: 6/10
This is definitely not the real deal, but props to the cafeteria for serving this Philadelphia classic. The sandwich consists of melted white cheese and circular patties of rather sweet ground meat on a white-bread bun.
Pizza: 6/10
The Hungry Hawk serves up one medium-small slice of thin-crust cheese pizza with minced roma tomato slices and crushed basil on top. The bottom is crisp and the pizza isn't greasy, making for a small but satisfying meal.
Coconut Soup: 8/10
Indulge in the exotic flavors of Thai cuisine with this savory soup. It is served hot and contains broth and a few various vegetables. The broth goes well with a croissant, which is also sold at the Hungry Hawk.
Meatball Sandwich: 5/10
This is one of the better sandwiches and is similar to Subway's "Meatball Marinara." The meatballs are rather large and fairly sweet, and are lathered with spaghetti sauce. As is common with all meatball sandwiches, it is messy and can fall apart while you eat it. Make sure to grab extra napkins and eat over a table.
Chipotle Wrap: 4/10
As is common with wraps, the ingredients inside are not well distributed. The wrap contains mostly shredded chicken and lettuce covered by a wheat tortilla. Some sections of the wrap are dry, while others are loaded with chipotle sauce that can make parts of the tortilla soggy.
Salad: 3/10
This larger version of the side salad is made with a combo of iceberg lettuce, mixed greens, and arugula. Cherry tomatoes and cucumbers are mixed in, as well as a bit of parmesan cheese. The salad is served in a plastic container along with ranch dressing on the side.
Mixed together in one container means wet raisins and bendy carrots.
Side Salad: 4/10
This extremely small serving of iceberg lettuce comes with cherry tomatoes and thin, soggy cucumber slices. Ranch dressing is available.
Cucumber Slices: 1/10
They were thin and soggy, but you can dip them in ranch dressing.
Raisins: 7/10
Not everyone's favorite, but a good choice if you like them.