SFMoMA's Triumphant Return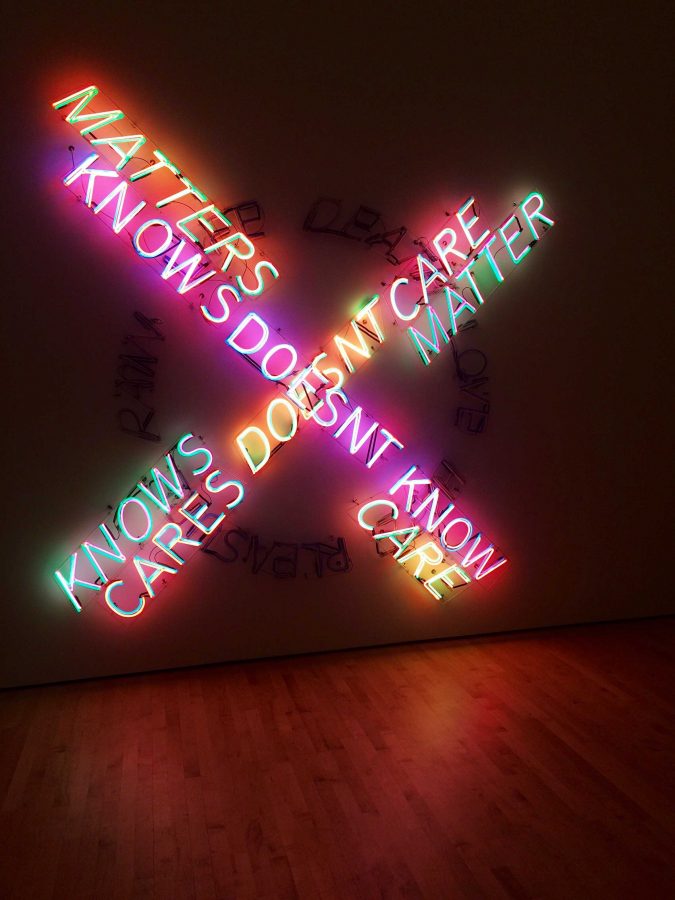 By Claire Donohue
May 13, 2016
For the past three years San Francisco's Museum of Modern Art (SFMoMA) has been closed down for renovations and expansions. Saturday, May 14 marks the grand reopening of what is now the largest modern art museum in the country, surpassing New York's MoMA and Los Angeles's Broad.
I used to feel a bit cheated by SFMoMA, resentful that, throughout most of my high school life, my city had been lacking a proper modern museum. Upon walking through the gallery doors last Friday, every drop of that bitterness vanished. The three years of waiting were well worth it, and are miniscule compared to the decades that this new space is bound to satisfy a huge variety of visitors.
The architecture of the building, designed by architecture firm Snøhetta, is both slightly disorienting and beautiful. Bridges, winding stairs, elevators, circular hallways, elevated patios, and expansive windows give each and every floor a different feel.
The museum itself is located on 3rd St, between Howard and Mission. It's in close proximity to Yerba Buena Center for the Arts along with the Moscone Center. It's packed in downtown location gives it a very fast paced urban feel. Looking out the many windows from the top few floors, I genuinely felt as though I was standing in New York's Modern Museum in Midtown Manhattan. The only downside of the location is the parking situation. Stop and go traffic and pricy garages are inevitable, but the bus access is unbeatable. You can take the Golden Gate Transit 4 line straight from Tam High to Folsom and 2nd (a 5 minute walk from the museum) for a mere $2.50!
I wish I could touch on each of the distinct installations, but considering the space is home to over 33,000 works, including Khalo, Rothko, Warhol, Klee, Judd, Kelly, Koons, and Picasso, I'll stick to a few highlights.
On the third floor, adjacent to an expansive living garden wall, is a room full of Alexander Calder's primary colored mobiles and sculptures. It's called "The Motion Lab" with good reason; wide open doors allow his pieces to bob and sway in the wind.
The fifth floor is home to two rooms that radiate with neon lights. The space, filled with three of Dan Flavin's creations ("monument," "the diagonal of may 25, 1963," and "untitled"), covered the room glowing hues of color. My personal favorite, "untitled," is a glowing violet, pink, and yellow doorway like structure. It looks like a portal into a neon lit world. A few rooms away sits another flickering neon piece by Bruce Nauman entitled "Life Death/Knows Doesn't Know." Rainbow lights periodically strobe, illuminating different words in sets: human, animal, nature, death, pain, pleasure, care, etc.
Cafe 5, logically located on the fifth floor, serves intricate art inspired food. Warhol's "Triple Elvis" cake, featuring peanut butter, strawberry and vanilla creme, and a white sponge cake, was my absolute favorite. The palm sized strawberry shortcake was a close second. SFMoMA is a coffee fanatics heaven, with Sightglass brewed on floor three and Illy brewed on floor five.
SFMoMA has made a triumphant return. Its collection is vast and varied. I strongly recommend blocking out a few hours in the next few weeks to check it out, regardless of your interest or knowledge of modern art. For members and those ages 18 or under the museum is free of charge. Full price tickets are $25, but the galleries on the first floor are always open without a fee.