"Ms. Jewel" Retires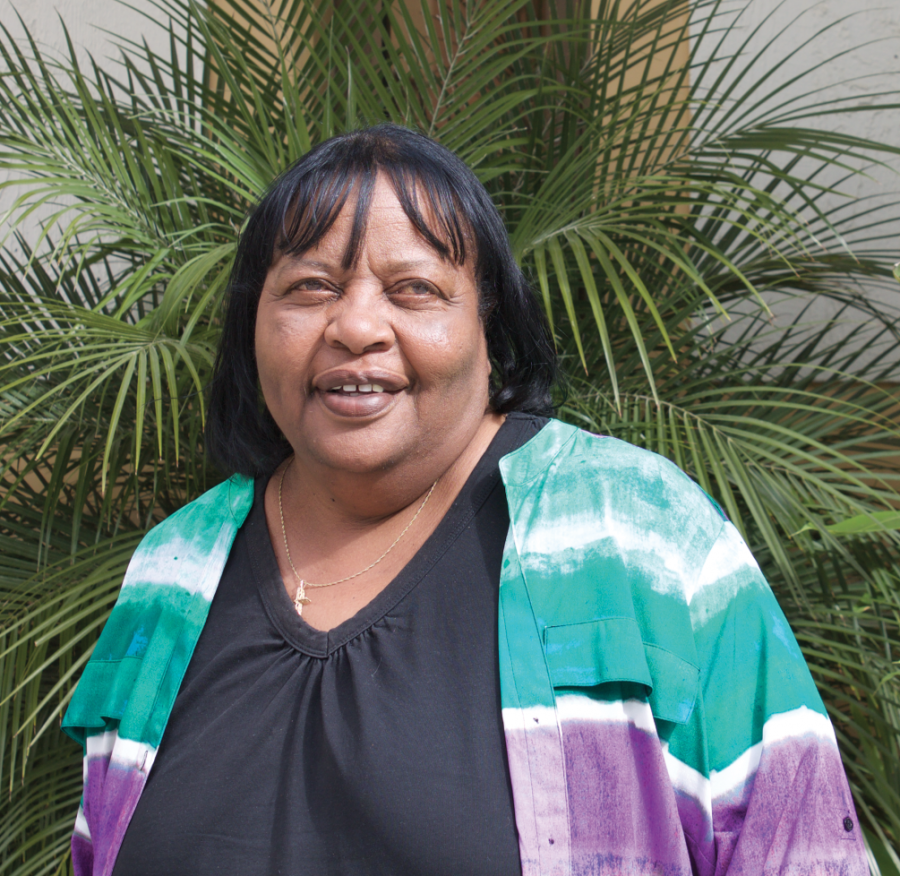 By James Finn & Hannah Chorley
June 3, 2016
Hailed as the "mother" of the Marin City community at Tam, Jewel Barrow, known by many as "Ms. Jewel" has been a fixture at Tam for 52 years.  Since she graduated from Tam in 1964, Ms. Jewel has worked a number of jobs at Tam, ranging from "community liaison" to "staff assistant," but no matter the title, her primary role has always been to act as a mentor and advocate for African-American students at Tam. She has filled this role for the past 48 years, providing guidance and support to generations of students.
As one of the only staff members from Marin City, Barrow is aware of the struggles and challenges of growing up black in Marin. Whether she is sitting in on parent-teacher meetings that parents are unable to attend, speaking with teachers on behalf of students, or encouraging students to finish high school and pursue a college education, Barrow has been a committed and constant advocate for the community of Marin City students.
"She's like an auntie to me," junior Trechaun Berkley said. "I can tell her about anything that's going on and she will tell me the honest truth if I was wrong in the situation and [tell me] things to do to make it better. Having African-American staff [members]like her helps a lot. Not everyone understands, but she does and either she's been through it or helped [someone through] so having someone with experience will always be needed."
Barrow's effects on the community are not only felt by students, but by teachers as well. "Jewel is a part of the foundation of this school. She connects to the community," English teacher Austin Bah said. "She has kept me thinking about what is right. What is the right thing to do? What is right for this individual student?"
Social Studies teacher Laura Garrett echoed Bah's sentiments. "Ms. Jewel is the person you need to talk to to understand the campus," Garrett said. "She's a great mentor and somebody I have so much love and so much respect for."
Class of 2015 alumna Faythe Watkins-Lewis also praised how Barrow focused on individual students and their needs. "She has really taken time to get to know me and how I learn and my attitude. She's really helped me manage my different classes. Just giving me the confidence and the push that I need," Watkins-Lewis said. "She's definitely an unsung hero here."
Barrow sat down for a final interview with The Tam News to speak about her time at Tam.
What type of work do you do at Tam?
I started here as a community liaison between Marin City and the Tam community to get the kids from Marin City to get on a better roll and do better in school. But then I went to staff assistant. But they all entail the same job but with different titles. So I've done the same thing for 48 years.
How do you go about that job?
[I try] to keep the kids in school and encourage them to get an education, even though it was a struggle for a lot of them. Not to give up and to give the best they can. That's what I've been doing for all these years. I go to the homes, I meet the parents, I sit in meetings with them here at Tam for the parents. It's just like being a mother, a sister, a friend between the community and here…they know if I can help them, I will.
When did you go to school here?
I started Tam in '62. I moved from Vallejo. Second semester freshman year.
What was Tam like when you went to school here?
Oh I loved Tam. I fell in love with Tam…Kids had a lot of opportunities here. Tam was just a good place to be back then. There wasn't a lot cutting, free to roam the campus. We had four staff assistants to keep you in class.
Why did you decide to work at Tam?
When I was a student here, like I said, this guy Lenny Bear, who worked for the district probation officer, he started a club called the Ashanti Black Student Union, and I ended up being the president for two years. He saw all my strengths of being a leader, so when I applied for the job, I got the job, and I think it fit me quite well.
Can you recall some memorable events from your time as a student at Tam?
[I remember] the race riots. It started in the back parking lot with the African American boys and the white boys. They ended up fighting from the back parking lot…to the front of the school all the way across the campus to the Kentucky Fried Chicken. I remember police cars just coming, just coming, just coming….It was a total mess. It was just crazy. I do believe, that [it] was just a part of what was going on in the country, the riots, the protesting, and the anger came out here. [After the race riots ended], we had BreakThrough day, where they took a day and the whole student body went to Meade Theater. Every news channel was there, and they talked about the situation, the discrimination, the racism. Everybody broke up into groups and all across the school they had different groups, black and white together, talking about what was going on and how they could help. That was one of the more memorable things that happened [here].
How have you influenced the African American community at Tam?
I have been like a mother to most of the kids. The students here today, I've had their parents, their brothers, their sisters, and most of their grandparents, I went to school with. It made me have a better relationship because they knew me. My relationship with the community helped me to do what I do. At one point, if a parent couldn't come here to a meeting about the student, I stood in for the parent, and they trusted me to make the right choice for their student. I don't let go. I don't just talk to a student and it's over. I do a lot of pushing and a lot of talking and a lot of bribing. Until they get to that point where they understand that, hey, I do need an education and I can do it. I try to make [Tam] a place where than can be comfortable.
Can you describe a favorite accomplishment in your work with students?
Lots of them. Jack Davis, he graduated in 2005. He went down to San Diego to go to school and he ended up having to work half the time so he could go to school here and there. That was 2005 and he graduated in 2014. He went right into a computer company and he travels all over the United States. He never gave up. He was smart, but he didn't have the finances, he didn't have the support. Jack is doing wonders…Jack stands out because of his struggle. It took him a long time, but he did it, he's got an outstanding job, he's doing things. He's always going to be on my mind because he did it the hard way.
What do you think it's like being an African-American student at Tam today?
It's strange you ask that because just yesterday, there were students in my room talking about privileges, about prom, per se. And one girl even made the statement "If I could just be in that [Mill Valley] girl's place for one day, to see how it feels." You have the haves and the have-nots….It's difficult for most African-American kids to deal with…the haves and the have nots.
What advice would you give to your students?
[Life's] not like a bowl of cherries. You're gonna have your ups and your downs, but no matter what, you don't give up. Keep fighting, keep struggling to make your life better.♦
Check out a filmed interview of Ms. Jewel, along with teacher and student testimonials, at thetamnews.org.