Clown Hysteria Strikes the Bay Area
KRON4 has broadcasted news of "creepy" clowns targeting schools and children in the Bay Area. On October 4, in Concord, California, KRON4 documented the aftershock of a young girl attacked by a clown at a bus pad on Willow Pass Road in Contra Costa County. Though specific threats tweeted by clowns have not been made to Tamalpais High School, there have been suspected clown sightings near Mill Valley Middle School. This news and other clown threats have caused a sense of discomfort for some residents. Parents like Nadine Curtis, store owner of seven on Locust in downtown Mill Valley said, "The clown scare is disconcerting for the safety of my child."
Rumors of clown sightings have also spread through Tam. Associated Student Body president, TK Dahlke responded to the rumors, "I personally haven't [heard of the rumors], but I think that it is a weird situation and a select few have used the clown costume to prompt fear. But I also think it is being played in media in a way where it seems bigger than it is. I think that it will be over soon."
The clown in the KRON 4's October 4th news episode gave a little girl and her mother a smile, not raising any red flags to the mother, until he reached for the little girl's hand and started to tug.  "Once he pulled, I pulled back and kicked the s— out of him," said the mother to KRON reporters.  Not only have clowns targeted random civilians on the street, but there have been many clown sightings at schools across the nation. KRON4 reported a local threat made on social media in which a clown tweeted, "Fairfield, we coming, Grange Middle School and Fairfield High School get ready Tuesday (Oct 4th) at 10:30 am. Happy Clowning hehe." More clown threats have been posted about other schools, some of which have been shut down or been put on lockdown to protect the safety of their students.
Mercury News, a bay area local newspaper, has discussed the recent clown threats throughout the Oakland and Martinez School Districts. Mercury News said, "The Oakland Unified School District, the Martinez Unified School District and the San Mateo Police Department said they had received similar reports of "creepy clown" messages on social media, threatening violence."
Recently, an email discussing the clowns was sent out by Assistant Principal, David Rice, informing students that clown costumes will not be allowed this year on campus because of this local news outbreak of "creepy clowns." The email reads, "While these encounters have not been threatening and haven't produced any vandalism, we ask that your student follow the request from the Marin County Office of Education and does not wear a clown costume of any kind to school."
Most students seem to support this costume restriction. Sophomore, Hiro Chemmers said, "If they find that clown costumes pose a threat to students, young students especially, [staff] absolutely have that right, and I support their position."
Although Tam High School Resource Officer, Kyle Maxwell reports he hasn't seen any clowns,  he is aware of the new craze. According to Maxwell, some students didn't adhere to administrations' instructions. "I did see a few kids dressed up as clowns. I confronted one of them only to tell them that he shouldn't be running in the street. It is more for their safety rather than their costume," he said.
Science teacher, Ginnie Chu added, "Given the severity of the situation in other schools being shut down and on lock down shows how just a few bad people are using these clown costumes to spread terror and mayhem, and some of them even kidnap kids. As staff it is difficult to differentiate the difference between good or bad clowns."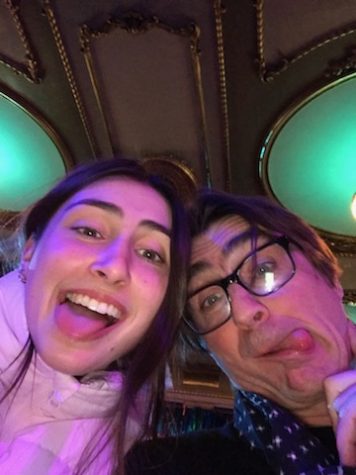 Ava Finn, Editor in Chief
Ava Finn is a senior at Tamalpais High School and is an Editor in Chief of The Tam News. As a junior, Finn was a Features Editor for the publication and enjoyed writing for Features and Lifestyles. Outside of school, Finn loves to read, write and take road trips with friends to nearby places like Santa Cruz or Santa Barbara.