Recollections of a Kenyan Sisterhood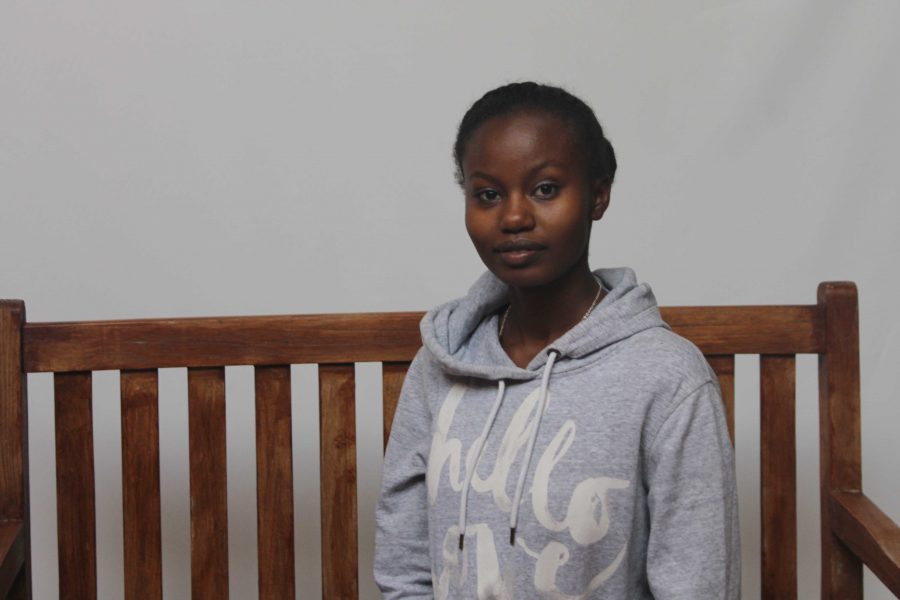 By Maxine Flasher-Duzgunes
January 12, 2017
Senior Lucy Mutunga considered herself part of a sisterhood in Kericho, a county in the highlands west of the Kenyan Rift Valley. Mutunga looks back on the days where she would join the other girls in hanging up their collared uniforms to dry, and teach them the dances of her home. Deprived of luminous handhelds and the day-to-day hum of metropolitan streets, Mutunga experienced an education away from her family.
When living in Kenya, Mutunga traveled eight hours to attend MOI Tea Girls Secondary School (MCHAI), an all-girls boarding school surrounded by Kericho's lush tea plantations. Arriving in Mill Valley from a boarding school in Kenya her freshman year, Mutunga admitted liking Tam so much that she felt likely to "stay in school all day."
At her first impression of MCHAI "I was like, 'I want to go home!'" Mutunga said . "Many of the teachers were very uptight.  My math teacher, Ms. Langat, gave too much homework and would smack your head with a long green stick if you said something wrong." She then recalled a history teacher who would spank students for any question they missed on his exam.
"At school, people wore many layers of jeans, because they were afraid of being spanked," Mutunga said, with a disdain. "When I stood up and criticized him for spanking, he sent me to the principals office.
Nonetheless, the harsh punishments seemed a reason to stay close and bond with her classmates.  Mutunga recalled joining clubs and sports activities each semester.                 
"At the end of every term, each dorm unit would present something: a play, a fashion show, a dance," Mutunga said. Mutunga also joined volleyball, cross-country, and a drama/music club to build friendships with girls who had been raised primarily in the Rift Valley.
Being social helped Mutunga overcome the initial cultural barrier of living in a new region of Kenya. In Machakos County with her family, Mutunga considered herself part of the Kamba, a Bantu ethnic group prominent in parts of southern Kenya. After moving to MCHAI, Mutunga was immersed in a Kalenjin majority, a culture based all over the Rift Valley.
She noted a prejudice when one of her desk mates "would separate her desk from mine, and wouldn't share textbooks." Mutunga also added that, "many of the teachers had a harsh Swahili accent," and it took a giggle or two for her to grow comfortable to new emphasise on certain words.  She only felt like their differences had been forgotten when they taught each other styles of Kenyan traditional dancing.
"Our dances were a mixture of backgrounds,"  she said
When asked what she missed about Kenya, Mutunga said, "I miss Kenyan food and Swahili classes." Swahili was a strict academic discipline at MCHAI, which demanded that students alternate between speaking the coastal language and English on a daily basis. If students stepped out of line—speaking in the incorrect language on a certain day—they were subject to spankings, washing dorms, sweeping the school compound, or even suspension.
On the weekends, MCHAI organized farming trips, where Mutunga and others would get a chance to harvest crops like kale, mangoes, and avocados.
Sundays during her second semester, MCHAI brought in a preacher who talked mainly with the students about current events. He described America as a country of sexual freedom, using Hollywood as an example of an industry that takes advantage of girls' appearances. "Ever since then, I've been high-strung," she remarked.  The memory of the preacher scared Mutunga when she she moved to California.
Currently, Mutunga communicates with Kenyan youth groups without having to travel miles back home.  On the other hand, Mutunga mentioned that no form of her Kenyan Christian Religious Education class is offered in California. "People don't seem to be involved in the word of God here," she said, explaining it is difficult for her to live in a predominantly non-religious community.
At MCHAI, Mutunga only saw her parents every three months and could only call them through the permission of her teachers.  As a result, Mutunga's parents decided to move to California in search of a better education system for their children. Mutunga has since found Tam a place where individuality is encouraged, and teachers treat students with respect.
Mutunga was relieved to leave the rigorous institutions of MCHAI. "Every two weeks, we had an exam," Mutunga said.
"These exams determined our performance in the class. Then, we had to take end-of-year exams to place into the next grade level."
Increasingly ready to accept a new form of education and social atmosphere, Mutunga joined Link Crew to build mentoring and leadership skills around younger students. She has also established strong connections with many of the foreign exchange students, who essentially parallel her situation. Like Mutunga, these students assimilate in a learning environment that discourages, if not forbids, the beating from an iron-hand. Through school and community outreach, Mutunga hopes that cultural immersion will soon become a less difficult process for young, aspiring adults. ♦