Boys Swimming Third Concecutive Championship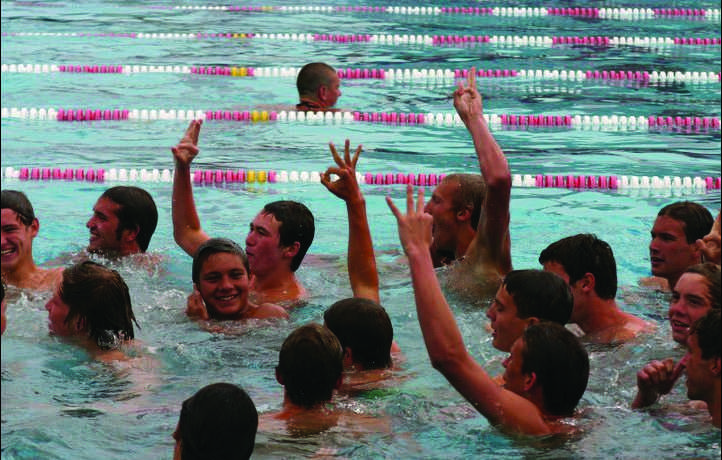 By Kenny Rosenberg
June 11, 2011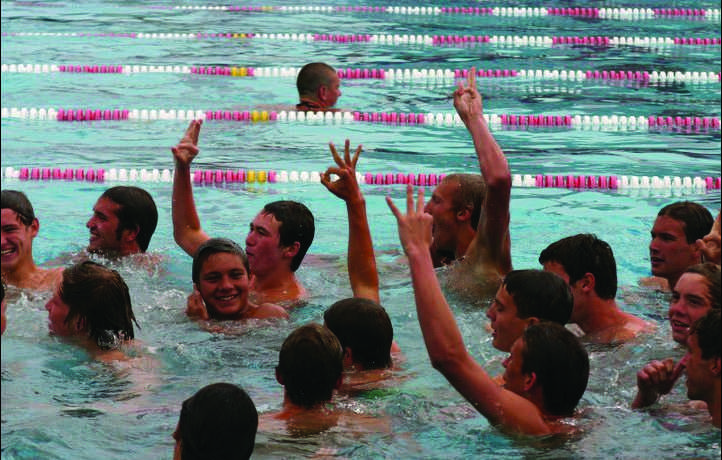 Junior Riley Sykes and sophomore Miguel Mattox led the Hawks' swim team to their third consecutive MCAL championship on May 14 as Tam simply outworked their opponents, Redwood and Marin Catholic. After a tight preliminary meet, no one could predict the outcome of the final match. Except for the kids from Tam. If you asked any of the swimmers, they would tell you that they were on their way to securing the 3-peat. "I'm extremely proud of every single swimmer on my team," head coach Dave Beutel said. "These guys worked harder than any team I'm ever coached, and they earned everything they've won. After winning MCALs the past 2 seasons, this senior class did not want to be the group that broke the streak, and they did everything in their power to bring a third title to the team."
Sykes placed fourth in the conference in the 200-yard individual medley (IM; 2 laps each of butterfly, breast stroke, backstroke, and freestyle), and earned an NCS qualifying time. Mattox swam the 500-yard freestyle and won by a whopping margin of eight seconds, breaking his own school record in the process. He was also honored as Marin IJ's "Prep of the Week". Mattox has been swimming for ten years now, and he was very pleased with the most recent championship.
"It was pretty cool because my whole team was there and I had motivation to win because our team was in a close meet with MC and Redwood. The difference could have come down to my race. And that could go for anyone else on the team," he said.
The key to the team's win was depth. They don't rely on one or two superstars to put the team on their backs and carry them to a title. Every swimmer on the team has the potential to win, and even the kids who don't swim year round contributed, such as seniors Max Sieck and Jake Weber. Both of them placed in the top eight in the conference for the 100 butterfly. Also, senior Kai Brewer and junior Kirk Wong won first and second, respectively, in the diving event. These contributions gave Tam the final edge they needed to win.
Beutel was beaming after the boys secured the win. "We knew we had a good team, and we expected to be one of the top teams in the conference again. With how hard this team worked day in and day out, I'm not surprised that they were able to win a third consecutive championship. Swimming is a sport where hard work pays off," he said, "It really is that simple sometimes."
Written by Kenny Rosenburg. This article first appeared in the July 2011 issue.