The Most Dangerous Place on Earth?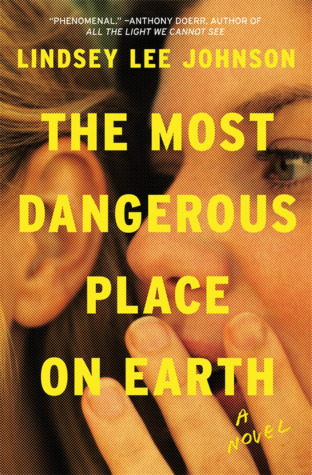 By Nell Mitchell
February 2, 2017
Molly Nicoll arrives to teach English midway through the school year at Valley High School. She's young, eager to teach, and desperate to connect with her students.
From Ivy League bound Abigail Cress and hippie Calista Broderick, to delinquent Damon Flint and "pretty boy" Ryan Harbinger, the clichéd first impressions of Molly's students drive her desire to discover their real personalities. Although she feels she is connecting with these teens on a deeper level, she has barely scratched the surface.
Lindsey Lee Johnson's debut novel, "The Most Dangerous Place on Earth" takes place in our very own Mill Valley. Valley High, characterized by its famous clock tower, beautiful campus and "bunk football team," is based on Tam High.
Johnson, who graduated from Tam in 1998 and worked locally as a tutor at Sage Educators from 2009 to 2014, depicts a shocking, yet impressively accurate, portrait of life as a teenager in Mill Valley, at Tam High.
"The Most Dangerous Place on Earth" is more than just the story of a single tragic incident in high school, but is an in-depth analysis of the entire community. The story is told, integrating social media and using familiar slang, in chapters alternating from the perspectives of six different students, interspersed with Ms. Nicoll's outsider perspective.
Each teen is portrayed at home, at school, with friends, adults and alone. They face different challenges—drugs, secret romances, cheating—and have different situations at home—helicopter parents, abusive parents, absent parents. The characters internal commentaries as they handle their individual struggles reveal them to be complex, multilayered people.
Johnson's ability to capture these intricacies of character is mesmerizing, as is her depiction of the community and setting as a whole. Mill Valley is as much the setting of the story as it is a character in the novel. "Mill Valley" is frequently mentioned by every character, almost as a footnote to any situation that arises. Sometimes a complaint, sometimes a compliment, but always a statement about the impact that the culture has in shaping the people who live here. Johnson makes it clear that affluence, entitlement, high expectations and harsh judgments are a factor in everything from a party gone wild, to a death that no one can forget.
To anyone who lives in Mill Valley, "The Most Dangerous Place on Earth" is a must read. The representation is not the most flattering, nor is it free from flaws. There were frustrating overgeneralizations and irritating exaggerations, but the experience of reading a rising bestseller about our everyday reality is captivating and the chance to reflect on the culture of our hometown is not to be missed.