Hidden Figures Review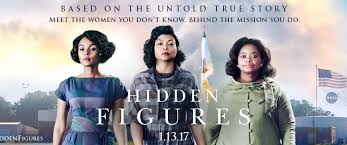 By Raqshan Kahn
February 2, 2017
Taking place in 1960's Virginia, where Jim Crow's racial segregation was a fact of life and workplace sexism was widely accepted, Hidden Figures tells the story of three brilliant African American women working at NASA to put the first man into space. Based on the nonfiction book of the same title written by Margot Lee Shetterly, Hidden Figures follows Katherine Goble (later Johnson) at NASA where she is working in the segregated West Area Computers division of Langley Research Center in Hampton, Virginia alongside her colleagues, aspiring engineer Mary Jackson and informal supervisor, Dorothy Vaughan.  
From the beginning, Hidden Figures is about three women. Although Katherine (played by Taraji P. Henson) is considered as the lead protagonist, her story is told in parallel and in sequence with those of Mary (Janelle Monáe) and Dorothy (Octavia Spencer). All three start out working in the segregated West Area Computers division of NASA, which is a pool of "colored computers" — employees (usually women) who were in charge of doing calculations before the era of the digital computers. Due to the segregation laws in place in Virginia at the time, these women were forced to work in a separate building in the Langley Research Center. However, the U.S.'s desperation to beat the Soviet Union into space had risen so high that NASA was willing to cross some segregated lines. Katherine, due to her skills with analytic geometry, was transferred to the main task group that was working on getting the shuttle into orbit. She finds herself as the sole colored face in a room filled with white men and one white, female secretary.
While Katherine's work is closest to the excitement of the launch, the other two women are also facing challenges in their aspiring careers. Mary is navigating hurdle after hurdle of racist and sexist bureaucracy in order to attend a few engineering classes at a local all-white high school in order to push closer to her goal of becoming an engineer. Dorothy is battling with her direct supervisor for a long overdue promotion when the arrival of an IBM machine threatens to put her and her team of computers out of work. The movie follows these women as they continuously push past the racial barriers, out-think their higher-ranked (white) colleagues, and find the courage to face those who stand in their way. Whether they are learning a new programming language, improving the engineering structure of a shuttle, or calculating the exact moment the shuttle would reenter our atmosphere, all three women have a tremendous impact on the success of John Glenn's orbit into space.
Due to the unique combination of the "fight against oppression" and "genius mind" plotlines in the film, I found myself being astonished by both the struggle these women overcame and how each used their intelligence as a motivator to push past the continuous hurdles they faced both in their work and personal lives.
Unlike similar films such as The Imitation Game or The Theory of Everything which focus on the genius of their protagonists, Hidden Figures took time to honor these remarkable women both inside their work environment but also in the context of community. Whether they were showing Mary Jackson's husband's conflicted feelings about being a stay at home dad or the three beautiful daughters Katherine Goble's mother was helping her raise, the movie plunged into the intricacies of what it meant to be a mother, a wife, and a person of color working in the 1960s. These women weren't simply geniuses; they had to struggle to earn their place at NASA and keep a stable life at home for their families. While their intellect might not be broadly relatable, their roots at home and with their families is. This connection gave the movie a lot of heart. The only criticism I have about this aspect of the film was the romance between Catherine Goble and United States Army officer, Jim Johnson. While the romance was cute and the proposal lovable, the cut-and-paste of the storyline felt awkward and a little rushed. All in all, however, this added plot point gave more positive than negative to Katherine Goble's character.
As a movie celebrating color, unity, and the fight against oppression, Hidden Figures does a tremendous job showing the extraordinary work of these women. All three — Katherine who continued to work on other important space missions like the Apollo 11 moon landing, Mary who became NASA's first black female engineer, and Dorothy who became NASA's first African American manager — are aware of the future impacts of their success for black women, for black people, and the progress of civil rights. As Dorothy states after a disappointing setback at work and Katherine's promotion, "Any upward movement is movement for us all. It's just not movement for me." While tackling some tough issues of race and gender inequality, Hidden Figures had some remarkably humorous lines. One of my favorites in the movie is said by Mary as the colored computers are lined up with the rest of NASA staff to greet John Glenn upon his arrival. Katherine asks, "How can you be possibly ogling these white men?" to which Mary replies with, "It's equal rights. I have the right to see fine in every color."
The movie took some liberties with composite characters and tweaked timelines, but all the while the basis of the story stays true and finds the perfect lines to hit home. An empowering story about three women's battle for equal footing and recognition for the outstanding work they did, Hidden Figures is a movie that is an inspiration and honors the real heroes who helped change our world.