Girls' Varsity Basketball Senior Night Recap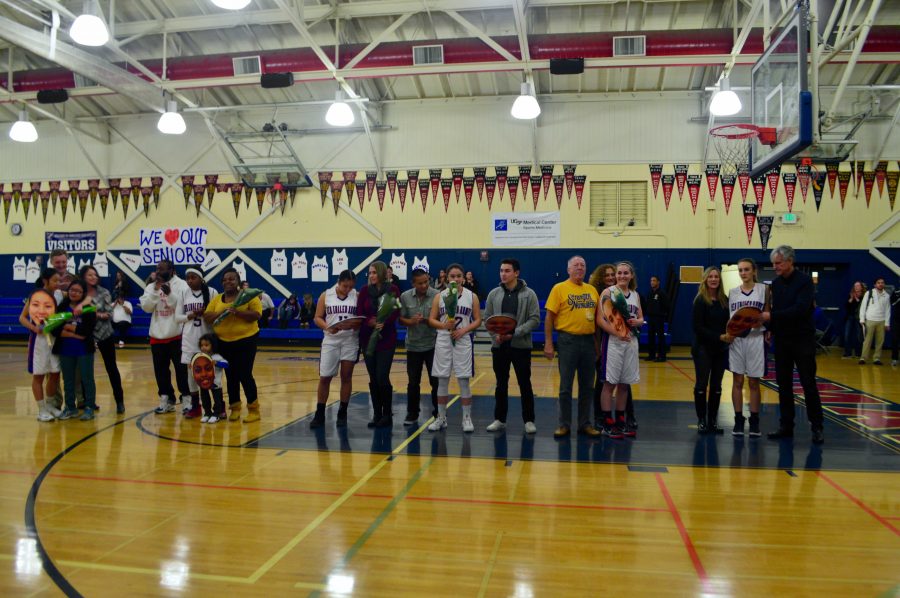 By Nicole Anisgard-Parra and Nicole Anisgard-Parra
February 27, 2017
The girls' varsity basketball team came away with an dominating 65-29 victory over Terra Linda on Friday, February 10th in Gus Gym. Prior to the start of the game, a brief ceremony took place to celebrate Senior Night for captains Jaiana Harris, Megan Lee, and Katie Sowerby, along with players Taualee Lepolo, Emma Steinberg, and Izzy Wright.  Tam's starting lineup, which consisted entirely of seniors, contributed nearly 80 percent of the final score. Lee lead with 16 points, followed by Lepolo (12), Harris (11), Steinberg (8), and Sowerby (4). The Hawks were able to have multiple break aways to the basket thanks to a compact man-to-man defense. They were also a threat outside the key, with Lepolo and Lee nailing 4 three-pointers combined.  The Trojans were held to just 6 points in the first half as Tam lead by 40 points. Other players came off the bench during the second half to further broaden the lead.
The mood during the match was electrifying, with teammates clapping and cheering on their seniors as they dominated the court. "These four years on varsity have gone by so quickly, and it's crazy to think just a few years ago I was playing with seniors who I aspired to be like," Lee said, "and now I'm a senior captain who hopes to be a good role model for the team."
"[Being on varsity] provided me with a sense of purpose throughout high school," Sowerby said, echoing her co-captain's statement.
The victory solidifies the Hawk's seed for first in MCAL playoffs, with the MCAL championship pennant at stake this Saturday, February 18th, at Redwood High School against Redwood.