Tam's GSA hosts Day of Silence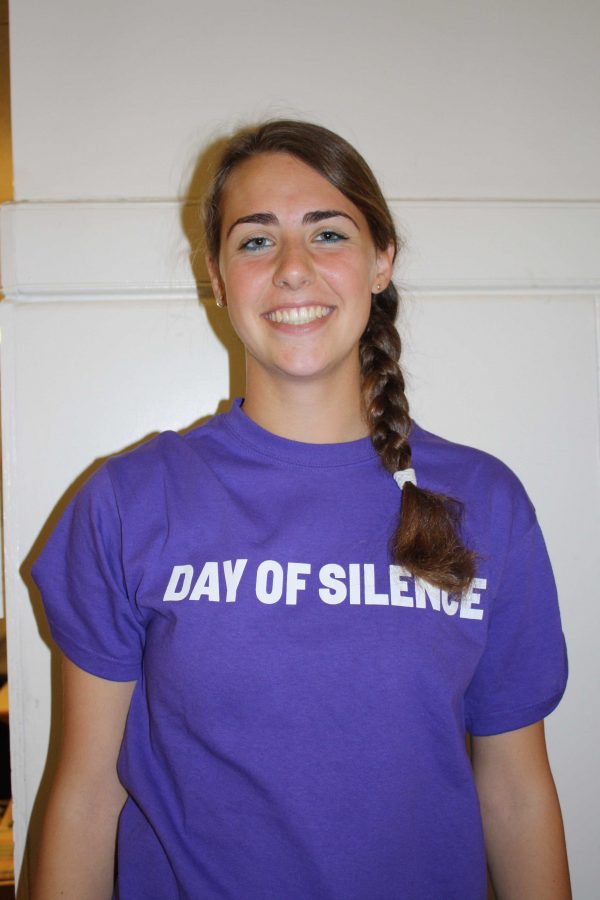 The 15th annual Day of Silence was honored on Friday, May 13, as supporters of gay rights remained silent the whole day to protest the bullying and harassment faced by gay, lesbian, bisexual and transgender students.
"The silence is to simulate what it would be like to keep secret who you truly are," said Laney Eddington, a sophomore and member of the Gay Straight Alliance, which sponsored the day.
The Day of Silence was the grand culmination of a week of support for gay rights, called "Rainbow Week."
The preparations for Rainbow Week began about two months ago when the GSA started to coordinate with leadership's student relations committee.
Leadership and GSA had both independently begun to plan separate rainbow weeks, until they started to communicate.
"We decided to work together. Leadership helped by advertising the event and GSA designed t-shirts and organized the Day of Silence as well as the ribbons they gave out on that day," said sophomore leadership student Haley Harris.
During Rainbow Week, posters were placed around campus encouraging students to wear red on Monday, May 9; orange on Tuesday; yellow or green on Wednesday; blue on Thursday; and purple on Friday.
"Rainbow Week's one and only goal is to just thrust the gay side of Tam into the spotlight for once. So what's more appropriate than to make a whole week the colors of the gay rainbow flag?" said Eddington.
Sophomore Audrey Stanton, who wore all the colors on the corresponding days, said, "We are an accepting school, but I think it is important that we support gay rights. It shows people who might be gay that there is support."
Sophomore Iman Bengana agreed. "I support it 110 percent and I love how our school is doing this. I support it because at some schools, gay people have to hide who they really are, like at my old school, where you could be beat up if you were gay."
Not everyone felt that it was completely effective.
"It was a cool idea, but it just didn't really work," said sophomore Izzy Dahlke. "Except for Friday–that worked."
Friday was the Day of Silence. Eddington explained the international, silent protest. "The idea is that being gay isn't something you can always show. So one day out of the year, anyone who is gay or supports gay rights stays silent," she said. "For people who are in the closet about their sexual orientation, this protest gives them hope that they really are not alone."
"The National Day of Silence is a day of action in which students across the country take some form of a vow of silence to call attention to the silencing effort of anti-LGBT bullying and harassment in schools," said the official Day of Silence web site.
"I think it went really well. Tons of people participated, and even of those who didn't keep silent all day, many came up to me to tell me that they fully supported the Day of Silence but just couldn't keep quiet," said junior Liza Brusman, the president of Tam's GSA.
The events of May 9 through May 13 were not the only events put on by the GSA.
In the fall, they put on Purple Day, which was in memory of the recent suicides by LGBT teens, and it was through the efforts of the GSA that organized the AIDS quilt that came to Tam.
"The purpose of GSA is to provide a safe environment for LGBTQ (lesbian, gay, bisexual, transgender, questioning) teens and to educate the community on LGBT issues," said Brusman.
Written by Katharine Hirata.  This article originally appeared in the June 2011 issue.