Indian Restaurant Review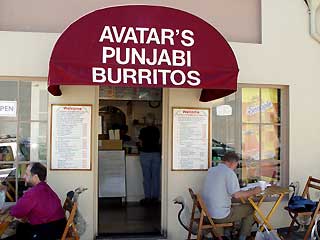 With Southern Marin being home to a wide variety of Indian restaurants, it can be hard to discern between the restaurants that offer cuisine of the best quality as opposed to large amounts of food that is at best mediocre and at worst disgusting. After trying the food of three local Indian restaurants and evaluate the quality of my meal and overall experience at each.
The largest overall disappointment for me was Sausalito's BBQ N Curry House. The food itself was inexcusably bad. I found chunks of garlic in my samosas ($3.99). The shrimp tikka masala ($13.99) was over spiced with cinnamon which completely decimated the true flavor of the curry. Even my mango lassi ($2.99), a dish so simple it can be made by someone with little to no experience, was watery and barely even cold. The only food served at the BBQ N Curry House that I found to be remotely tolerable was the lamb biryani ($11.99). While the biryani did not stand out for any positive trait, there was nothing to find fault with, and the chutney dressing that came with its accompanying salad could almost be considered good.
All that being said, what made the experience at BBQ N Curry House truly awful was the overall upkeep of the restaurant. The yogurt sauce that was served to me had been left out for so long that it had literally fermented. In addition, there were large amounts of dirt built up in the crevices of the sauce container. Lack of proper ventilation in the restaurant also contributed to the restaurant's physically uncomfortable environment. Spices in the air got in my eyes and left me reeking of Indian food hours after I had eaten.
Thankfully, there are much better options for Indian food in the area. The self-explanatory Avatar's Punjabi Burritos serves fantastic "burritos" made from Indian bread and filled with curry, rice, Indian Spices, and whatever meat or protein you choose, ranging from lamb to tofu. The Jerk Chicken burrito ($9.00) particularly stands out, somehow managing to effectively bridge burritos, Jamaican food, and Indian food. If the idea of ordering a burrito filled with Indian food is still too much, Avatar's also offers their meals in a bowl without the burrito. On top of that, Avatar's has fantastic Lassis, both rose and mango ($3.75).
The best Indian food in the area however can be found where it may be least expected. India Palace, located inside of the Travelodge hotel off Highway 101, has never failed to exceed expectations. Their samosas ($3.50) are consistently fantastic, and their romaine salad ($2.50), while simple, has a mustard-based dressing that stands alone as one of the best I've ever had. India Palace has managed to perfect the standard fare for Indian restaurants, serving fantastic Chicken Tikka Masala ($13.95), Tandoori lamb chops ($20.95) big enough for sharing, and incredibly well made lassis ($2.75). Disregarding the food, the restaurant has some of the most friendly staff, and is always kept perfectly clean. The biggest pull for India Palace however are the prices. With just $15, you can leave satisfied, and $20 or more can get you a large dinner.
Overall, you can't go wrong with India Palace or Avatar's, however for the most exceptional traditional Indian food that is in the area, India Palace is undoubtedly the best place to go.
Leave a Comment