Hold On For Take Off: A Bird's Eye View and Review of Seaplane Adventures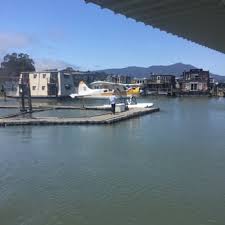 By Ethan Swope
March 21, 2017
I step up into my seat, making sure not to hit my head on the low ceiling. I attach my seat belt, what appears to be the only thing that will keep me from falling out of the sky. I lower my headset on to my ears. And then Brian, our pilot, does a sound check. There are six of us—Brian T and next to him a guest from Houston; then two locals behind them, and in the back my father and I. We taxi out into Richardson Bay. On the way, our pilot tells us pirate puns. Then the plane rumbles and we glide into the air. I look out the window. I have never seen Sausalito like this before.
The yellow DHC-2 Dehavilland Beaver seaplane feels small, but, once I am used to it, quite comfy. The pilot is very knowledgeable about the local geography, which makes the flight   more enjoyable. He was nice enough to fly over a passenger's house, much to the delight of the guest.
Being eye to eye with the peak of Mt. Tam was the highlight for me. Others might enjoy sights such as Stinson Beach, Muir Woods, The Golden Gate Bridge and Angel Island to name just a few.
The trip, though it feels short at 40 minutes, is entirely worth the cost ($250). The tour is meant for tourists, but even locals, like myself get a lot out of the trip. Being able to see a place you are very familiar with from a new perspective feels very intimate and special, something unique that not enough people get to experience. I have a new appreciation for the Bay Area. Seaplane Adventures is the only seaplane tour in the Bay Area (though helicopter tours exist). Offerings include tour packages such as the "Golden Gate tour" and "Greater Bays tour."
Seaplane adventures has been around over 70 years. Their safety record is impeccable. Their website says, "We have millions of square feet of runway everywhere in the San Francisco Bay!"
Just make sure you bring your camera on this unforgettable tour of the Bay.