DAMN.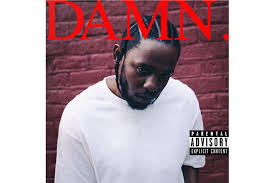 By Emily Pavis
May 3, 2017
When I heard that Kendrick Lamar had dropped an album after a year-long hiatus, I immediately begged my mom for a Spotify subscription. After listening to his latest album, I have concluded that I will happily pay $9.99/month myself for a subscription just to listen to his album on repeat.
      Available on only Apple Music, SoundCloud Go, and Spotify, "DAMN." provides insight into the mind of a black 29-year-old  hip-hop rapper who struggles with poverty, and political problems in America since the latest presidential election.
Amidst unlimited samples, monologues, and other experimental instrumentals, Lamar's catchy beats and lyrical verses  prove him to be currently the most powerful rap artist in America. This is because of his ability to expose the shortfallings in America's so called "post-racial" society as he did in previous albums "To Pimp a Butterfly" and "Untitled Unmastered".
"DAMN." kicks off with the song "BLOOD.," an anecdote narrated Lamar. He tells the story of how helping an old, frail blind woman went intensely wrong, resulting in him getting shot.
Although this is not a true story, "BLOOD." transitions to a recorded sample of two confused Fox News reporters discussing a lyric from  Lamar's Black Lives Matter anthem "Alright," the first track released on "To Pimp a Butterfly." This sample is significant because it shares the opinions of racist Fox News broadcasters, discussing how they do not agree with  Lamar's controversial opinion on police brutality against young African Americans.
The transition between the first two tracks, "BLOOD." and "DNA." is utter perfection. The conversation between the Fox News reporters, one male and one female, carries into the next track.
"DNA." begins with the response of the female reporter, and is the most upbeat and aggressive song on the album. The tone of the song could be classified as banging or hyphy, but the lyrics reveal "DNA." to  be more of a reflective piece for Lamar as he discusses his experience being black in America. He talks about being "born like this," and is soon interrupted by another sample of Fox news reporting that "hip-hop has done more damage to young African Americans than racism in recent years," which he has inserted to create a juxtaposition of his art and outside viewer's opinions of his work.
Another interesting aspect of the album is that it features various artists, such as Rihanna and U2, but the best tracks on the album are when Lamar raps solo about his personal struggle and the larger societal issues in America as a whole.
Along with "DNA.," the third and fifth songs out of the 14 tracks on "DAMN."  expose faults in American society.
Potentially classified as political, the 3rd song "YAH." mentions how people look away from "facts" and towards "color," implying that attributes of one's personality are put aside, and the color of one's skin becomes the most important characteristic of someone, connecting to the album's racist theme.
Throughout the album, Lamar displays his personal opinions over extremely satisfying instrumentals such as a consistent deep bass prevalent in most of his songs. He also introduces a scattered beat which is kind of all over the place. Some may find this annoying, but I think it contributes to the overall scattered tone of the album, relating to the scattered mind of Lamar. His views on suffering through racism and discrimination contributes to the powerful impact of "DAMN."
After streaming "DAMN." and listening to it non-stop for several hours, I feel as if my soul has been touched. This album is meant for teenagers, the millennials, with its progressive message. Lamar's personal stories about racial oppression touches listeners, especially white listeners. ♦